Tale of the Tape: Andrew Luck vs. Robert Griffin III, Week 1
From Week 1, where Andrew Luck's Colts lost to the Bears 41-21, and the Redskins behind Robert Griffin III surprisingly beat the Saints, 40-32.
• 5 min read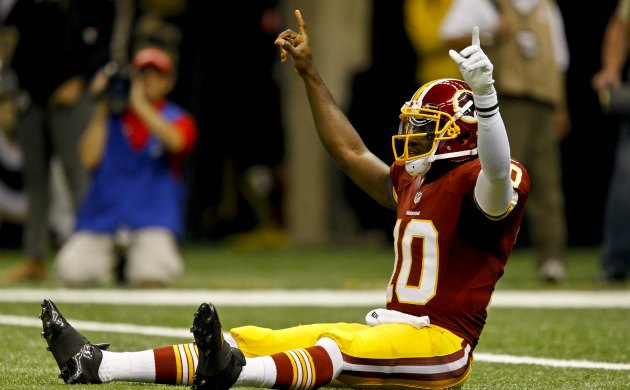 Robert Griffin III earned an A-plus for his performance on Sunday. (US Presswire)
It's inevitable. Andrew Luck , the No. 1 overall draft pick in 2012, will be compared to No. 2 pick Robert Griffin III throughout the season (and probably throughout his career, unless one of them does his best Ryan Leaf impersonation). And RG3 always will be looked at through a prism of Luck. That's why we're compiling all the most important stats for every game they play this year (and some of the most unimportant aspects of those contests as well). This way it'll be easier to tell who is his team's savior and who should be forced to join JaMarcus Russell in the corner away from the rest of civilization).
From Week 1, where Luck's Colts lost to the Bears 41-21 and Griffin's Redskins surprisingly beat the Saints 40-32:
Passing stats
Luck: 23-45, 309 yards, one touchdown, three interceptions
Griffin: 19-26, 320 yards, two touchdowns, zero interceptions
Rushing stats
Luck: two carries, nine yards
Griffin: 10 carries, 42 yards
First pass of NFL career
Luck: On the first snap, he play-action faked and then hit Dominique Jones for an eight-yard gain on a little checkdown.
Griffin: He took the shotgun snap, faked a handoff and threw a quick screen to Pierre Garcon , who was tackled for no gain.
Longest play from scrimmage
Luck: It was in the trashiest of garbage time, but he converted a fourth-and-15 by hitting Donnie Avery on a sideline route for a 26-yard gain and the first down.
Griffin: He found Garcon for an 88-yard touchdown pass in the first quarter that was the organization's longest since 1987. It was a better play by Garcon on the short crossing route, but it was a nice way for Griffin to get his first NFL touchdown pass. It also might have inspired an unfortunate trend.
    
Best play of the day
Luck: Losing by 20 points early in the fourth quarter and with defeat assured, Luck put together his best drive of the game. The Colts moved 80 yards in 12 plays in nearly five minutes; Luck tossed a quick slant to Avery for the first touchdown pass of his career. Must have felt good after a long day.
Griffin: Early in the second quarter, he took the shotgun snap, faked the handoff and rolled left. Though New Orleans safety Malcolm Jenkins wasn't fooled, Griffin side-stepped the sack attempt and unleashed a 36-yard throw across the field to tight end Fred Davis on the sideline for the 26-yard gain. It was a nice display of agility, arm strength and accuracy. It was also Griffin's eighth consecutive completion to start the game.
Andrew Luck got battered and bruised by Chicago. (Getty Images)
Worst play
Luck: He had put together a nice drive on the opening series of the second half, covering 70 yards on 11 plays. But on third-and-3 from the 10, he tried to force a pass to Reggie Wayne on a slant in the end zone. Bears cornerback Tim Jennings got inside of Wayne's route, tipped the ball in the air and Chris Conte snatched it before it hit the ground to end the drive.
RGIII: With about five minutes to go, Griffin was trying to lead his team to one last scoring drive. Significant because the Saints had cut the lead to 33-25. But on second-and-7, Griffin tripped while faking the handoff to Alfred Morris andtook a the nine-yard loss. The Redskins had to punt, but Drew Brees threw an interception on the next series and Washington scored soon after to seal the victory.
Best pregame line
Luck: As a rookie in the NFL, particularly as a first-year starting quarterback, Luck is quite aware there will be more than a few bumps and bruises along the way. After all, his predecessor with the Colts -- Peyton Manning -- threw 28 interceptions en route to a 3-13 season in 1998. -- Tom James, Terre Haute Tribune Star
Griffin: The good news for the Redskins and their fans: Nothing that occurs during Sunday's opener in New Orleans will be cause for alarm. It's simply too early to reach conclusions about Griffin. Conversely, if Griffin is beyond-his-years effective against the Saints, Redskins fans shouldn't suddenly start making plans to watch the team in the Super Bowl (it's also in New Orleans). Historically in the NFL, a quarterback's performance at the outset of his career doesn't necessarily provide an indicator of future success. Just ask Ryan Leaf. -- Jason Reid, Washington Post
Best postgame line
Luck: Andrew Luck fancies himself a Bruce Springsteen fan, and with The Boss having played over the weekend at Wrigley Field, it's probably appropriate to quote some lyrics that fit with Luck's mixed rookie debut. Someday we'll look back at this and it will all seem funny. – Bob Kravitz, Indianapolis Star
Griffin: He wouldn't let go of the ball. He juked around reporters, slipped through holes in the tangle of bodies inside the Washington Redskins ' victorious locker room, followed the lead blocks of the team official assigned to guide him through the bowels of the Superdome from one interview to the next. Someone offered to hold the [game ball with which he threw his first touchdown pass] for him, the official Wilson football tucked under his arm, but he smiled and said, "I got it." – Dave Sheinin, Washington Post
Best tweets
Luck: Andrew Luck is looking like Daniel-son (sic) and the Bears are looking like the Cobra Kai right about now. -- Michael C. Wright, ESPN Chicago; At this rate, Andrew Luck isn't going to survive the season. Or the game. Or this possession. Block somebody. -- Bob Kravitz, Indianapolis Star; Luck opener: 23-of-45, 309 yards, 1 TD, 3 INTS Manning opener: 21-of-37, 302 yards, 1 TD, 3 INTS Hmmmmmm -- Mike Chappell, Indy Star
Griffin: Meaningless but fun stat: Barely into the 2nd QTR, RG3 has more passing yards than Tom Brady and more rushing yards than Arian Foster . -- Denny Burkholder, CBSSports.com; RG3 QB rating in 1st half: 158.3. [Brandon] Weeden: 8.1. -- Tony Grossi, ESPN Cleveland; FROM ELIAS: Redskins QB Robert Griffin III: first player in NFL history with 300 Pass yds, 2 Pass TD, 0 Int in NFL debut -- ESPN Stats Info
Team savior scale (1-5)
Luck: 3 -- Hey, did Curtis Painter or Dan Orlovsky ever show as much promise as Luck did vs. the Bears? Luck certainly wasn't great, and Griffin and Seattle's Russell Wilson were better in their rookie debuts, but Luck is going to be OK.
Griffin: 5 -- Would Rex Grossman have beaten New Orleans at the Superdome? What about John Beck ? Of course not. This was an RG3 special, and he was outstanding. If he plays like this throughout the season, the Redskins will contend for the division title.

For more NFL news, rumors and analysis, follow @EyeOnNFL on Twitter, and subscribe to our Pick-6 Podcast and NFL newsletter. You can follow Josh Katzowitz on Twitter here: @joshkatzowitz.
Stephen Hauschka explains why it's important for white people to understand racial inequal...

Surgery is going to end Jason Verrett's season for the second year in a row

There's still a couple of celebrations you're not allowed to do in the NFL
NFL players aren't very happy with Donald Trump

NFL commissioner wasn't thrilled with the president's comments from Friday

Mike McClure, a DFS pro with more than $1M in winnings, gives optimal DraftKings and FanDuel...