Tale of the tape: Measuring the 2013 Jaguars vs. 1995 expansion Jaguars
Would the 2013 Jaguars lost the 1995 expansion Jaguars? Pete Prisco covered that expansion team and says they would. He explains why.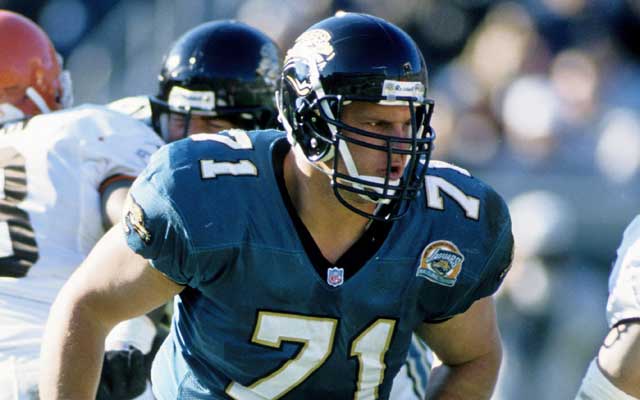 I was the first beat guy to cover the Jacksonville Jaguars. I was there for the expansion season. I saw a lot of bad football.
The most embarrassing moment in franchise history came in 1995 when the Detroit Lions, in a 44-0 rout, took knees in the second half rather than run plays in an attempt to score more. True story. Can you imagine if that happened now? It would go viral.
The reason I bring this up is because this year's Jaguars team is considered one of the worst ever. At 0-5, heading to Denver as 28-point underdogs, they sure aren't good.
So it got me to thinking: Which starting 22 is best, the 1995 expansion team that went 4-12 or the 2013 version?
To find out, I matched up the two teams, position by position, using the current starters for the Jaguars and the players who started the most games at a position for the 1995 team.
For example, receiver Jimmy Smith was on that 1995 team, but he barely played before blossoming into a star the next season.
Of the 22 positions, the 1995 team was better at 11, the 2013 better at 10 and one I called even.
You have to remember, the 1995 team was stocked by having two picks in each round of the draft -- yes, two first-round picks  -- plus free agency and an expansion draft. It was a more experienced team.  A lot of those players formed the team that went on to play in the AFC Championship Game in 1996, a playoffs that saw them upset Denver as 15-point underdogs.
So who would win a game between the two Jaguars teams? I think the 1995 team would win in a close one, mainly because the quarterback was better.
Final score: 1995 Jaguars 21, 2013 Jaguars 14
Here's a position-by-position look at the two teams:
Skill positions
Mark Brunell vs. Chad Henne: Steve Beuerlein opened the season as the starter, but Brunell took over and started 10 games. He threw 15 touchdown passes and seven interceptions that season. Even as a first-year starter, he was better than Henne is now Edge: Brunell, 1995 
James Stewart vs. Maurice Jones-Drew: Stewart was a first-round pick, and he didn't have the career they expected, but he was a good, solid player. Jones-Drew has been a better player in his career, but we're talking about this Jones-Drew. I still give it to Jones-Drew. Edge: MJD, 2013
Le'Shai Maston vs. Will Ta'ufo'ou: Maston had 186 rushing yards and was a tough blocker.  Tua'ufo'ou is nothing more than a lead blocker, but the position has evolved. Edge: Maston, 1995
Ernest Givens vs. Cecil Shorts: I gave this one to Shorts. If not for bad quarterback play, he would have much better numbers. Givens was at the end of his career and didn't even average 10 yards on his 29 catches. Edge: Shorts, 2013
Willie Jackson vs. Justin Blackmon: Jackson was a tough receiver, but he didn't scare down the field. Blackmon has star potential. Edge: Blackmon, 2013
Pete Mitchell vs. Marcedes Lewis: Mitchell wasn't the primary starter, but he played the biggest role at tight end. He was a pass catcher. Lewis is a better all-round player, but he hasn't played much this season with a calf injury. Edge: Lewis, 2013
Offensive line 
Tony Boselli vs. Cameron Bradfield: Are you kidding? Even as a rookie, after missing the start of the season with a knee injury, Boselli was special at left tackle. Bradfield is playing because Luke Joeckel got hurt. Edge: Boselli, 1995
Shawn Bouwens vs. Will Rackley: Bowens was a free-agent signing from Detroit at left guard who wasn't very good. Rackley is a draft pick who isn't very good. Edge: Tie
Dave Widell vs. Brad Meester: Widell was smart, but got overpowered at the point. Meester is on his last legs, but is still a better center than Widell was in 1995. Edge: Meester, 2013
Tom Myslinski vs. Uche Nwaneri: Myslinski is now the Jaguars strength coach, and he was an undersized mauler. He battled. Nwaneri has been a bit of a disappointment this season, but he's still better than Myslinski. Edge: Nwaneri, 2013
Brian DeMarco vs. Austin Pasztor: DeMarco was a second-round pick who was a tough guy, but struggled in pass protection. Pasztor is a street free agent who battles, but is limited. Edge: DeMarco, 1995
Defensive line
Jeff Lageman vs. Jason Babin: Lageman was a free-agent defensive end signing from the Jets who had some good years for the Jaguars. He had four sacks in 1995. Babin was picked up last season from Philadelphia, but he hasn't done much this season. Edge: Lageman, 1995
Kelvin Pritchett vs. Roy Miller: Miller is a run-plugging defensive tackle, and not much more. Pritchett was signed as a free agent from Detroit and was a solid, if not special, player. He could do more than Miller. Edge: Pritchett, 1995
Don Davey vs. Sen'Derrick Marks: Marks has been a pleasant surprise for this team at defensive tackle and might be the Jags' defender. Davey was a try-hard player who made it a daylong battle for opposing linemen. He had three sacks in 1995. Edge: Marks, 2013
Joel Smeenge vs. Tyson Alualu:  Alaualu, a 2011 first-round pick, has not come close to meeting expectations. He was drafted as a defensive tackle. Smeenge had three sacks that first season. Edge: Smeenge, 1995
Linebackers
Mark Williams vs. Geno Hayes: Williams started 10 games and was a decent player. Hayes has been a nice addition as a free-agent outsideline linebacker this season. Edge: Hayes, 2013
Bryan Schwartz vs. Paul Posluszny: Schwartz was a rookie and he played really well that season at middle linebacker, and looked to have big-time ability. But he had an injury the next season and was never the same after it. Posluszny is a good -- not great -- player, but he gets the edge. Edge: Posluszny, 2013
Keith Goganious vs. Russell Allen: Goganious was second on the team in tackles and also had two interceptions. Allen has played well this season, but he should be more of a fourth linebacker. Edge: Goganious, 1995
Defensive backs
Vinnie Clark vs. Will Blackmon: Blackmon has been a pleasant surprise at cornerback after coming over following his release from Seattle. Clark was a big-dollar free agent who came from Green Bay. He looked the part, but never lived up to it. Edge: Blackmon, 2013
Mickey Washington vs. Alan Ball: Washington came from the Bills and was a feisty little corner. Ball is a bigger corner who should be a backup. I'll give it to Washington. Edge: Washington, 1995
Mike Dumas vs. Josh Evans: Evans is a rookie who will be good. Dumas came to the Jaguars from Houston. He was a big hitter, but not great in coverage. Edge: Dumas, 1995
Harry Colon vs. Johnathan Cyprien: Cyprien will be the better player, but for this debate Colon gets the edge. He made a lot of big plays for that 1995 team and had three picks and three forced fumbles. Edge: Colon, 1995 
Burfict has already been suspended once this season and another suspension could be on the...

Bengals cornerback Dre Kirkpatrick tried unsuccessfully to tackle Bell's hand with his fac...

A week after Bryant wanted to be traded he's calling out teammates
Here's an early look at the lines for all NFL games being played in Week 8

Plus the Saints are rolling in the NFC South, the Falcons are in trouble, the Bears are weird...

Here are the Week 7 grades for every team that played on Sunday