TE Delanie Walker: Titans were doomed by locker-room cancers
Even before Mike Munchak was fired as Titans coach, tight end Delanie Walker said he knew there were cancers in the locker room.
• 1 min read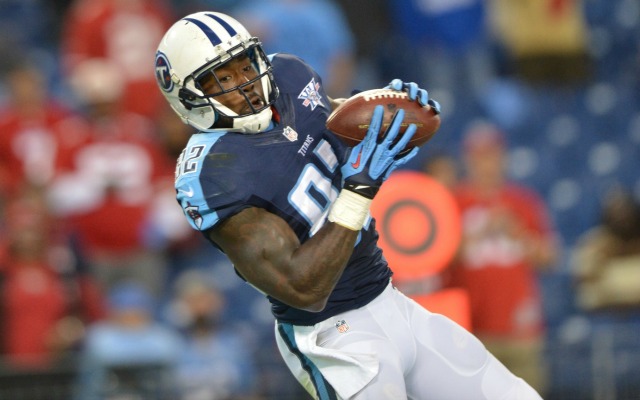 As the season wore on and the Titans continued to struggle and it appeared that coach Mike Munchak was in danger of losing his job, you didn't hear much about the so-called locker-room cancers that might have affected the team mentality.
Now that Munchak has been fired, tight end Delanie Walker feels like the tale can be told. There were cancers, he said, and there were six of them.
"When we started losing more games, we got to see it more and more, it was just like it was falling apart," Walker told the Midday 180 in Nashville, via ESPN.com. "And the players that were the cancer were dragging other players into that box with them, and the box was getting bigger and bigger. At first, it was just a small box. The box just got bigger and bigger.
"Everybody [saw] it. So I feel like these coaches are going to come in, they're going to watch film and they're going to see. They're going to see what type of players that want to be here and don't want to be here, and he's going to get rid of them."
In those final two sentences, Walker is referring to new coach Ken Whisenhunt and his staff.
As far as the so-called cancers, Walker wouldn't name names, but he also said the players and coaches in the locker room know who they were.
"I met with [Munchak], we actually talked after a walkthrough and he was like, 'I don't want you to say any names, but we know,'" Walker said. "Munchak knew. But there wasn't nothing he could do at that time.
"I felt like that is why Munchak is not back with the Tennessee Titans, because we had players like that that really let him down. They didn't show up to play for him. They really didn't care if Munchak had a job or not."
Follow Josh Katzowitz on Google+
An impassioned Norman went off on Crabtree and Amari Cooper for talking big, then getting shut...

Alejandro Villanueva, a former Army Ranger, broke rank Sunday and went out for the anthem

Fans at Gillette Stadium didn't sound too thrilled to see the home team kneeling for the national...
Mike Tierney is 26-10 on NFL over-under picks since last season and has a strong play on C...

A worker at New Era Field quit his job of nearly 30 years on Sunday because Bills players took...

Romo was at it again in Week 3, diagnosing defenses and calling out the plays before the s...