Tebow in the red zone? Numbers say that's a win for Jets' foes
Tim Tebow in the red zone, huh? That's what the Jets reportedly are proposing. But the numbers say the only people who benefit from sitting the more red-zone efficient Mark Sanchez are the Jets' opponents.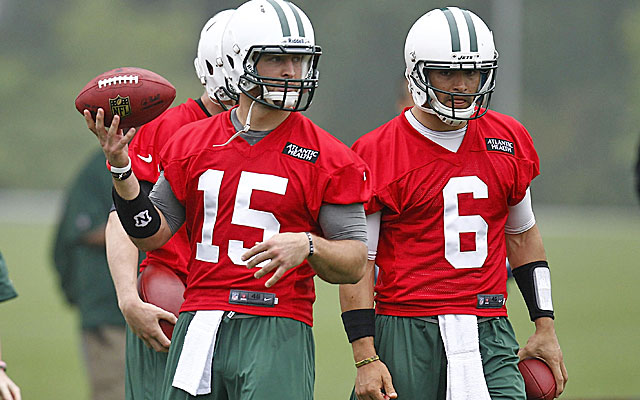 Jets. (Getty Images)
My good friend Rich Cimini, who covers the Jets for ESPN New York, hears the team is considering using Tim Tebow in the red zone. The "Wildcat theory" is that Tebow as the quarterback with Sanchez off the field gives the team an extra blocker in the running game.
As one defensive coordinator told me today: "In theory it gives them an extra blocker but it also permits the defense to worry a lot less about the receivers with his passing game and look for defenses to steal a man from coverage to take on that run game."
Bill Cowher told me if he saw the Wildcat he would blitz it and smother the quarterback. The point: Defensive coaches will have a plan for this Jets red zone attack as it related to Tebow.
More on Jets
Related content
The Jets would be giving up a lot to get Tebow on the field when you consider what Sanchez has done in the red zone in comparison:
Mark Sanchez has thrown 43 red zone touchdown passes in 53 games. Six of those TD passes came in six postseason games.
Tim Tebow has nine red zone TD passes in his 25 games and none in his two postseason games.
The strategy is also puzzling when you consider that more teams score in the red zone throwing than running. Last year there were 342 rushing touchdowns and 492 passing touchdowns in the red zone.
Mark Sanchez threw 21 of his 26 touchdown passes in the red zone and only threw three interceptions. Is Tim Tebow going to run for 21 touchdowns in the red zone?
What if the Jets decide that Tebow should come in at quarterback after Sanchez leads the team down inside the 10-yard line instead of inside the 20 yard line?
During his career inside the 10, Sanchez has rushed 15 times for 11 touchdowns. Tim Tebow has rushed 11 times for 9 touchdowns.
So is there really enough difference to take the starting quarterback out of the game every time it's a red zone situation?
All this is not to say there aren't times to use Tim Tebow in the Wildcat (when the Jets have a fourth-quarter lead and want to eat up the clock). But Sanchez was tied for the fifth most productive red zone QB in the NFL last year and had an 89.1 passer rating.
Sanchez threw more red zone TD passes than Eli Manning, Tony Romo, Ben Roethlisberger, Philip Rivers, Matt Ryan, Joe Flacco, and Michael Vick.
Do the Jets want to give up that dimension of their game to get an extra blocker in the Wildcat? Or do you think it's more likely that AFC East  opponents would actually rather to see Tebow instead of Sanchez in the red zone?
Last season in six division games Mark Sanchez threw nine red zone touchdown passes (a 10th TD was from 21 yards) and ran for two red zone touchdowns. Tim Tebow played five games against AFC East, running for four TDs and throwing for three more in his red zone trips.
The 49ers have a realistic shot at home against a Seahawks club dealing with a myriad of i...

R.J. White has his finger on the pulse of the Packers and made a strong play for 'Sunday Night...
Revis was cut by the Jets after experiencing a horrible 2016 season

But the race isn't over yet

CBS All Access allows viewers to stream every NFL on CBS game in their local market