Tebow release proves yet again that he just isn't good enough
Tim Tebow was reportedly cut by the New England Patriots Saturday on their cut to 53, which means his NFL career is likely over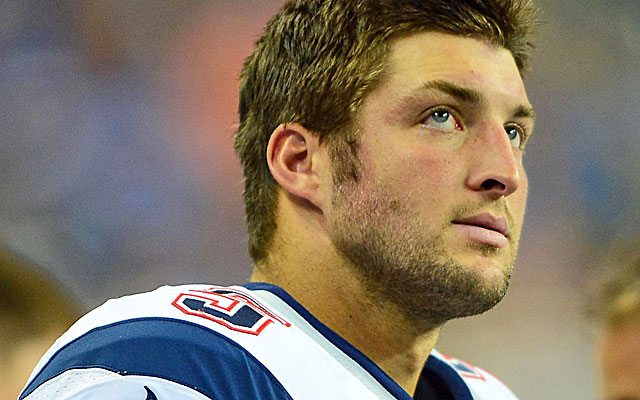 Tim Tebow isn't good enough.
It's as simple as that.
Even if his legions of followers are blinded to it, Tebow isn't good enough to play in the NFL. With his reported release by the New England Patriots Saturday, it's painfully obvious that Tebow needs to get on with his life. Even Bill Belichick, the coaching genius, couldn't figure out what to do with a can't-pass, slow quarterback who can't play another position.
This release isn't about his vocal followers, or the publicity that comes with him being on a roster. That isn't why he won't be playing for the Patriots.  All that he-isn't-worth-the-headache talk is just another reason how his devoted fans keep reasoning why he can't stay on a roster. This is about football. That's all it ever is when a team decides to move on from a kid with the morals and work ethic of a Tebow.
Tebow is an upstanding citizen in a league where not all players are that. That doesn't hide the fact that three teams have turned their backs on him now, one that couldn't wait to get any escape from him even after he led them to a playoff victory.
Peyton Manning was that escape. It might have been the only way to get out from underneath "Tebow-mania."
All the hard work in the world, and Tebow brings that, won't cover up the fact that Tebow doesn't process the football information fast enough. To be a quarterback in the NFL, you have to go through the reads, one, two, three and four --- and then check it down. Tebow rarely got past one and then run. He never did at Florida either.
That style of quarterback doesn't work. So Denver traded him to the Jets, where he never really competed in a bad quarterback situation. Bad sign. The Patriots signed him this year with the talk was he would come off the bench in packages and maybe play other spots.
That never materialized, and now two men, Patriots owner Bob Kraft and Belichick, both amittedly admirers of Tebow, are letting him walk. Tebow isn't sudden enough to play tight end, and he struggled badly with the Patriots as a quarterback. He isn't great in the read-option either.
So this is likely it for Tebow as it relates to the NFL. If it is, it's not sad. It's the football business. It's no different than the other hundreds of players who had their dreams shattered this week when they were told they weren't good enough. His just comes with a cult made up of see-no-faults followers.
Tebow was a great college player. He will always have that. I would expect he would go on and do good things in his life. Some sports network will likely try and pay him big money to evaluate the games. Maybe he can give speeches for $35,000 a pop. He has a lot going for him, and he will be just fine.
So if you're sitting there today thinking about how sad it is for Tebow to be released, think about the rookie who was released Saturday who has none of that. Tebow realized his dream, however brief it was, and now it's over.
He just isn't good enough. Again.
The Lions are being recognized after beating two popular preseason picks to make the playo...

Hernandez was 27 when he committed suicide in April 2017

Mowins is set to become the first female play-by-play announcer in NFL on CBS hisory
The Rams have struggled against the 49ers but that was during the Jeff Fisher era

The Cowboys' running back owns his mistake, says it was 'just bad effort'

Casey, who died at 78 on Wednesday, was a top-10 pick in the NFL Draft and an eventual Pro...