Teddy Bridgewater didn't actually buy his mom a pink Cadillac Escalade
Teddy Bridgewater gave his mom a Cadillac Escalade on Tuesday, but he didn't buy it.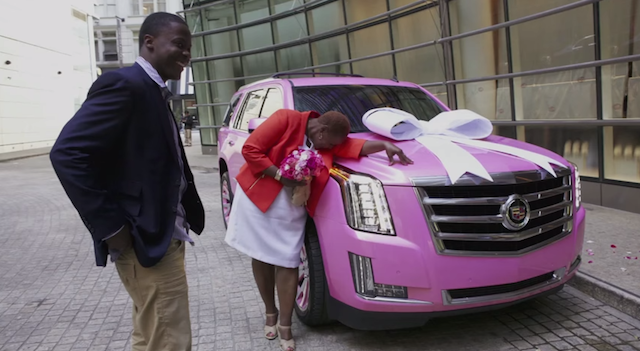 Draft coverage: Draft picks and grades | Prospect Rankings | Mock drafts | News
Teddy Bridgewater's mom got a pretty sweet gift on Tuesday, when she received a pink Cadillac Escalade from her son. There is one small addendum to the story though: Bridgewater didn't actually buy the car. 
A lot people were wondering how Bridgewater could afford the Escalade because he hasn't signed an NFL contract yet. 
The answer to that question? Cadillac donated it after hearing Bridgewater's story about how in third grade he promised to buy his mom a pink Escalade after she was diagnosed with breast cancer.  
"I did not buy that Cadillac. It was a Cadillac deal," the newest Minnesota Viking told USA TODAY Sports. "They heard our story and wanted to just take action."
Taking action for Cadillac meant getting film director Spike Lee involved. Lee made a seven-minute documentary that ended with Bridgewater surprising his mom with the car. 
You can see the documentary below.
Here's every official injury designation for each NFL team for Week 15

Peyton Manning has taken his talents to Hollywood

The Patriots coach has been pretty impressed with what the Steelers have done this season
Plus the former Steelers coach and "The NFL Today" analyst breaks down Patriots-Steelers

Rivers has been the NFL's best quarterback over the last four weeks

SportsLine's football insider is all over the Bears and another huge NFL underdog to win this...