Ten in NFL who could retire: Is this it for Peyton, Polamalu, Freeney?
NFL careers don't often end in good-bye tours, even for future Hall of Famers. Next season just might be the last for greats like Peyton Manning and Troy Polamalu.
• 3 min read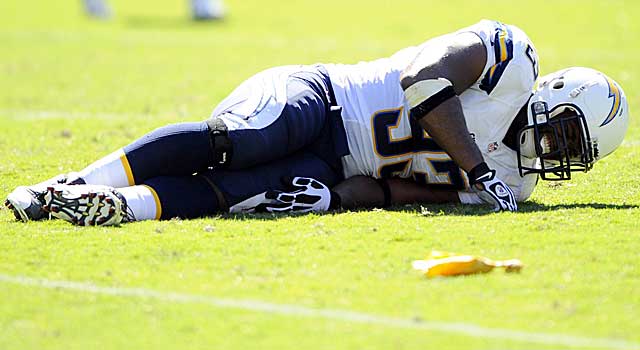 More NFL: Photos | Videos & GIFs | Training Camp updates | Manziel watch
It's a true rarity for veteran NFL players to be able to walk away from the game entirely on their own terms.
Usually, they are cast aside because of injuries or salaries teams are no longer willing to pay, and the decision to stop playing is essentially made for them. Others simply feel the risk-reward pendulum has swung too far the other way, and the rigors of yet another sweltering training camp feels like too much agony to absorb any longer.
The human churn is, and always will be, a constant in this league. All the more reason to savor the very best who play this game for a living, and especially those able to defy the odds and continue to produce deep into their career. So, undoubtedly, 2014 will end up being the end of the line for some of the NFL's best, some certain Hall of Famers among them.
Here's my list of 10 players who may be entering their last season, whether any of us know it or not.
1. Denver Broncos QB Peyton Manning : His $60M guaranteed will be paid out after this season, if he wins it all we know he probably walks off into ownership or the broadcast booth or both. And if not, will his neck and back and brain tell him that it's time to end this phase of his life regardless? It's hard to imagine him duplicating the statistical dominance of a year ago.
2. Pittsburgh Steelers S Troy Polamalu : Even after having his contract reworked, the game-changing safety is essentially on a year-to-year basis with the only team he has ever played for. He's slowed considerably in recent years, though he did rebound in 2013. Polamalu doesn't strike me as a guy who would be hanging on to the bitter end as a role player.
3. Oakland Raiders S Charles Woodson : Being back with the Raiders seems like a pretty good fit, and Oakland has certainly morphed into the Over The Hill Gang, but I'm not sure he hangs on past 2014. Reinventing himself as a safety has prolonged a spectacular career.
4. San Diego Chargers LB Dwight Freeney : His first season in San Diego -- his first time playing for anyone other than the Indianapolis Colts -- mostly was robbed from him via injury, and at this stage it remains to be seen how well he bounces back. Could well be a swan song for the sack master.
5. Chargers TE Antonio Gates : He's been a warrior in San Diego and gutted out so many seasons, but he has certainly worn down some. At age 34, this might be his last time grinding it out with Philip Rivers .
6. New Orleans Saints CB Champ Bailey : He's looking to pull off more or less what Woodson did with the Raiders, but there is so much speed on the field in this wide-open era of aerial football, and Bailey's stint with the Saints could end up quite short.
7. San Francisco 49ers RB Frank Gore : He's carried such a heavy load for so long, and played the position with stunning physicality. But the 49ers keep drafting running backs and at this position, when it goes, it often goes rapidly. A career 49er, his deal expires after this season and his team will be Super Bowl favorites again.
8. New England Patriots NT Vince Wilfork : The Patriots were able to avoid what could have been a nasty divorce with the their nose tackle, who has been with them his entire career. But this was very much a one-year Band-Aid and life in the trenches has a way of catching up to everyone.
9. Arizona Cardinals LB John Abraham : A highly productive sack master -- like Freeney -- who kept it going last year, but can he do it for another season? The Cardinals have been turning over that defense with successful draft picks. At age 36, the end has to be somewhat near.
10. 49ers DE Justin Smith : Like Wilfork, a scrapper in the trenches year after year, but his latest contract was structured to give the 49ers flexibility, and the punishment of his position clearly has taken a toll. Could be quite a group of 49ers going off into the sunset if they do hoist that Lombardi.
The Packers locked arms during the national anthem on Sunday, and will do so again on Thur...

Landry's girlfriend has stated that she was not physically harmed by him in any way

The Eagles rookie kicker's heroics may have cost Wentz nearly $32,000
Timmons was suspended indefinitely after going AWOL during Week 2

Dallas receiver has only 11 catches for 114 yards through three games

Go ahead and doubt Pete -- because this is the week he turns it around with this picks