Ten in NFL who could retire: Our last shot of Peyton or ... Marshawn?
Peyton Manning is still going strong -- could this season be his last? Could be, along with nine more, including Marshawn Lynch.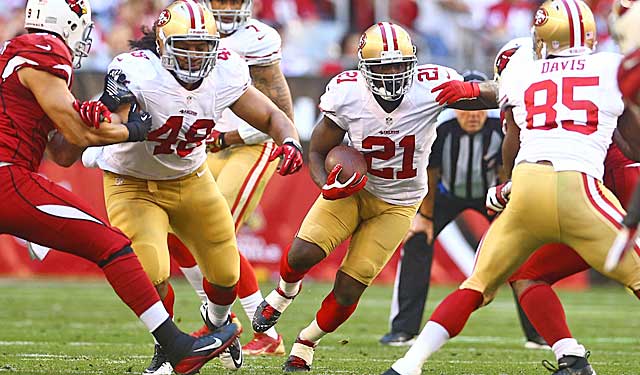 More NFL: Photos | Videos & GIFs | Training Camp updates | Manziel watch
One of the sad things about sports is that Father Time is undefeated and untied. You might stay in the game until the fourth quarter, but Father Time always finds a way to win.
So heading into the 2014 NFL season, we know there are many players who are losing the battle against time. That could lead some of them to retire after the season.
Here's a look at 10 players who could walk away after this coming season.
1. Broncos QB Peyton Manning: He loves the game. He loves the practices. He loves the preparation. But what if he wins the Super Bowl? Could he walk away? I think it would be possible.
2. Steelers S Troy Polamalu: This will be his 12th season and he turned 33 in April. He also has a lot of physical wear and tear on his body. He did bounce back to play well in 2013 after some down seasons, but how much longer can he throw his body around?
3. Seahawks RB Marshawn Lynch: We all know that Lynch is a different type of player, so anything is possible with him. His production dipped last season and he is approaching 30.
4. 49ers RB Frank Gore: Gore will be 32 when the 2015 season kicks off, and that's old by running-back standards. This will be his 10th season, and he has a lot of hits on his body. The 49ers are readying for life without him, so I think it's possible he could walk away.
5. Raiders S Charles Woodson: It's amazing Woodson, in his 17th season, is still a starter in the league. The former corner has morphed into a safety who played decently last season. He re-signed on a one-year deal this season, which means it's likely his last.
6. Falcons KR/WR Devin Hester: Hester turns 32 this November. Can it be? The once great return man is now in Atlanta, but this is his 10th season. Return men tend to slow down in a big way late in their careers, so 2014 will be an interesting season for this former dynamic returner.
7. Lions C Dominic Raiola: He turns 36 this December, and this will be his 14th season with the Lions. He had a good season in 2013, but at his age the question is whether he can keep it up.
8. Saints CB Champ Bailey: Bailey is 36 and this is his 16th season. That's a lot of running with receivers. The Saints are his third team, and likely his last before he heads to Canton.
9. Bears DE Jared Allen: The 32-year-old Allen hasn't had a season with single-digit sacks since 2005, but is he starting to show his age? He signed a four-year deal with the Bears, but can they really expect more than a year or two?
10. Colts WR Reggie Wayne: Wayne turns 36 in November. He is also coming off a torn ACL. It will be interesting to see how he bounces back. He has been one of the class pros in the league, so let's hope he does.
Savage left the game before returning after just one series

Quinton Jefferson explains why things got ugly in Jacksonville

The Eagles lose their franchise quarterback with the playoffs just weeks away
The Packers cornerback held Gordon to one catch on Sunday

Colin Kaepernick, Josh Johnson and Matt McGloin are among the bigger names available

The Rams and Titans look good nearly two full seasons after the Jared Goff trade. But who 'won'...