Ten most interesting players: Redemption arcs, recoveries, Manziel
DeMarcus Ware is looking to rebound in Denver. DeSean Jackson has a point to prove in DC. And, as always, there's Johnny Football as we run down the top 10 most interesting players.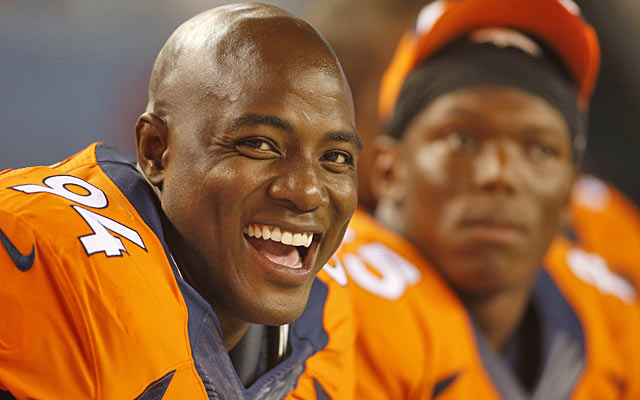 More NFL: Photos | Videos & GIFs | Training Camp updates | Manziel
What type of player do you consider interesting heading into the 2014 NFL season?
Is it a star coming off injury trying to regain past form? Or maybe it's a rookie with a lot of flash readying to play his first game? Or maybe even a Super Bowl quarterback trying to repeat?
Those players all find their way onto my list of the 10 most interesting players heading into the upcoming NFL season, all for a variety of reasons.
Here's a look:
1. DeMarcus Ware , OLB, Denver Broncos : He has been a heck of a pass rusher for much of the past decade, but he is coming off an injury-plagued season that saw him get just six sacks. That, plus a huge contract, led to his release by the Dallas Cowboys , which is why he's in Denver. Since coming into the league with the Cowboys in 2005, Ware has 117 sacks. If he can get back to the double-digits, the Broncos should have a heck of a tandem with him and Von Miller rushing the passer.
2. Russell Wilson , QB, Seattle Seahawks : He's coming off a Super Bowl victory in his second season. That's impressive. But now it's his time to grow as a quarterback and begin to shed the label of being a game-manager. How he improves in the pocket will be huge going forward in his growth. He works as hard as any quarterback, so I expect improvement.
3. DeSean Jackson , WR, Washington Redskins : He has more 30-plus catches the past four seasons than any other receiver in the league, yet the Philadelphia Eagles cut him loose. Now it could backfire on them. He signed with the division rival Redskins, and should be a big part of their passing game. Speed kills, and he has it. Now he has to prove he can show up and do the work that is needed on a consistent basis.
4. Patrick Peterson , CB, Arizona Cardinals : With all the talk of how he's the top corner in the league, more eyes will be on him this season. So when he gets beat in man coverage, it will become an issue. You know Richard Sherman will make it one. Peterson is big, strong and fast: plus, he's about to get a huge new contract.
5. Eli Manning , QB, New York Giants : He has two Super Bowl rings, but he's coming off a horrendous 2013 season that saw him throw 27 interceptions. It wasn't all Manning's fault, but there are a lot of people wondering if he can bounce back and play more like his Super-winning years. I think he can.
6. Jadeveon Clowney , OLB, Houston Texans : The first pick in the draft always brings intrigue, but when he's a physical freak like Clowney, even more so. He is a pass-rush force, but he will be making an adjustment moving from end to outside linebacker. Will that slow his initial progress? Or is he that good that it won't matter? I think it's more of the latter.
7. Giovani Bernard , RB, Cincinnati Bengals : He is expected to be the feature back in the Bengals' offense, which is the smart move to make. Even though he is smallish, he can run inside and he will be a big plus in the passing game.
8. Rob Gronkowski , TE, New England Patriots : When he's on the field, he's the best tight end in football. But injuries have forced him to miss time the past two seasons and he's coming off a torn ACL. He is vital to the New England offense and indications are he will be back for Week One, but you never know.
9. Stevie Johnson, WR, San Francisco 49ers : The 49ers traded to get Johnson from the Buffalo Bills to help liven up the passing game. I think he will be a big help. He gives the offense a different element than what Michael Crabtree and Anquan Boldin can provide.
10. Johnny Manziel , QB, Cleveland Browns : He has to be on this list, right? There is so much intrigue about Manziel the football player as well as Manziel's off-the-field life. As a football player, I want to see if his skills translate to the next level. He is exciting for sure, but can he stand in the pocket and make all the throws? As for his off-field exploits: as long as he stays clear of the law, who cares?
Veteran Alex Smith and rookie Patrick Mahomes have both had solid preseasons

Plus Christian McCaffrey is the truth and the possibility of Blake Bortles being out in Ja...

Let's go under the hood, er helmet, of the VICIS ZERO1 design, the safest helmet in footba...
Bennett was touched by Britt's decision to stand by him as he took a seat on Saturday nigh...

A backlog of worthy receivers and lack of dominance may keep Boldin out, at least for a wh...

The commissioner's current deal runs through 2019