Ten things from NFL Week 8 that intrigue me
Can Tom Brady get it going? Will Mike Shanahan pull an upset against his former team? Those are two of the 10 things that intrigue me this week in the NFL?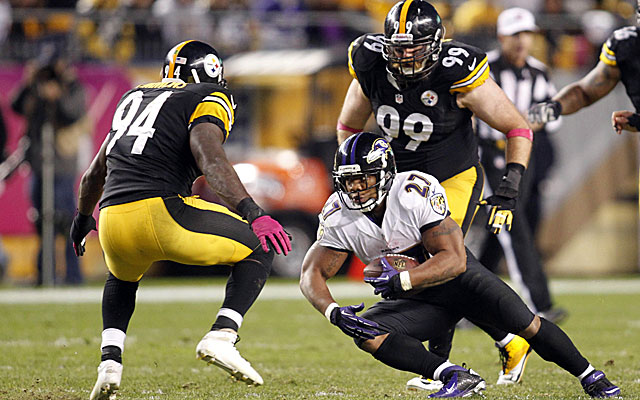 Cowboys CB Brandon Carr vs. Lions WR Calvin Johnson:  Carr did a nice job last week on DeSean Jackson, but Johnson is a better player than Jackson. He is also bigger. Carr is a physical corner who has the size to try and match up with Johnson, but I still expect a lot of double from the Cowboys. When they are singled, it could be fun.
Can Tom Brady get it going against the Dolphins? Brady sure hasn't looked like Tom Brady so far this season. The return of Rob Gronkowski helped last week, but he seemed too focused on getting him the ball. He needs to spread it around some. It is shocking to see how low he is ranked in the passing categories halfway through the season.
Are the Steelers getting on a role? They have won two consecutive games and now head to Oakland to play a Raiders team that isn't that good. The Steelers opened with four consecutive losses, but now appear ready to make a strong push to get to. 500.
Will the Jaguars show up for their London fans? The Jaguars play the 49ers, the first of four games for them in London in the next four years, so they are banking on becoming London's team. But at 0-7, they don't give the fans much to like. The 49ers seem to be rolling again. Does this get ugly? Or do the Jaguars compete like they did against Denver a few weeks ago?
Can Bengals QB Andy Dalton keep it going? Dalton has six touchdown passes the past two weeks and is coming off an impressive game at Detroit last week. The Jets are a good defense, so he will face a stiff challenge to try and keep his roll going.
Can the Broncos bounce back? They lost for the first time last week at Indianapolis, and there is some talk that the Colts provided the blueprint to beating the Broncos. Denver should have a chance to bounce back big here on offense against a bad Washington defense.
Will Mike Vick look like he did before his hamstring injury? Vick is back as the Eagles starter this week after missing two weeks. He faces a Giants defense that isn't very good. A big part of Vick's game is his ability to move around. Will he be limited at all by the hamstring?
The return of Mike Shanahan to Denver: Shanahan won two Super Bowl with the Broncos, and then was fired. This is his first trip back as a head coach since then. He faces a tough challenge trying to beat Peyton Manning after Denver suffered its first loss last week.
Vikings WR Greg Jennings against his former team, the Packers: It was Jennings who had some not-so-nice things to say about Aaron Rodgers and the Packers when he left to sign with Minnesota. Jennings backed off those comments this week, but you can bet the Packers won't let him forget them.
Which new starter plays best, Kellen Clemens or Jason Campbell? Will either one of them play well? Both face tough challenges. Clemens and the Rams are at home against a good Seattle team, while Campbell is on the road at Kansas City. It won't be easy for either of them.
Everything you need to know about the Packers-Panthers game on Sunday afternoon

The Lions will be wearing their Color Rush uniforms for the first time on Thursday

The Lions look to maintain playoff positioning while the Bears attempt to play spoiler
The Panthers have hired an outside law firm to conduct the investigation

Here's every official injury designation for each NFL team for Week 15

Bennett was one of the few players who escaped punishment after Sunday's melee in Jacksonv...