Ten things from the divisional round that intrigue me
Peyton Manning, Luck vs. Brady, Belichick vs T.Y. Hilton are all things that intrigue me this week int he NFL Playoffs.
More playoffs: Prisco's Picks | Expert Picks | Game Rankings
How will the teams with the bye fare? The last time all four top seeds advanced to the championship games came in 2004. So expect an upset or two -- or even three. We've come to expect it, right? So Seattle, New England, Carolina and Denver should all be on alert.
Carolina defensive front vs. San Francisco offensive line: The Panthers got after Colin Kaepernick when they beat the 49ers 10-9 during the regular season. They had five sacks that day and they did a lot of the damage with the front four and not much blitzing. Can the 49ers' line handle them this week?
49ers' receiver Michael Crabtree vs. Panthers' secondary: Crabtree didn't play in the first meeting since he was recovering from the torn Achilles. But he's back now and was big part of the offense last week at Green Bay. The Panthers played a lot of Cover-3 zone in the first meeting. Can they do it again with Crabtree back?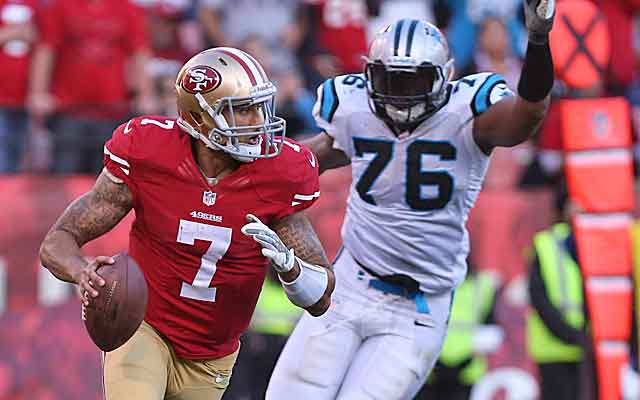 Saints LT Terron Armstead vs. Seattle rushers: Armstead had a nice outing last week against Trent Cole. But now comes a wave of Seattle pass rushers at the rookie. Is he up to the challenge in a stadium that makes it tough on offensive linemen? 
Saints C Brian De La Puente vs. Seahawks DT Brandon Mebane: Mebane is a load in the middle and makes it tough on teams to run. The Saints ran it last week on the Eagles, and If they want to get it going here De La Puente and the guards will have to play well.
QB Peyton Manning in his second postseason start for the Broncos: Let's face it, nobody has more pressure as an individual this weekend than Manning. He lost his first and only playoff game with the Broncos last season, so the vultures are circling. He has to win a game to back them off. 
Chargers running game against the Broncos defense: San Diego ran for 177 yards the last time they played the Broncos. They got most of it on the edge. The Broncos didn't tackle very well that day. Look for San Diego to pound Ryan Matthews in this one.
Chargers pass defense vs. Broncos receivers: They did a great job with their schemes the last time they faced Denver. But you get Manning once with that -- not again. The Chargers were 29th in pass defense. That will be in play here.
How will the Patriots try and take away T.Y. Hilton: Hilton is coming off that monster game last week against the Chiefs. But Bill Belichick is great taking away your top weapon. How will he do it? Doubles? Aqib Talib? 
Colts QB Andrew Luck vs. Patriots QB Tom Brady: This is the young vs. the old and established. Luck wants to get to where Brady is and Brady wants to hold him off for a while. I love when two great quarterbacks match up. This will be fun.
All of the best highlights from Week 15 are right here

The league has suspended some players, but not others, for helmet-to-helmet hits

This is taking trash-talk to the next level
For the second week in a row, Johnson honors the injured Steelers linebacker

Gene Steratore will be in charge of calling the Cowboys and Raiders game on Sunday night