Ten things that intrigue me in NFL Week 12
Tom Brady vs. Peyton Manning and Ed Reed vs. his old team (again) are just two of the things that intrigue me in Week 12 in the NFL.
Can Christian Ponder justify why the Vikings are sticking with him against the Packers? Ponder was really bad last week against the Seahawks, and was benched late. So why don't they play Josh Freeman? They paid him. So shouldn't they take a look? Ponder isn't the future, and Freeman probably isn't either. But shouldn't they try to find out? Check out the above video, where I break down a defining Ponder play. 
Steelers WR Antonio Brown vs. Browns CB Joe Haden: Brown is having a huge year, and is the key to the Pittsburgh passing game. But Haden is a great man cover player. The key here will be how Haden plays Brown when Ben Roethlisberger starts to scramble. He has to stay with Brown. 
Broncos QB Peyton Manning vs. Patriots QB Tom Brady: Does it get any better than this: Two future Hall passers matched up in a big game? Manning has the stats, and Brady has the ring. But none of that matters here. It's just two great passers matched up again. Can't wait. 
How do the Chiefs respond after their first loss with Denver on tap again next week? Losing for the first time last week to Denver in their first big game can impact how they respond against San Diego this week. Andy Reid is a good coach, so it might not matter as much as it would with some teams. But it will be interesting to see if they get off to a fast start. 
Colts DE Robert Mathis vs. Cardinals LT Bradley Sowell: Mathis leads the NFL in sacks with 12 1/2 and Sowell is a struggling left tackle. That would seem to be a mismatch. But Sowell is improving and the Cardinals helped him a bunch last week. I expect them to do the same this week. 
49ers QB Colin Kaepernick vs. Redskins QB Robert Griffin III: These two young passers have not lived up to the hype. They've both struggled to replicate what they did in 2012. Their passing mechanics need to improve if either team is to do anything the rest of the way. They just aren't good enough in the pocket yet.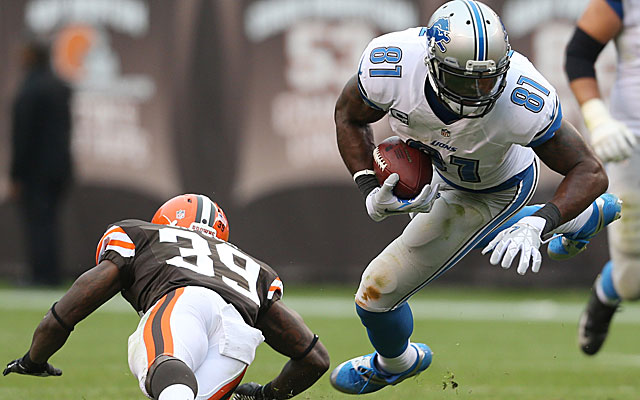 Lions WR Calvin Johnson vs. Bucs CB Darrelle Revis: Johnson is the game's best receiver, while Revis is working back to being one of the league's best corners after ACL surgery. Johnson is a tough cover for any corner in man coverage, and he's much bigger than Revis. I bet Revis gets help. 
Bears G Kyle Long vs. Rams DE Chris Long: They might face each other on a line stunt or a protection scheme, but for the most part they will be going against different players. But it's still pretty impressive that these two will be on opposite lines against each other. Chris Long raved about his brother to me this summer, talking about his toughness. It will be fun to watch. 
Jets S Ed Reed again vs. his old team: Reed, who was an All-Pro for the Ravens before signing with the Texans this season, will meet his former team for the second time. He was with the Texans when they played the Ravens earlier this season. Reed started last week for the Jets, and didn't do much. I bet the Ravens try and get him in coverage, which he struggles with now at this stage of his career.
Broncos OLB Von Miller vs. Patriots RT Marcus Cannon: Miller hasn't looked as explosive this season after sitting out the first six weeks on a suspension. He needs to get it going. Cannon is starting for the injured Sebastian Vollmer and has done a solid job. But this is a real challenge in terms of speed off the edge.
Super Bowl tattoos are never a good idea until your team has actually won the Super Bowl

A couple of dogs emerge victorious in the Conference Championship round

Our computer model simulated the AFC and NFC title games 10,000 times with surprising resu...
If the past 18 weeks are any indication, Tom Brady could be in trouble Sunday

The Patriots quarterback has been listed as questionable for Sunday's AFC Championship

It appears the Raiders didn't break any rules during their hiring of Jon Gruden