Ten things to ponder for conference championship weekend
Here are some of the most fascinating topics heading into next week's conference championship weekend.
• 6 min read
The conference title games are set. The final four teams are looking ahead to the opponents that will try to keep them from playing in the Super Bowl. And as fantastic reporters and journlists, we have questions about each team.
Here are 10 things to ponder this week as the NFL heads into its conference championship games next Sunday.
1) What can be done to hurt the Seattle Seahawks secondary? Or for that matter, their run defense. New Orleans didn't have many answers Saturday. Though the New Orleans Saints found early success running the ball -- particularly with playoff surprise Mark Ingram and the unheralded (and basically unknown) Khiry Robinson -- it didn't translate to many points. But the real worry for the San Francisco 49ers when they play in Seattle next week is how to gain yards through the air. Even without cornerback Brandon Browner , the Seahawks secondary, with Richard Sherman and Earl Thomas and Kam Chancellor , is so damn tough. Although Drew Brees threw for 304 yards (it totally didn't seem like it, right?), that was the first time anybody had thrown for as many as 210 yards against Seattle since Week 4. The 49ers will have to make sure to rely on their running game Sunday, although that's not necessarily a terrible idea for San Francisco anyway.
2) Can Russell Wilson get back on track? It hasn't hurt the Seahawks yet (with the exception of the Arizona Cardinals win in Seattle in Week 16), but it very well could in the conference title game if San Francisco can bottle up Seattle running back Marshawn Lynch . A healthy Percy Harvin obviously would help -- the receiver suffered a concussion Saturday, and his availability for next week will be a major question -- but Wilson just hasn't been sharp lately. As my CBSSports.com colleague Ryan Wilson recently wrote, "Through the first 12 games of the season, Wilson completed 64.9 percent of his passes for 223 yards per game, with 22 TDs and a passer rating of 108.5. In games 13-16 his completion percentage dropped to 57.8, yards per game fell to 171, with four TDs and a passer rating of 79.1." On Saturday, Wilson went 9 of 18 for 108 yards. Some of the plays Wilson made as a quarterback Saturday were simply sublime, but if his passing doesn't improve, the path to a Super Bowl title will be that much harder for Seattle.
3) So much is made about the Seahawks' home-field advantage, but the atmosphere certainly seemed to affect the Saints on Saturday. Especially when Marshawn Lynch was rushing for a touchdown. See?
Lynch TD shows up all three seismometers. This ground motion NOT fan noise #BeastQuake #GoHawks #NOvsSEA pic.twitter.com/d3YY4sP2F5

— PNSN (@PNSN1) January 11, 2014
Either way, the Seahawks have won six-straight home playoff games, and the last time the 49ers played in Seattle, the Seahawks dominated 29-3 in what was likely the most disappointing San Francisco performance all season. The 49ers have to be salivating at the chance to find redemption in the Pacific Northwest.
4) Can anybody stop the playoff beast that is Anquan Boldin ? After winning a Super Bowl with the Baltimore Ravens last year, where he caught six passes for 104 yards and a touchdown, Boldin has had to be the 49ers' No. 1 receiver for much of the season while Michael Crabtree was injured. On Sunday, it didn't matter that Crabtree was on the field. Boldin still played like a No. 1 receiver. How good has Boldin been in the playoffs? Good enough to talk enough trash to fill a landfill and still manage not to get penalized for it by game officials. But seriously. With the exception of last week, he hasn't caught less than four passes or gained less than 60 yards in every playoff game he's participated in during the past three seasons (a total of seven games, again not including last week). He's also scored four touchdowns. On Sunday, he caught eight passes for 136 yards, compared to Crabtree's three catches for 26 yards, and the Seahawks will have to spend much of their time next week focusing on the 33-year-old who the Ravens deemed expendable laste offseason.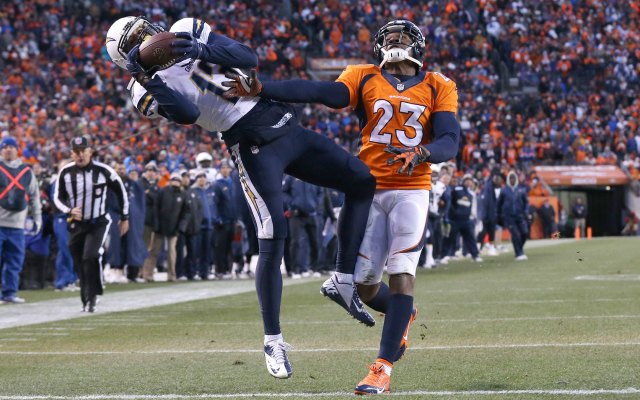 5) The 49ers pass rush bothered Cam Newton on Sunday, and San Francisco will try to do the same to Wilson next week. While the Carolina Panthers ranked 14th in the league in most sacks allowed, Seattle's offensive line allowed one more sack than Carolina. But here's what will make the 49ers smile. If you go by the Football Outsiders metrics, Seattle is the worst pass protection team in the NFL. For the record, the last time these two teams met, San Francisco sacked Wilson four times.
6) The New England Patriots have a running game? Apparently, they do. Actually, they've had one all year, ranking ninth in the league in rushing offense. But what happened Saturday vs. the Indianapolis Colts felt strangely sweet. Tom Brady didn't throw a touchdown pass, and yet, New England scored 43 points. And LeGarrette Blount , who was traded from Tampa Bay for a seventh-round pick, scored four touchdowns and gained 166 yards. You'll recall that in 2012, he rushed for 151 yards and two scores ALL SEASON. It's not just Blount, though. Shane Vereen is such a weapon out of the backfield, and Stevan Ridley has combined for more than 2,000 rushing yards in the past two regular seasons. The Denver Broncos benefitted Sunday from not having to face a healthy Ryan Mathews , but those three Patriots running backs could give Denver problems next week.
7) New England's defense doesn't usually have a great reputation, and though the Patriots ended up ranked 25th in the league this season, they looked sturdy against the Colts. Without Brandon Spikes , who was placed on the IR list this week, rookie linebacker Jamie Collins had his coming-out party, recording six tackles (two for a loss), a sack, and an interception. He was around the ball all game long, and though he had 43 total tackles on the season, Pro Football Focus ranked him 15th out of the 35 outside linebackers playing in a 4-3 scheme. He was a different player Saturday, though. Yet, it wasn't only Collins. Aqib Talib , for the most part, played well against Colts receiver T.Y. Hilton , and cornerback Alfonzo Dennard made high-impact plays throughout the game. Another high-level game from the defensive backs will be what the Patriots need when they face Peyton Manning next week.
8) You know you want to watch Peyton Manning vs. Tom Brady again. We saw it earlier this year when the Patriots beat the Broncos 34-31 in New England, but you have to figure that this time, Denver won't blow a 24-0 halftime lead. And with the game to take place in Denver, that should be another advantage for the Broncos. "It's the Broncos vs. Patriots," Manning told CBS' Tracy Wolfson after the game. "We've played against each other a lot. But when it's the AFC championship, it's about two good teams." Still, Brady typically beats Manning when the two face off against each other, winning 10 out of 14 times. As this Mile High Report graphic shows, Manning actually plays pretty well against Brady; it's just that Brady typically plays a little better. Manning and Brady have faced off two times in the AFC title game. Manning is 1-1.
9) The Broncos haven't been known much for their defense this season, but against the formerly-hot San Diego Chargers offense -- San Diego ranked fifth in the league this season and scored at least 26 points in every game for the past five weeks -- Denver shut down San Diego for 3/4 of the game. And shut the Chargers out for the first 47 minutes. Even without Von Miller , the defense -- led by the play of linebacker Danny Trevathan , defensive end Shaun Phillips and cornerback Dominique Rodgers-Cromartie -- has played much better in the past three games, allowing 13 points to the Houston Texans , 14 points to the Oakland Raiders and 17 points to the Chargers. But even a Rob Gronkowski -less New England offense is capable of scoring plenty of points, especially if the running game is as good as it was Saturday.
10) The weather should be better. So far the playoffs have featured an ice-cold game in Green Bay, plenty of rain in New England and Seattle, and a blustery wind in Denver. The inclement weather makes for a fun visual on TV, but it doesn't much help to keep those games from being sloppy. Next week's weather should be better. According to the Weather Channel, Denver's forecast calls for a high of 55 degrees with partly cloudy skies, zero percent chance of rain and 9 mph winds out of the west, while Seattle's forecast is predicted to be a high of 50 degrees with a chance for some showers. Still, considering conditions were monsoon-like Saturday in Seattle, next week will be an improvement.
Follow Josh Katzowitz on Google+
The Giants got a scare in the second quarter against the Browns

Welcome to the NFL's version of a dress rehearsal

The Browns protested the anthem on national television
Beckham passed tests for a concussion but the Giants will do more tests on his ankle

The president has something in common with Vladimir Putin

The Seahawks are trying to beef up their offensive line with George Fant out