Terrance West's pro day gives Towson its biggest NFL exposure yet
Record-setting running back Terrance West draws a big crowd to Towson's pro day, and some of his teammates stand to benefit from the attention.
• 8 min read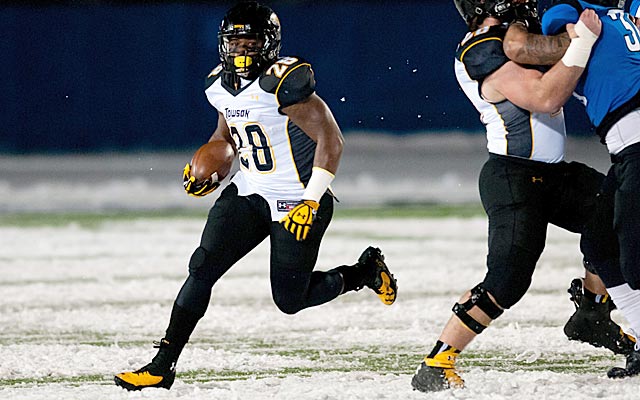 More NFL offseason: Mock Drafts | Prospect Rankings | Pro Days | Top free agents
TOWSON, Md. -- The procession of mostly large men in various NFL jackets and hats crossed the small street behind Unitas Stadium, drawing more than a few puzzled looks from the handful of students crossing the street along with them. Representatives from two-thirds of the teams in the National Football League were on this tiny campus on a dreary and soggy Monday for the Tigers' Pro Day.
Sure, Towson University has produced some pro talent in the past, dating back to Joe Vitt -- a longtime defensive coach in the league now with New Orleans -- and tracing through NFL players like punter Sean Landeta, running backs Dave Meggett and Troy Vinson, and defensive back Chad Scott (who later transferred to Maryland), and now with Bears offensive lineman Jermon Bushrod, a starting left tackle on the Saints recent Super Bowl winner.
But never had anyone seen anything like this before. Not around here.
There were scouts or coaches from at least 22 organizations present -- the Saints had multiple representatives on hand. After reaching the FCS title game and having a running back, Terrance West, open even more eyes with a strong performance at the combine, suddenly this relative football outpost was at least something of an NFL hub for a good four hours as the scouts made their way back and forth from one part of the sports complex to the next.
They passed through some vigorous intramural women's basketball games being played in the old gym on campus -- the Towson Center -- then took some stairs to the weight room, half of which was being occupied by the women's soccer team. What the facilities might have lacked in the ridiculous opulence of many big-time NCAA programs, it more than made up for in charm, and soon enough there were some oohs and aahs going around as the Towson seniors took to the weights and agility drills.
West, the star attraction who is projected to go on the second day of the draft -- perhaps even sneaking into the second round -- did not let down, going through a vigorous workout in the driving rain with temperatures around 40 degrees, and Towson corner Jordan Love putting forth a performance that had scouts from many teams quickly scurrying to watch more tape of the young man and perhaps set up some private workouts.
All in all, it was a strong day for the program -- one that just might hear its name called far more than often during the draft next month -- although it was less than ideal for the large assemblage of scouts given the uncooperative weather and the less-than-sterling conditions under which to test the abilities of some of the prospects.
"I've never seen anything like this here before," said Dan O'Connell, Towson's director of athletic media relations, who has been with the program 32 years. "We've never had this many teams here. We maybe would get two or three in the past who would work a few players out. But this is the first time we've really had the demand for this something like this."
By the school's count, there were at least 27 total scouts or position coaches present from at least 22 NFL teams. Pretty impressive stuff.
In what is a down year for running backs during a time in which many teams would gladly swap out a high-priced veteran for a youngster with less tread and a significantly lesser salary, West continues to draw a buzz.
West, who shattered some NCAA records in leading Towson to its unprecedented playoff surge (including an FCS-record 2,509 rushing yards), decided to stand on his combine performances (he ran a 4.54 in Indianapolis -- impressive for someone with a chiseled 5-foot-9, 225-pound frame), though he did perform running back drills outside despite the slick conditions.
During the lifting and agility drills indoors, West was primarily a cheerleader for his teammates. West had already worked out privately for the Cardinals and Dolphins, and he has met with the Bengals, Ravens and Titans. He has visits to Atlanta, Seattle and Minnesota already scheduled, with more likely to come.
This will be the only chance for most of Towson's 15 seniors to ever work in this sort of proximity to NFL eyes, and to have this many pro scouts walking through the halls created quite a stir among the team's underclassmen.
West's work came at the end of the day during his positional drills. He looked every bit the part of an elite prospect, standing out on his talent -- he was the only player doing individual position drills at the end of the pro day -- as well as his attire, rocking a lime green workout suit, which didn't exactly blend in with the school colors (black and yellow) almost all the rest of the Towson Tigers were donning.
It was easy to see why West was originally ticketed as a big-time recruit by Clemson before academic qualification issues scuttled that. (Financial hardships eventually led him out of football for a season back home in the dangerous streets of North Baltimore before he ended up finally playing at nearby Towson.)
Though he rarely caught the ball in college, it was clear early West was more than capable. "The kid has great hands -- I tell all the teams that," Towson coach Rob Ambrose said. "He can definitely catch the ball out of the backfield."
The scouts I talked to were quickly impressed with his hands -- "He's a natural route runner, you can see that, and he has natural pass-catching skills," one long-time evaluator said. Another noted how, while on tape you can clearly see West relishes initiating and engaging in contact, seeing his speed up close was impressive: "He runs pretty damn smooth for a thicker kid," he said.
If not for West's stellar junior season, clearly, there would not have been this kind of showing, with scouts clustered up under umbrellas between drills whenever possible and braving the elements to scribble notes while the women's track team began their practice on the track behind the sidelines. Jaguars running back coach Terry Richardson led West through the drills and was plenty impressed afterward, telling Ambrose, back in the coaches office, how West refused to let the sloppy conditions get the best of him, praising his footwork and concentration.
"Clearly, we haven't had anything close to this type of NFL presence here before," Ambrose said, who, smartly, took in the action from his corner office overlooking the field, insulated from the relentless rain. "And, certainly, a lot of them are here because of Terrance. But they're not all here for him."
Towson's stout offensive line, which opened holes for West and others in a talented backfield and thrived in pass protection, is opening eyes, too. Tackles Eric Pike and Randall Harris were recently worked out by the Giants here on campus, and, drafted or not, both are expected to end up in a training camp. Linebacker Alexander DiSanzo is at least getting looked at now, too; the Boston College transfer missed all of the 2012 season tending to some family matters and, seeking a hardship waiver to continue his eligibility, did not get it granted until just before the Tigers started their playoff march. Upon reinstatement, DiSanzo started immediately and excelled in Towson's run to the title game. Some scouts were impressed with how he ran and said they would be doubling back in watching what little tape of him was available.
But if West was the obvious star, then corner Jordan Love might have gained the most. Love, once a top recruit for Georgia who played one season for the Bulldogs before transferring to Towson, elicited some audible responses from scouts. Love was not invited to the combine, but has some strong cover skills, a long and lean body type that press-man teams covet, and obvious speed and athleticism.
Love turned a few heads with his vertical leap, and then, on his second, he reached 36 inches, with some "oohs," and, to the best of my ears, at least one "oh, shit," from the scouts hovering nearby.
Love, at 5-11 and 189 pounds, looked the part out on the field. He took his shirt off before running the 40-yard dash, and, wearing just bright orange running pants and shoes, was blazing despite the poor conditions. One scout had him at 4.5, and another I spoke to -- who commented from the onset he thought he had his stopwatch started a hair slow -- clocked Love at 4.48.
"He's a good looking athlete," the scout said. "He has long arms. I could tell just from looking at his lower body he was going to run well. You watch his hips when he pivots, he's very smooth. I'll definitely be watching film on this kid."
Love will have some questions to answer as teams do more homework -- he was suspended for an NCAA violation before the championship game against three-peating North Dakota State, for instance -- but his strong bloodlines are apparent (Love's father played for the Seahawks and his stepbrother, Jerome Mathis, is a former All-Pro who played for the Texans and Redskins).
"I don't know if I've seen as good as feet at this level," Ambrose said of Love. "His feet, speed and timing when he is focused, it's as good as I've seen. He's probably quicker than most corners I've seen."
Some believe Love could end up going as high as the fifth round, and while his agent, Marc Lillibridge, said he didn't receive any immediate requests for private workouts following the pro day, several scouts I spoke to said they want to see more of the corner before the draft, with him a fit for teams like Green Bay, Oakland, New England, Seattle and Kansas City.
Lo and behold, most of them happened to be on campus this afternoon. Then again, so did a good portion of the entire NFL.
"A good day for college football in Baltimore," Ambrose said. Here's betting the draft won't be a bad weekend for it, either.
Everything you need to know about the Packers-Steelers game on Sunday night

The Patriots dynamic duo will be playing on Sunday against the Dolphins

Here's every official injury designation for each NFL team for Week 12
Larry Hartstein is on an 8-2 NFL run and gives his best three-team NFL parlay for Week 12

Plus baby names, kicker issues and other things of interest from NFL on Thanksgiving

It was foretold, and King delivered