Terrell Suggs: Roger Goodell 'had a hand' in Super Bowl blackout
Terrell Suggs thinks that Roger Goodell 'definitely' 'had a hand' in the Super Bowl blackout.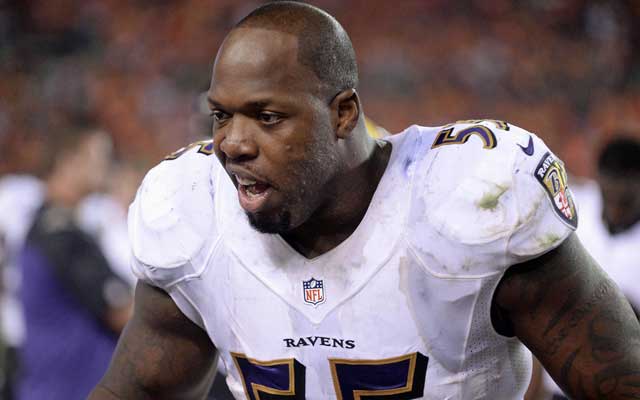 Despite the fact that they won the Super Bowl last season, some members of the Ravens aren't entirely convinced that the blackout was a simple accident. Former Ravens linebacker Ray Lewis "joked" that the blackout was a conspiracy and now current Ravens linebacker Terrell Suggs is joining in on the ridiculousness.
Suggs, in an interview with Lisa Salters of ESPN, says he believes Roger Goodell "had a hand" in blacking out the game to keep it closer.
"I was like Vegas, parlor tricks, you know what I mean?" Suggs says. "I was like, ahh, Roger Goodell, he never stops, he always has something up his sleeve. He just couldn't let us have this one in a landslide huh?"
A somewhat stunned Salters made sure to confirm Suggs' belief. And the linebacker confirmed it.
"I thought he had a hand in it," Suggs said. "Most definitely, he had a hand in it."
In fact, Suggs thinks that Goodell was basically doing whatever he could to keep the Ravens from winning the Super Bowl and clearly favoring the Broncos as well.

"We walk out of the Denver game, and linebackers are warming up on their sideline, and who do we see talking with John Elway, and it's like hmmm," Suggs said. "I thought, your commissioner is supposed to be neutral. He ain't supposed to be on one side or the other, he's supposed to be in the box. I saw him on their sideline and I was like, huh, I know who he's going for.
"I think he definitely has his favorites."
Is Jacoby Jones one of his favorites? Because if Goodell had a fix in he probably would've kept Jones from getting wide open so Baltimore could miraculously beat the Broncos in the playoffs. And if Goodell has favorites, why don't the Patriots have more Super Bowl rings in the last 10 years?
Suggs typically isn't afraid to say some ridiculous things. It's possible he's just doing this to rile things up with the commissioner's office. But there's no question what Suggs means when he says that he doesn't think Goodell is "doing a good job" and believes the commish deserves to make less money.
"He'll deny it but, like I said when I run out of the tunnel, and the first thing I see is John Elway laughing it up, I'm definitely going to feel some way about that," Suggs said. "You're the commissioner of this league and you're supposed to make sure everything is being played on an even playing field. I definitely don't think he's doing a good job, and I don't think he should be making 10 million a year. That's just my personal opinion."
It's doubtful Goodell cares what Suggs thinks about his salary or his job performance. But there's a good chance Goodell doesn't appreciate the integrity of the game being called into question. He can't do anything about it, most likely, though it wouldn't be crazy to ask the Super Bowl champion Ravens to stop complaining about a game they ended up winning.
Check out the uniforms that Kansas City and Oakland will be wearing on Thursday

Cliff Avril's NFL career might be over

Oct. 18 is a very special day in NFL lore
The Falcons should not be making any plans for Minnesota in February

The Colts star quarterback could end up missing the entire 2017 season

Not even two Super Bowl wins is enough to get Eli Manning any respect