Texans DC Wade Phillips will coach on Sunday after losing his father
Texans defensive coordinator Wade Phillips will be on the sideline on Sunday in Kansas City. Phillips lost his 90-year-old father Bum on Friday night.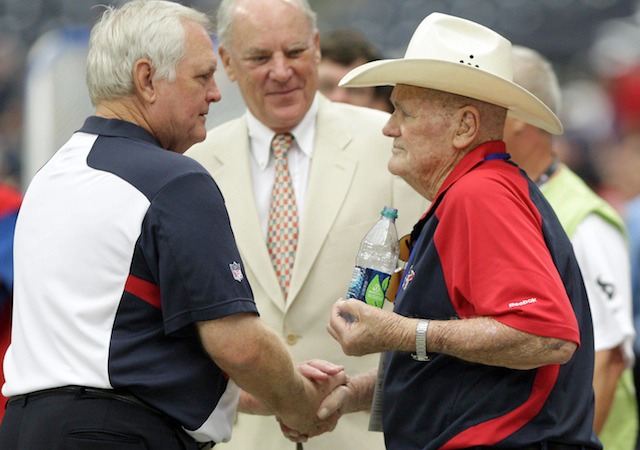 If there's one thing they love to do in the Phillips family, it's coach football, and Texans defensive coordinator Wade Phillips plans to do exactly that on Sunday, according to the Houston Chronicle. Wade Phillips lost his 90-year-old father Bum when the NFL coaching legend passed away late Friday night.
Wade Phillips was with his father when he died. The Texans defensive coordinator made the two-hour drive from Houston to Goliad, Texas after the Texans practice on Friday to be with his ailing father. 
"I'm so glad I got to see him," Wade Phillips said. "Dad was such a humble man, dad was remembered as someone who treated people well."
With a heavy heart, Wade will head to Kansas City with the Texans and do exactly what his dad taught him to do: coach, "I was blessed to have him as a father and a coach," Phillips said. "I got to coach with him for 11 years. He taught me everything I know about coaching. He taught me right and wrong, he taught me to enjoy life."
Having Phillips on the sideline will be good news for the Texans. Houston will be starting an undrafted free agent at quarterback in Case Keenum, so the Texans will most likely be relying heavily on their No. 1 ranked defense to keep them in the game against the Chiefs. 
Phillips is in his third season as the Texans defensive coordinator and in those three seasons, the Texans defense has never been ranked lower than seventh in the NFL. Houston's defense was ranked second overall in 2011, seventh overall in 2012 and through six weeks in 2013 is currently No.1 in the league.  
Tavon Austin, Matt Kalil and Joe Flacco headline our list of the NFL's most player-friendly...

Richardson has played for four NFL teams, and hasn't appeared in an NFL game since 2014

The Texans traded up in the first round for Watson but have no plans to rush him onto the...
Browns tight end Seth DeValve was affected by the violence in Charlottesville

The Patriots kick things off against the Chiefs in the Thursday night opener, so mark your...

Sowers, recently promoted to a full-time assistant, says she hopes being out inspires othe...