Texans, J.J. Watt agree to terms on 6-year, $100 million extension
J.J. Watt and the Texans have agreed to terms on a multi-year deal worth up to $100 million.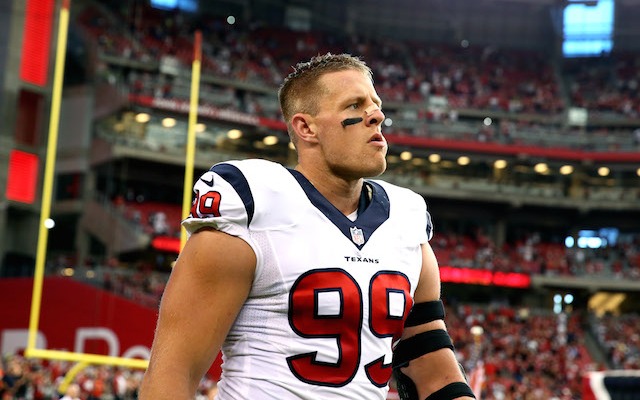 J.J. Watt said in mid-August that it would be "great" to get an extension done with the Texans before the regular season started and it looks like the team listened. As first reported by the Houston Chronicle, Watt and the Texans have agreed to terms on a six-year extension worth up to $100 million. 
League sources told CBS Sports NFL Insider Jason La Canfora that Watt receives $51.876 million guaranteed for injury, which includes $30.876 million fully guaranteed at signing. The other $21 million becomes fully guaranteed at the start of the 2016 league year.

He is signed for eight years total now. He had two years left on his rookie deal, including his 2015 team option, so that would put him around $109M over the eight years.
The $51.876 million in guaranteed money makes Watt the highest-paid defensive player in the NFL. The previous high for a defensive player was Mario Williams' six-year, $96 million deal with Buffalo that included $50 million in guarantees. 
Watt will be getting a substantial raise in his new contract.
Under the terms of his rookie deal, the 11th overall pick in the 2011 NFL Draft was set to make a total of $8.1 million over the final two years of his contract. Watt was scheduled to earn $1.9 million in 2014 and $6.9 million in 2015.
During a mid-August practice session with the Broncos, Watt specifically mentioned that it would mean a lot to him to get a new deal after only playing out three years of his contract. 
"With the new (collective bargaining agreement), I think one of the goals was to make guys earn their pay," Watt said. "No more big paydays up front. ... When a team gives a contract after the third year, they're saying, 'We think you've earned this.' And so, I don't know if [the Texans] feel that way or not. But I sure hope I've put in all the work and I've put in everything I can do to hopefully earn it."
The 25-year-old definitely has earned his newest contract. Watt led the NFL with 20.5 sacks in 2012, a season where he was named the Defensive Player of the Year. 
Since his rookie year in 2011, Watt has totaled 36.5 sacks, the fifth-highest total in the league behind only DeMarcus Ware, Robert Mathis, Aldon Smith and Jared Allen. 
The Watt deal marks the second straight year the Texans have extended a defensive player's contract just before the regular season. Linebacker Brian Cushing signed a six-year extension on Sept. 3, 2013. 
After a report emerged quoting Irving saying, 'I have made a call,' the Cowboy took to Twi...

Washington is banged-up heading into a divisional showdown with Philadelphia

Kenny Britt might be on the chopping block after his latest blunder
Sending money to help with hometown education isn't anything new for the NFL veteran

Here's every official injury designation for each NFL team for Week 7

Last year's Jets were a disaster, but this year's version has been extremely competitive