Texans' J.J. Watt has 'significant groin injury,' will undergo surgery
The Texans star pass rusher said he's been dealing with the injury for six or seven weeks. Head coach Bill O'Brien called the injury 'significant.'
• 1 min read
J.J. Watt's injury-filled season ended when the Texans were blanked by the Chiefs on Saturday. Fittingly, his offseason will begin with surgery.
Watt left Saturday's playoff game with a groin injury in the third quarter and didn't return after Chiefs left tackle Eric Fisher shoved him to the turf.
JJ Watt's foot slipped on the turf, took a little abuse after going down pic.twitter.com/7RUXTCKLGp

— The Cauldron (@TheCauldron) January 9, 2016
But, according to the Texans' official website, Watt did not confirm if his surgery would repair his injured groin.
"Not 100 percent sure, but we'll get it diagnosed tomorrow and I'll have surgery on Tuesday and take it from there," Watt said, per the team's website.
All signs point to his groin. Head coach Bill O'Brien called Watt's knock a "significant groin injury" and Watt added that he aggravated the injury six or seven weeks ago, which means he's been dealing with a groin injury and a broken hand for the past month or so.
"Our training staff has done a great job of just getting me out there on the field so I can play," Watt said. "Yesterday was kind of the breaking point so a lot of credit to our training staff. They've done an unbelievable job."
Despite the injuries, Watt finished the season atop the sack leaderboard with 17.5, winning his second career sack title.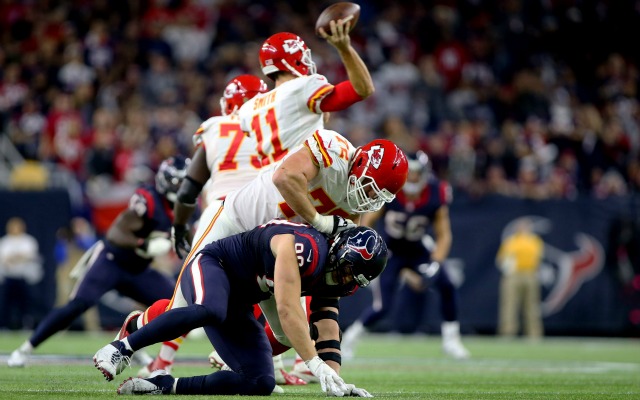 Warren Sapp was one of several players named in a lawsuit against NFL Network

Check out the uniforms that Denver and Indianapolis will be wearing on Thursday

The Cowboys are going to need a few things to go their way to get into the postseason
Rudolph will be put under the microscope in Mobile by clubs looking for a quarterback early...

This fan is taking the Saints to court for using 'football games as a platform for protest...

Can Aaron Rodgers get the Packers to the postseason? Even if they win out, they'll need he...