Texans need QB, but not bad enough to pass on Clowney in NFL Draft
Blake Bortles looks like the ideal fit for Bill O'Brien's offense. So what. There's but one Jadeveon Clowney in the draft, and passing on the DE is too risky.
• 7 min read
More NFL offseason: Mock Drafts | Prospect Rankings | Pro days | Top free agents
For all of the ridiculous ripping he took this past season and all of the pundits weighing in on Jadeveon Clowney's varied perceived slipups, the young man is still primed to be the first overall pick in the upcoming NFL Draft. And now, less than a month away from the Houston Texans making that first selection, I would go ahead and project Clowney to be the pick, barring any trade scenarios that are too good to pass up.
In the end, for all of the hand-wringing and the columns and the dissection of a young man who entered 2013 with literally nothing to gain as a college football prospect -- his stock could only go down as he was already viewed as a potential once-in-a-generation pass rusher -- Clowney very well could be right back where he was long-ago projected: first overall. If the Texans make that selection, no one can fault them, and it just might be the move that quickly vaults the team back to being a competitor in the AFC.
Sure, the Texans need a quarterback, badly, but let's keep in mind what the first overall pick entails. We are talking about a player who stands apart as the best of his breed by some margin, a player who has transformational ability and who has displayed an ability to dominate at the highest levels of the college game.
Clowney has done all of the above, and in a situation where you are drafting on talent and naturally projecting, you can't do better than grabbing the kid who has the kind of natural prowess that Clowney possesses.
He can take over games, and while we can debate his "motor" and motivation and all of that, the bottom line for him is the threat of injury and a significant loss of future earning potential was a very real factor all of 2013. That's especially true considering what South Carolina teammate Marcus Lattimore had to endure with his shredded knee and setbacks in 2012. And, if we are going to applaud owners and coaches for doing what's in their best interest and protecting their revenues and earnings and market share, then the same standard should apply to an "amateur" athlete who is generating millions for his university and putting his body and career on the line every Saturday to do it.
So, when you talk to scouts and watch the tape and talk about sheer ability, Clowney rises to the head of the class. I don't care about how much he is or isn't doing at his private workouts -- again, this is a losing proposition for him. There just isn't much to gain beyond the numbers he has already posted in t-shirt and shorts and boxers under the poking and prodding of the NFL combine.
He would be silly not to protect his best interests and abide the recommendations of those he has entrusted to handle his career. His agent, Bus Cook, is well qualified to navigate the potential landmines in public perception and idiot columnists and talk-radio buffoons, as Cook just did this dance a few years back with another object of misdirected anger -- Auburn quarterback Cam Newton -- who you will recall ended up going first overall anyway.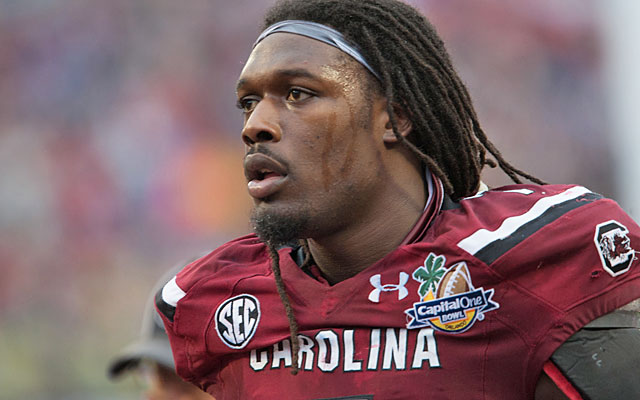 The only argument I see against taking Clowney for the Texans is Johnny Manziel, but Manziel might not be a fit. I have continued to hear from those who know Texans rookie coach Bill O'Brien well that Manziel's body type, playing style and attitude don't seem like a natural match, and as much as O'Brien is right to talk about the depth of his playbook and his ability to meld his game call to his talent and all of that, the reality has been that his passers have been more in the big, tall, pocket-passer mode of a Tom Brady.
The quarterback who best fits that mold in this class is Blake Bortles. But taking a kid who over the scope of his college career did substantially less than so many standouts at other positions, and doing it in a draft with so many other options for quarterback in the second and third round, sure seems like a stretch.
If Bortles was so clean, so can't-miss, and all of that, so be it. But this is anything but an Andrew Luck situation. It's a reach, potentially a huge reach, and under the current evaluation, how much better is Bortles than someone like Derek Carr or Jimmy Garappolo, or Zach Mettenberger, or Tom Savage?
Is the dropoff that steep? Because I can damn sure promise you this: There isn't a pass-rushing prospect who will be selected in that range who looks anything like Clowney on film or in person right now. Not saying one won't emerge, but at this stage in the process, that kid just doesn't exist. The opportunity to land someone like Clowney, who just turned 21, who has the talent to be a $15M/year pass rusher, to be able to land him for about $5.5 million per season, and to control his rights for his first seven years (assuming two franchise tags), that is too good to pass up in my opinion.
O'Brien is a quarterback guru. He has won by cultivating and developing less-skilled kids in the past, and given the import of this first overall pick, and the group of other quarterbacks that can be had later in the draft, the closer we get to May 8, the more I break away from my original sentiment that the Texans take a quarterback first overall and the more I think it's Clowney.
He impressed Texans ownership and management and the coaching staff with his time spent with team officials both the night before his pro day and otherwise. If you say he doesn't love football, then you just don't know him, and anyone who questions his character, or some such nonsense, is pretty clueless as well. He's a kid who loves the game, who loves his dogs, and who has stayed out of trouble despite his father being incarcerated for much of his life.
He's someone who had the chance to get out of a verbal agreement with Puma when other apparel companies began throwing more money his way, but who was adamant he honor his commitment to the shoe maker who seemed most interested having him represent them from the onset. He has impressed NFL people in his meetings. In an era of prospects who have serious red flags and rap sheets trailing behind them, Clowney has no such concerns.
And the combination of him opposite J.J. Watt on Houston's defense could be devastating for opponents and might quickly give the Texans the best bookend tandem in the NFL.
As much as we talk about their need for a quarterback, let's not forget how poor that defense was a year ago. They yielded long drives, against suspect offenses, far too often, and especially late in halves. This is a defense still starved for difference-makers, as it was 32nd in red zone scoring, 31st in fumble recoveries and 29th in allowing rushing plays of 10 yards or more. It's a unit that allowed a passer rating of 98 on attempts over 20 yards in the air (and a lofty rating of 94 overall), that tied for 24th in total points allowed, and that ranked 31st in points allowed on an opponent's opening possession. Oh yeah, it's a unit that also ranked 29th in sacks with just 32.
Getting more sustained pressure, having a dominant edge rusher to complement Watt, wouldn't fix all that ails them, but it would certainly cover up the lack of game-changers in the interior of their defense, and aid a secondary that can be exploited. Fixing that defense, and adding the best player available, would certainly lift the offense as well and provide such much-needed assistance to whoever ends up under center for the Texans in 2014.
Let O'Brien work his magic on someone nabbed in the second or third round, and take the best prospect available with the highest pick. The Texans don't need a left tackle with Duane Brown in the fold. First overall isn't the right spot for Sammy Watkins or Khalil Mack, I don't believe. The only quarterback I would take here is Johnny Football, and we could write a series of columns on the many reasons, real or perceived, why he might be too much of a gamble for some (although, again, not for me). And if in fact he isn't the right fit for the Texans, then you won't be able to convince me Clowney isn't just the right guy at just the right time.
The Dolphins also donated $100,000 to the victims' fund after the school shooting that killed...

The Cardinals GM explains his process for finding Carson Palmer's successor

Stefen Wisniewski narrowly missed out on a chance to earn $250K, but the Eagles gave it to...
Shazier heads into the Steelers' facility every day and helps with 'personnel stuff'

Foles's life has completely changed by leading the Eagles to a win over the Patriots in Super...

For all of the attention Patrick Mahomes will receive, fixing the defense has to be Kansas...