Texans Observations: Schaub leaves last year's slow finish in past
Matt Schaub wasn't at his best as the Texans fizzled to end the 2012 season, but the veteran QB knows a Super Bowl bid is the next big step for his team.
• 5 min read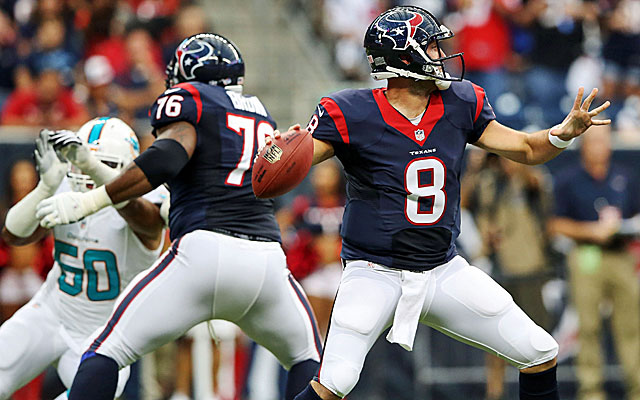 HOUSTON -- The common perception of the Houston Texans is that they may not have the quarterback to get them to the Super Bowl. And there is no goal here other than winning a championship. Nothing else will suffice, which is clear from the front office to the coaching offices to the locker room.
There will be no shortage of those wondering if Matt Schaub can lead this talented group to a title, and the Texans will likely hear about it for much of the season. They believe it's a little more involved than that, however. Players and coaches spent the early portion of the season assessing why a team that seemed to be riding as high as any in the NFL for much of the season somehow lost that mojo down the stretch.
Schaub clearly wasn't at his best, but this is also a team that struggled to run the ball nearly as effectively as it had in the past, and the defense began to surrender big plays with too much regularity as the season went on. So there is more to tighten up beyond just the passer.
"It's a team game, and whenever you hear things about the quarterback, it come with the territory of that position," stalwart tight end Owen Daniels said. "But Matt's a great player, he does an excellent job running this offense, and we wouldn't want to have anyone else here doing it. I think what happened last year was we just weren't playing well together. We had a lot of penalties, turnovers, and that was everybody. Collectively, we have to be better."
Schaub said that a Super Bowl "has to be the next step for us, and we just maintain the level of consistency to get there." Schaub said he watched all the film from their decline right after the season and players talked about it prior to OTAS, but then moved on.
"It was like unspoken," Schaub said. "We just knew what needed to get done. We didn't really need to say a whole lot but we did get together in groups to go over it."
More observations
Arian Foster had his first real practice of the offseason Friday and the general consensus was he looked good. Privately, the Texans are pleased with where he is now after some concern in the past. The reality is, however, that the team was only rushing around 4 yards per carry last year, Foster has been dinged up quite a bit in recent years and given all of the time he has missed, I'm not sure he dives in on Week 1. I could still see a fair amount of Ben Tate early on, and it's hard not to look at the abuse Foster has taken over the years playing as hard as he does. Regardless of who is handling the ball, there has been a heavy focus on getting back to being an elite ground team. "We didn't run at the clip we wanted last year," Daniels said. "We want that yards-per-carry to be around 4.5. We expect it there."
Future Hall of Fame safety Ed Reed will return to the team this weekend after seeing a hip specialist in Vail, Colo., for the final time. Reed has told friends he is feeling better each week and some who know him well believe that a return by Week 1, though not certain, would hardly be a shocker. Reed has always been a guy who knows his body well and has taken his time in the preseason, so this isn't foreign to him. Bottom line is it would take a weird setback for him to land on the PUP list in the regular season, and I would expect to see him in September. It's not so much a pain issue at this point as it is working through some scar tissue and just getting back into the football grind. He's always been a tremendous gamer. He'll be in uniform sooner rather than later.
Right guard Brandon Brooks has the chance to be very good. He is bigger than the norm for linemen in this zone scheme, but he continues to wow people around here and he is plenty agile enough. This could be a big season for him.
Rookie receiver DeAndre Hopkins was having a tremendous camp and preseason, and is currently dealing with a concussion. He is in the early stages of that recovery and the good news for him and the team is he did not have a history of head trauma in college. There will be no rush to get him back, but when he does come back in September he could make an immediate impact. Hopkins looks like a great compliment to Andre Johnson, and there is no shortage of faith in him around here. Schaub said early on in OTAs he could see Hopkins slowed a bit, having to think his way through things. But the youngster stayed in this area through the offseason, catching balls regularly from Schaub, and they already have a chemistry going. "He knows what he's doing now and he had a two-day stretch where he had like 10 catches each practice," Schaub said. Schaub said Hopkins' ability to use his frame, compete for the ball, and his massive hands -- "the ball disappears when he catches it" -- make him a real weapon. "The sky is the limit for him and it's my job to make sure he knows what he's doing," Schaub said. "I have full trust in him."
Receiver Keshawn Martin is opening eyes in his second season out of Michigan State, and not just in the return game. Expect him to be a bigger part of this offense as well, working both on the inside and the outside. "In my opinion he's made the best jump from Year 1 to Year 2 that I've ever seen in my 10 years in the league," Schaub said.
The Texans have renewed depth at tight end. Look for more jumbo packages from them and ways to get multiple tight ends on the field at once. It used to be a staple for them. "I know everyone talks about New England," Daniels said, "but, shoot, we've been doing it since I got here. We didn't do it as much last year, but we have more depth this year, and we can get to those three tight-end sets a lot more often." Garrett Graham, in particular, should see plenty of action.
Schaub said JJ Watt only knocked down one of his passes through the entirety of training camp. "Just one, believe it or not," Schaub said. "I'm pretty proud of that. Just one. But he let me know about it when he got it."
The battle between Case Keenum and TJ Yates for the backup quarterback spot could go down to the wire. It's that close. Regardless of who loses, the Texans usually feel strongly about keeping three QBs, and they really like the depth they have there, so I'd be really surprised if they shopped whomever isn't right behind Schaub on the depth chart.
Larry Hartstein has the pulse of Bill Belichick's team and just picked Patriots-Raiders in...

Here's every official injury designation for each NFL team for Week 11

Vontaze Burfict is not happy with the officiating situation in the NFL right now
The factory of sadness might end up holding the most depressing parade in football history

Philly rolls into town with the best record in the NFL

DFS pro Mike McClure tells you who should be nowhere near your DraftKings and FanDuel line...