Texans Observations: Time for more in postseason from this group
The Texans have won consecutive division titles, but this is a team built for so much more. Can they get there with this group? What if they don't?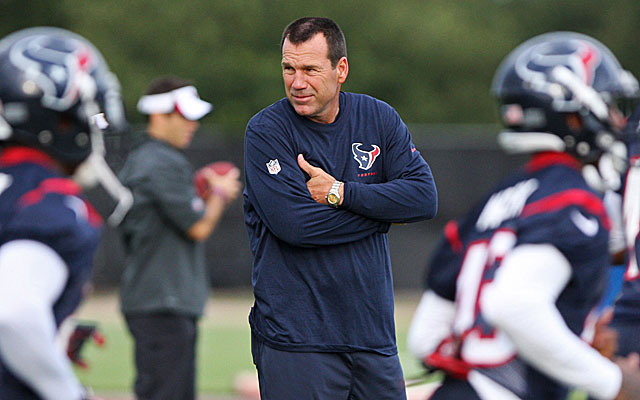 HOUSTON -- For much of their existence, the talk around the Houston Texans was about the playoffs, or whether they would ever get there.
Now it's about a lot more.
Two consecutive division titles, two consecutive playoff appearances, including two playoff losses to end their season, means the Texans are taking over as the IAAJ team in 2013.
IAAJ: It's All About January.
"An organization has to taste January," Texans coach Gary Kubiak said. "This organization didn't know it existed. We went and found that a couple of years ago and now we have a group of players who have played in four playoff games, two good ones, two bad ones. But the most important thing I can do is keep our asses focused on the first game. They know what January is like. You have to play as good as you can play. They understand that. I have to keep them focused on what it takes to get there."
Another AFC South title would be nice, but if they do that and have another playoff flameout, the season will be a failure. There is no other way to look at it now.
"To get out of the cocoon and turn into the Super Bowl butterfly, you have to change you mind-set," Texans defensive end Antonio Smith said. "Just like we changed our mind frame of becoming a winning organization. Just the way you changed your mind frame then. You are a winning organization. You are a winning team. Now it's just time to raise the goals and raise the bars. Start reaching higher. Start demanding more, and then you start to expect it."
The Texans are the favorite in their division, but anything less than a deep-playoff run will get the questions coming again.
Observations
• If you're looking for a rookie receiver in fantasy, take a hard look at DeAndre Hopkins. The first-round pick out of Clemson appears to be the perfect complement to Andre Johnson. He isn't a burner, but he knows how to play faster than his speed and he has great hands and body control. The Texans are thrilled with what they've seen so far. That's big since it appeared at times in the second half of last season that quarterback Matt Schaub passed on chances to other weapons too much to try and force the ball to Johnson. The Texans need weapons to emerge. Keshawn Martin, a second-year player, also looks improved. "I think we have a chance to be more balanced than we have," Kubiak said.
• Speaking of Schaub, he tailed off in the second half of last season, which led to questions about whether he was the guy for the long term. That isn't the case with Kubiak, but he understands the heat after two seasons that ended with playoff losses. "The message that is sent in this business is the bigger the game, the bigger the quarterback has to play," Kubiak said. "That's fair. That's part of it. When people start talking about you can't win the big one, it means you are arguably close. That's a good thing. "
• The Texans are thrilled to have linebacker Brian Cushing back working in practice. He tore his ACL last year on a cut-block against the Jets and has had to work hard to get back on the field. He didn't play in the preseason opener, but to see him work here he's close to being all the way back. He might play this week against Miami. Cushing was missed in the middle of that defense. When he went out, they lacked the big thumper at linebacker and a big part of their pass defense. 
• Safety Ed Reed, who is on the PUP list, wasn't here working because he was in Atlanta continuing his rehab from hip surgery. The Texans are hopeful he will be ready for the regular-season opener. That might be pushing it. If he can't go, rookie D.J. Swearinger isn't expected to start. He missed a tackle last week that enabled the Vikings' Zach Line to run for a long touchdown. Shiloh Keo, who lacks great range, is running with the first team now. The Texans took a risk letting Glover Quin leave via free agency, and it will be interesting to see how this plays out. Reed's skills are clearly diminished. 
• Another player who hasn't practiced yet is running back Arian Foster. He was working on the side the past two days and had missed 25 practices as of Wednesday.  He was first hindered by a calf injury and then had problems with his back. Foster's per-carry average fell last season, so he needs to get back and show that he's still the elite back many think he can be.
• The Texans are high on right guard Brandon Brooks. They think he has a chance to develop into a Pro Bowl guard. If he can, the right side will be markedly improved. Right tackle Derek Newton played through a knee injury last season and struggled. He is healthy now. Another young lineman to watch is rookie fifth-round pick David Quessenberry. He has done some good things inside at guard after being a college tackle. 
• Corner Kareem Jackson had an impressive season in 2012. Now he might be posed for even more. Jackson has trimmed down and Kubiak was raving about him. With Johnathan Joseph healthy on the other side, the Texans have a heck of an outside duo.
There, I said it
• J.J. Watt will take down the sack record.
• Hopkins will be in the battle for Offensive Rookie of the Year
• Reed will be a major disappointment. He isn't that good anymore.
• Tate will take away carries from Foster.
• The Texans will win the AFC South.
• Owner Bob McNair will start to get antsy when they don't get past the first round.
Here's how Cleveland could wind up with the first two picks in the draft

Chargers coach Anthony Lynn did not provide details on whether or not Henry will play

Panthers owner Jerry Richardson no longer has day-to-day control of the team
Rally cries for 'St. Nick' are echoing across Pennsylvania as Eagles trudge forward without...

The Panthers will be missing their star linebacker for the rest of the regular season

The Cowboys running back now looks like a tank