Texans owner Bob McNair: Houston open to trading No. 1 pick
Texans owner Bob McNair and general manager Rick Smith both said on Friday that Houston would possibly be open to trading the No. 1 overall pick in May's NFL Draft.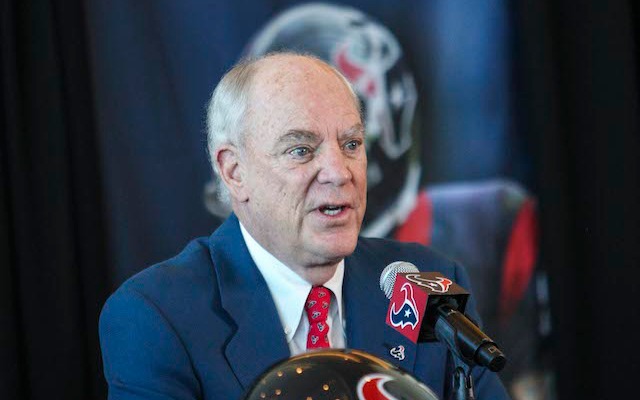 The Houston Texans currently hold the No. 1 overall pick in the 2014 NFL Draft, but that doesn't mean they're going to keep it. Texans owner Bob McNair said on Friday that the team is open to possibly trading the pick. 
"Maybe we'll trade down and still get a quarterback that can do the job and get an outstanding defensive player," McNair said, via ESPN.com. "It's an exciting time. Everything's a moving target. Lot of different pieces."
The 2014 draft will mark the third time in franchise-history that the Texans have held the No. 1 overall pick. In 2002, the expansion Texans used the first overall selection to take Fresno State quarterback David Carr.
Carr didn't do much with the Texans, but he did lead the team to a 2-14 finish in 2005 that gave Houston the No. 1 overall pick in the 2006 NFL Draft. With that pick, the Texans selected North Carolina State defensive end Mario Williams. 
"The defensive player worked out better than the offensive player," McNair said. "That won't lock us into anything."
General manager Rick Smith echoed that sentiment, saying there's no guarantee the Texans will draft a quarterback with the No. 1 overall pick, "I don't think you take a particular position just because you need a particular position at any point in the draft, especially the first pick," Smith said. "So we'll rank it, we'll value it, and we'll make good choices if the opportunity presents itself to move back because it is a very valuable pick, and we'll entertain those as well."
If the Texans do decide to take quarterback, Smith and new coach Bill O'Brien will have several quarterbacks to choose from, including: Johnny Manziel, Teddy Bridgewater and Central Florida's Blake Bortles. 
Whatever the Texans decide to do, they'll have a few extra weeks to think things over this year because the NFL Draft has been pushed back to  May. The first round of the draft will he held on May 8 in New York City. 
After an injury to Trevor Siemian, Brock Osweiler entered the game and helped the Broncos to...

The 32-year-old running back is done for the year

Brandon Williams was involved in a scary situation in the first half against Denver
The Broncos are turning back to Osweiler after an injury to Siemian

The Cowboys legend admits he's not on 'great' terms with the Cowboys suspended running bac...

Here's the latest information on injured Steelers linebacker Ryan Shazier