Texans P Shane Lechler hospitalized with the flu
Texans punter Shane Lechler has spent the week in the hospital battling the flu. However, the 37-year-old does expect to play on Sunday against his former team the Raiders.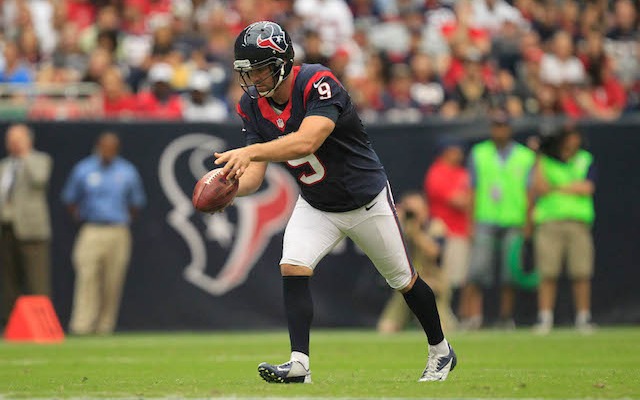 It's been a rough week for Texans punter Shane Lechler. Lechler has spent most of his week in the hospital battling the flu, coach Gary Kubiak said on Thursday.
Kubiak didn't say when Lechler checked-in to the hospital, but he did say his punter has been hospitalized for a 'couple days.' Kubiak also added that expects Lechler to be released from the hospital sometime on Friday.
"He's doing better this afternoon," Kubiak said on Thursday. "He will stay tonight and he's expected to be released tomorrow."
The hospitalized Lechler let Kubiak know on Thursday that he plans to play on Sunday. "He sent word to me today, 'Hey, I'll definitely be there to do my job.' I think he'll be OK," Kubiak said. 
Lechler definitely has some incentive to be on the field on Sunday. The Texans are playing the Raiders, a team Lechler spent his entire 13-year career with before signing with Houston in March. 
The seven-time Pro Bowler is one of the most prolific punters that's ever played in the league. Lechler's 47.6-yard career punting average is the highest in NFL history. The offseason move to Houston made sense for Lechler, who attended high school just outside the city and played collegiately at Texas A&M before being taken by the Raiders in the fifth round of the 2000 NFL Draft. 
If for some reason, Lechler can't go on Sunday, Kubiak does have a contingency plan. Kicker Randy Bullock would handle punting duties and quarterback Matt Schaub would fill-in for Lechler as Bullock's holder on field goals and extra points. 
In the past week, Marshawn Lynch and Michael Bennett have both sat during the national ant...

As expected, the internet had jokes about the Chick-fil-A at Mercedes-Benz being closed on...

Harrison is the franchise's all-time leading sacker, but J.J. Watt's brother will get the starting...
More than 17 percent of fans say they would never consider dating a Pats fan

Brady said that his lack of speed is why he fell so far in the draft in the first place

If Thomas is right, that means it's bad news for DeShone Kizer's chances of starting early