Texans QB Case Keenum gets first-team reps
Texans quarterback Case Keenum took first-team reps on Thursday, it was the first time since training camp started that Keenum has taken snaps with the ones.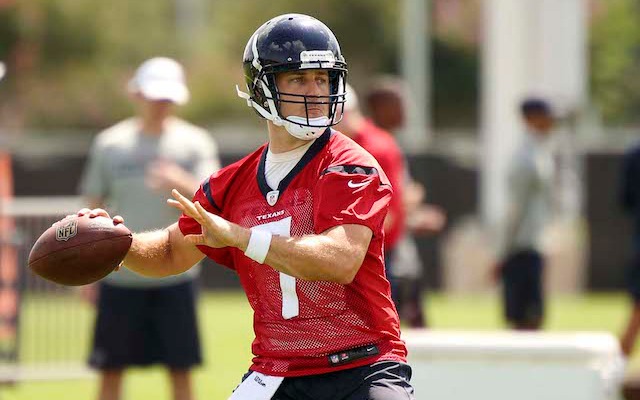 More NFL: Photos |  Videos & GIFs |  Training Camp updates | Manziel watch
Ryan Fitzpatrick's horrid performance in the Texans preseason opener might not cost him his job, but it did cost him some first-team reps in practice on Thursday. Backup quarterback Case Keenum took some snaps with the No. 1 offense, marking the first time since Houston started training camp on July 26 that Keenum has taken first-team reps.  
If you missed the Texans preseason opener, here's what happened: The Texans scored zero points and totaled only 172 yards in a 32-0 loss to Arizona. Fitzpatrick played a big part in Houston's failures. The Texans starting quarterback threw two interceptions and finished the game with a 14.6 passer rating. 
After the game, coach Bill O'Brien called his team's performance 'terrible' and 'unacceptable.'
The day after the Aug. 9 game, O'Brien said Fitzpatrick was still the team's starter, but he was open to any changes that might 'make the team better.'
Keenum finished 3 of 5 for 29 yards in a brief appearance against Arizona. Fitzpatrick finished 6 of 14 for 55 yards, along with two interceptions. 
Although Keenum took first-team reps during practice on Thursday, that doesn't mean O'Brien is ready to give him first-team reps in a preseason game. The coach told ESPN.com that Fitzpatrick would take the first-team reps against the Falcons on Saturday. 
The starting job might be Fitzpatrick's for now, but if he looks as bad against the Falcons as he did against the Cardinals, O'Brien might be giving Keenum a lot more first-team reps next week. 
This might go down as the best ending of the 2017 season

The Raiders beat the Chiefs, 31-30, on Thursday night thanks to Derek Carr's heroics

This was easily the most exciting final 10 seconds of any game in the NFL this season
Everything going the Chiefs way on Thursday Night Football

Beast Mode went Beast Mode on someone he shouldn't have gone Beast Mode on

This is how you do a 99-yard touchdown drive