Texans RB Arian Foster considered retirement after 2013 back injury
After injuring his back in November, Arian Foster went through a phase where he re-evaluated what was important to him in his life.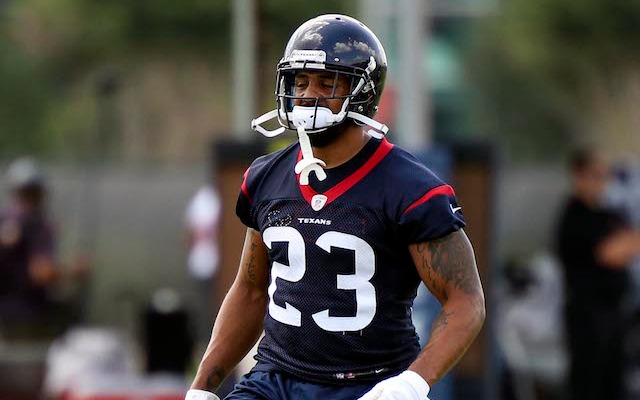 More NFL: Photos |  Videos & GIFs |  Training Camp updates | Manziel watch
The back injury that ended Arian Foster's 2013 season also almost ended his career. During an interview on Monday, the Texans running back said that he contemplated retirement in the months after his November back surgery. 
"Any time an athlete goes through an injury like that -- a back, a neck, even knees or hips, something that puts you out for the entire season -- you kind of re-evaluate your life," Foster told ESPN. "You see what's really important. Is getting paralyzed more important than playing with your grand kids when you're 50, 60 years old. People die on the football field. This is a really brutal sport. Going through an injury like that, being 27 years old, I'm young, still I'm at the prime of my career. Is it worth it to try to come back?"
Foster said he was so unsure about coming back that things got to the point where he gave vague answers when asked about his injury.
"People start asking are you going to come back next year, how long are you out for? And you're just giving those cliché answers," Foster said. 
The Texans running back was injured in a Week 8 game against the Colts on a play where he wasn't hit.  
"Initially when it happened, you know it wasn't just a regular injury that you play through. It happened just like on a simple routine," Foster said. "I cut and I just felt like my back, this little slip. It was awkward. I tried to play the next play with it too, but I couldn't even lift my knees." 
Not being able to move his knees was something that understandably worried Foster.
"It is scary. Because you don't know what it is, especially with a back," Foster said. "A spine injury. You can be paralyzed, that'll change the course of your life forever. Those are the kinds of thoughts that run through your head."
The November back surgery ended up sidelining Foster for a total of four months. The Texans running back was cleared by doctors to play again in March. 
Foster's interview on Monday was slightly more insightful than his first one of training camp, which came last week. During that interview, Foster gave the same answer to 13 different questions. His reasoning?
Media is full of propaganda and you're subjected to their agenda. Don't let them think for you. #staysuckafree

— Arian Foster (@ArianFoster) July 31, 2014
The former Buccaneers kicker did not have things start well for him in Chicago

Bears special teams showed up in a big way against Arizona

Beast Mode got loose with Oakland and looked pretty impressive in the early going
Beast Mode was one of several players to sit during the Raiders-Rams game

The cleaning staff in Houston missed a couple of things while cleaning up after Super Bowl...

Marvin Jones had some serious fun in the end zone after scoring against the Jets