Texans RB Ben Tate placed on injured reserve
The Texans now have two running backs on injured reserve. Ben Tate was placed on the IR on Wednesday and joins Arian Foster who was placed on the IR in November.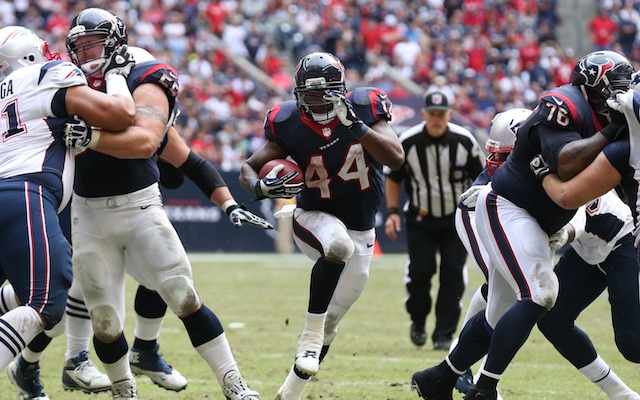 Four cracked ribs couldn't stop Houston running back Ben Tate, but the Texans are going to draw the line at five. Tate was placed on injured reserve on Wednesday after suffering a fifth cracked rib this week, interim coach Wade Phillips announced. 
"Ben Tate has a cracked rib," Phillips said. "This is his fifth one, so we had to put him on injured reserve. I said all along that he's a really tough son-of-a-gun."
Tate had been playing with four cracked ribs since October when he was injured in a 17-16 loss to the Chiefs. Not only had Tate been playing with the cracked ribs, but he had been doing it as Houston's featured running back. Arian Foster, the Texans usual starter, was placed on injured reserve in early November. 
The 25-year-old running back will finish the 2013 season with a team-high 771 rushing yards and four rushing touchdowns. With Tate out, Dennis Johnson is expected to finish the season as the Texans running back. 
The big question now is whether or not Tate, who will be a free agent in March, will return to Houston next season. Tate was asked in mid-December if he wanted to stay with the Texans and he didn't exactly say yes 
"That's a tough question to answer. I can't say, 'No, I don't want to be here.' But I can't say I do want to be here, because they invested in Arian," Tate said. "I feel as though I'm just as talented, I can do the same things he does, so where do I fit in? My time in this game is limited. I'm 25. I'm in my prime for the next three years. So I want to be somewhere where I can utilize that."
Tate has been in Houston since the Texans selected him in the second round of the 2010 NFL Draft. 
Dak Prescott was efficient and explosive and DeMarcus Lawrence was dominant in the Cowboys...

The Dallas receiver threw up the X after his score, and he certainly deserved it

The singer sent a message with a verse of scripture on Monday night
The Cowboys owner joined in a demonstration with the Cowboys players before Monday night's...

Look for Ezekiel Elliott and Dak Prescott to rebound after a rough outing in Denver

Quarterback Russell Wilson was one of the chief proponents for the Seahawks staying in the...