Texans' search still 'very much ongoing' despite Bill O'Brien reports
According to a report, Bill O'Brien and the Texans are 'working on a deal' to bring the Penn State head coach to Houston.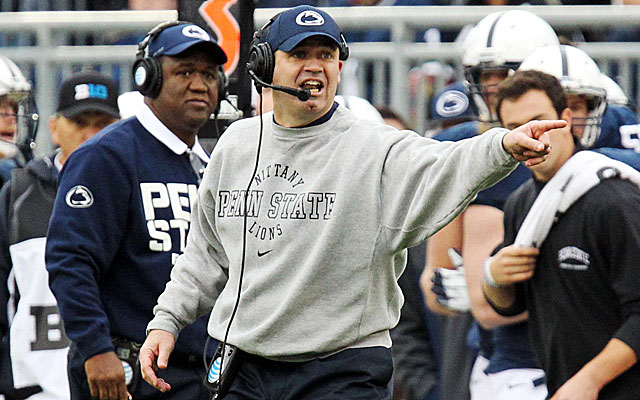 Weeks ago CBS Sports Jason La Canfora reported that Penn State coach Bill O'Brien was ready to get back in the NFL and drawing interest from multiple teams including the Vikings and Texans. 
O'Brien reportedly agreed to interview with the Texans last week and speculation is even warmer that he could end up landing with the Texans after Chris Mortensen of ESPN reports that the two sides are "working on a deal."
Mortensen mentions that the two sides would "intensify talks" in the coming days and that O'Brien has "emerged as the overwhelming favorite" for the Texans job and "the two sides are working to get a deal in place within the next week."
La Canfora cautions on the expediency of the deal, however, reporting that Chargers offense coordinator Ken Whisenhunt will be given strong consideration for the Texans job, according to league sources, and he too has strong interest in that position, coveting it above other opportunities. 
Numerous teams will reach out to Whisenhunt for interviews, and, while a report noted that O'Brien is the favorite for the Texans job, the reality is that process is still very much ongoing, La Canfora says.  
O'Brien has a large buyout ($6.5 million) but one that was reduced recently should he decide to leave Penn State for an NFL job. It's unlikely that another college would pry O'Brien away, so the Texans, who fired Gary Kubiak several weeks ago, have a head start on the rest of NFL teams looking at candidates.
"Black Monday" is just 48 hours away, though, and it's expected that several teams will make changes.
For O'Brien, 44, there might not be a better time to leave. He's gotten Penn State turned around -- relatively speaking -- in an impressively quick fashion. Following the death of Joe Paterno and the sanctions levied against the Nittany Lions, they were in a tough spot. O'Brien got them back to a competitive level quickly and was named the 2012 Big Ten Coach of the Year after winning seven games in Happy Valley.
This past offseason O'Brien interviewed with the Eagles and Browns for their vacancies and parlayed that interest into a contract extension with the Nittany Lions as well as a reduced buyout for an NFL job. 
That reduced buyout, as well as the talent level present on the Texans roster -- Andre Johnson, DeAndre Hopkins, Arian Foster and J.J. Watt stand out -- as well as an extremely high draft pick following the Texans disastrous 2013 season. 
The Giants got a scare in the second quarter against the Browns

Welcome to the NFL's version of a dress rehearsal

The Browns protested the anthem on national television
Beckham passed tests for a concussion but the Giants will do more tests on his ankle

The president has something in common with Vladimir Putin

The Seahawks are trying to beef up their offensive line with George Fant out