Texans training camp: For Andre Johnson, 33, it feels like the first time
Forget the talk of Houston trading receiver Andre Johnson. The Texans stalwart is back and ready to forget the 2-14 debacle of a year ago.
More NFL: Photos |   Videos & GIFs |  Stories | Training Camps |  Manziel watch 
HOUSTON -- As Houston Texans receiver Andre Johnson walked from the team's practice field Saturday following the opening training camp practice, the fans screamed his name in chorus, begged for his autograph -- many of which he signed -- and all seemed right in his world again.
Johnson, the longest-tenured Texans player and the best in franchise history, sat out all of the offseason because he wasn't happy with the direction of the team -- and there was talk he wanted to be traded.
Coming off a 2-14 season, with a new coach in Bill O'Brien, and with a quarterback situation as shaky as it's been in his time with the team, it's easy to see why Johnson wasn't thrilled with the idea of playing with the Texans again. That, he says, is now all in the past.
Johnson said he spoke with O'Brien several times when he stayed away, and he said he likes the direction the team is heading. O'Brien, a stern disciplinarian in the Bill Belichick-mode, is considered a bright offensive mind, which has to make Johnson happy.
Now in his 12th season, Johnson is coming off a 109-catch year, which is impressive for an offense that was ranked 31st in the league in scoring. But age is starting to become an issue. And Johnson's per-catch average of 12.9 yards was his lowest since 2006, Some of that -- OK, a lot of it -- had to do with the emphasis on the short passing game, in large part because the Texans didn't appear to trust Matt Schaub's deep ball. They rarely threw down the field.
It's not that new quarterback Ryan Fitzpatrick, a free agent signed from Tennessee, has a cannon, but the offense should go down the field more with O'Brien running it.
"What happened last year is over with," Johnson said. "It's a new season. Yeah, you want to see the ball go down the field. It is what it is. I can't worry about what happened last year."
Even though Johnson turned 33 this month, he still maintains he's not slowing down. He did pass the team's conditioning test, despite missing all the offseason, which is a testament to the way he works on his own.
"I always say when I don't feel like I am myself, then it will be time to walk away," Johnson said. "But I feel good. When it's time for me to exit, I will. I will know when it's time and right now I don't feel that way."
What he does feel like is a rookie. It's rare in the era of OTAs and minicamps to see such a prominent veteran learning a new offense on the first day of training camp, but that's what Johnson endured Friday and Saturday with playbook cram sessions.
For the first time in a long time, he was looking to some of the other players for guidance on play-calls and routes. Johnson said O'Brien's playbook is a lot different than what he's been used to in Houston, and Johnson is expecting to be moved around a lot to make it difficult to track him.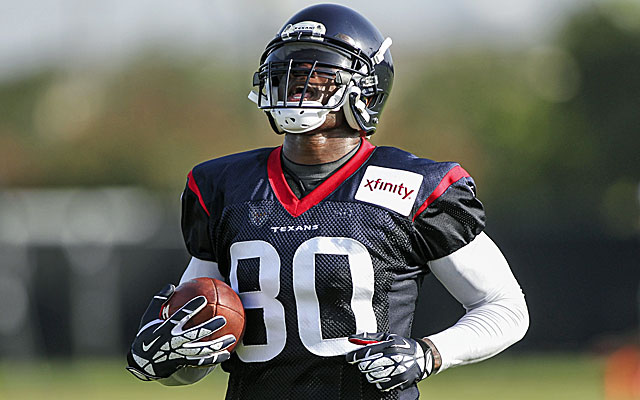 "There's a lot more information and a lot more formations and stuff like that," Johnson said. "The first time I looked at the playbook, I was like, 'Wow.' There are definitely some differences. It's a challenge, not just for me, but for everybody. A lot of the guys that were here last year, when they first saw it, they thought the same thing. They've been in it longer than I have, but like I said, I'll catch up."
O'Brien was happy to have his star offensive player -- with Arian Foster on the decline, perhaps his only one -- back on the field.
"It's good to have everybody out there," O'Brien said in his best Belichick style. "It's good to have 90 guys out there. Of course, like I've said many times in the past, when you have a player like Andre Johnson, what he means to this organization and what he means to this football team, the type of player he has been over the years, I've had the chance to watch him quite a bit on film, and he's a fantastic player and we're glad to have him out there and we're glad to have everyone out there."
The fans seemed to agree on Saturday.
Clowney participates
After undergoing sports hernia surgery last month, Texans top pick Jadeveon Clowney took part in the team's first practice. He was limited some -- held out of much of the team drills -- but he was out there moving around.
"I'm not going to give it a percentage," Clowney said. "But I know I'm not 100 percent."
"He's practicing and he's rehabbing," O'Brien said. "We're staying with the rehab protocol, which allows him to practice a little bit. We just stick with that and he'll be fine."
Clowney played defensive end at South Carolina, but is making the transition to outside linebacker in the Texans' 3-4 looks. That means dropping into coverage, which is why getting healthy is so important. I saw him drop some Saturday, and it just looked odd to have a player with that talent going forward dropping into coverage.
"I'm feeling very comfortable," Clowney said. "I still have a lot of work to do. I think I have one of the best coaches (former NFL player Mike Vrabel) in the game, in this business. I'm just listening to him and talking to him.  I'm listening to him more than anybody."
The Texans had big trouble rushing the passer last season, even with J.J. Watt, the NFL's best defensive player. The Texans got just 10 sacks from outside linebacker Whitney Mercilus and Brooks Reed, which is why Clowney will be so vital to the success of the defense.
New coordinator Romeo Crennel has traditionally been a two-gap 3-4 coach, but that should change with the versatility of Watt and Clowney up front, although no one is really saying what the Texans will use
No matter what they play, you can bet Clowney's pass-rush skills will be in play a lot.
And this is why Tyrod Taylor is now the Bills' starting quarterback again

Here are the picks and props you need to be a winner while watching all the football you can...

Freeney, 37, was impressive in Seattle before getting surprisingly released
The 49ers have a realistic shot at home against a Seahawks club dealing with a myriad of i...

R.J. White has his finger on the pulse of the Packers and made a strong play for 'Sunday Night...