Texans WR Andre Johnson fully cleared for Week 3 against Ravens
Houston Texans wide receiver Andre Johnson has been fully cleared for Week 3. Johnson suffered a concussion in the Texans Week 2 win over Tennessee.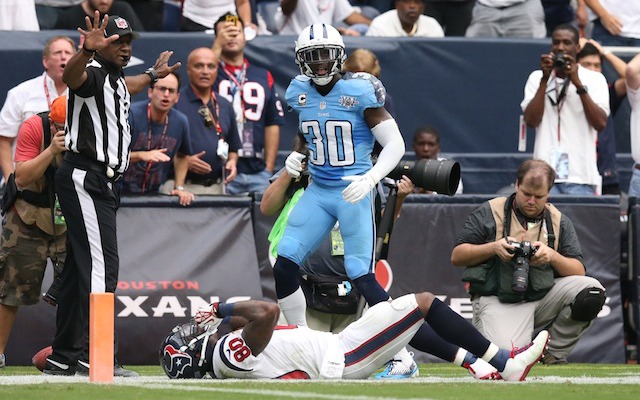 Andre Johnson should be on the field and in uniform when Houston plays in Baltimore on Sunday. The Texans wide receiver, who suffered a concussion in Week 2, has been fully cleared to play against the Ravens, according to coach Gary Kubiak.  
Johnson suffered the concussion late in the fourth quarter of Houston's 30-24 overtime win over Tennessee when he took a blow to the head from Titans safety Bernard Pollard. A few Texans players thought it was a dirty hit. 
"I've never seen a more blatant blow to the head," tight end Owen Daniels said after the game, via the Houston Chronicle. "A big miss by the officials, especially for a guy like Andre. I know you have to protect every player, especially someone like him."
For his part, Johnson doesn't seem to be holding any grudges against Pollard, "It's part of the game," Johnson said on Friday, via the Texans official website. "I signed up for it. I don't really have a problem with it. Those hits happen. That's pretty much it."
It's a good thing that Johnson's healthy because the Texans will need him to help take advantage of a Ravens secondary that's ranked 25th against the pass. Johnson's 222 yards receiving through two weeks leads the Texans and is the seventh-highest total in the NFL. 
---
Follow John Breech on Google+
LSU's star defender returned from injury this weekend and highlights our 2018 Draft Top 20

McCarron could gain a lot from a Dalton benching, but he's sticking up for the Bengals' embattled...

'Top Dog' Tierney is 26-10 on NFL over-under picks since last season, has strong play on 4...
The injured Lions left tackle does not take kindly to being called a Wolverine

The Cowboys owner doesn't sound too worried by Elliott's lack of effort on an interception...

The Eagles DE is making the donations in response to the racial violence in his hometown