Texans WR Andre Johnson: I would probably trade No. 1 overall pick
The Texans probably won't ask Andre Johnson his advice on what to do with the No. 1 overall pick, but if they did, he would tell them to trade it.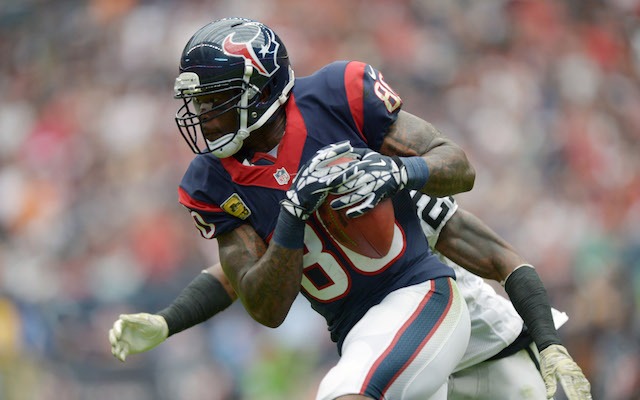 A lot of different people think the Houston Texans should do a lot of different things with the No. 1 overall pick in May's NFL Draft. Former Houston defensive coordinator Wade Phillips thinks the Texans should take Johnny Manziel. 
Houston wide receiver Andre Johnson, who would presumably be catching passes from Johnny Football, doesn't agree with Phillips. If it were up to Johnson, he would trade the No. 1 overall pick. 
"I have thought about different scenarios. Me personally, if I had it, I would probably trade it, but that's just my opinion," Johnson said on Wednesday, via ABC-13 in Houston. 
Just because Johnson thinks the Texans should trade the pick doesn't mean the team should though. The wide receiver conceded that he's never had to deal with the pressures of draft day. "That doesn't make it right. Doesn't mean they should listen to me, because I am not the [general manager]," Johnson said. "I have never had to sit in the draft room like that."
Texans owner Bob McNair may end up taking Johnson's advice. In January, McNair talked about the possibility of trading the No. 1 overall pick, "Maybe we'll trade down and still get a quarterback that can do the job and get an outstanding defensive player," McNair said. "It's an exciting time. Everything's a moving target. Lot of different pieces."
As for what the Texans will actually do with the pick, guesses are all over the place right now. In his first 2014 mock draft, CBSSports.com senior NFL columnist Pete Prisco has the Texans taking Central Florida quarterback Blake Bortles. NFLDraftScout's Dane Brugler also has the Texans taking Bortles while Rob Rang, also of NFLDraftScout.com, has the Texans taking South Carolina defensive end Jadeveon Clowney. 
Gruden, who won a Super Bowl following the 2002 season, last coached in 2008

Forget being the highest paid receiver, Odell Beckham has loftier goals for his next contr...

There was a Rolls-Royce at Steelers training camp, but no Le'Veon Bell
'It ain't about 2016 and it ain't about 2018. It's about 2017,' Doug Williams told his qua...

Philip Rivers will not be moving to Los Angeles with the Chargers

Bryant has had off-the-field issues keeping him off the field for the past few years