Texans WR Andre Johnson not sure Houston is the place for him
Does Andre Johnson want out of Houston? The wide receiver said on Tuesday that the 'offseason has been very frustrating for me.'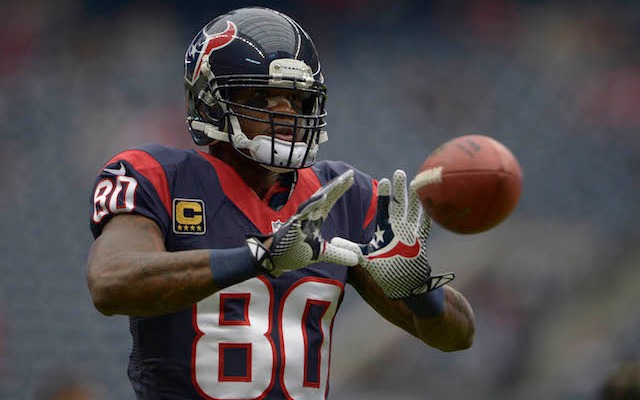 Draft coverage: 2015 Mock Drafts | 2015 Top 100 | 2014 Draft Grades | News
Texans wide receiver Andre Johnson is heading into the twilight of his NFL career. The 11-year veteran has been to the playoffs just twice, and on Tuesday he hinted that he doesn't want to spend the final years of his career playing for a team in rebuilding mode.
"Nobody's been here as long as I have," Johnson said, via the Houston Chronicle. "You just kind of look at things. I've been thinking about things this offseason. And I just kind of wonder sometimes, 'Is this still the place for me?'"
A new coach for the Texans hasn't eased Johnson's rebuilding concerns, either, because he has seen it happen before. Bill O'Brien will be the third coach Johnson has played for in Houston -- four if you count interim coach Wade Phillips in 2014. 
"When you bring a new coach in, you go through a rebuilding process," Johnson said. "Some people say it's not. Some people say it's a quick fix. Everybody has their own opinion. But I've been through the situation more than once."
When Gary Kubiak was hired in 2006, the Texans went 6-10 his first year and the team didn't make the playoffs until his fifth. At 32 -- 33 in July -- Johnson can't wait five more years to make the playoffs.
Johnson doesn't think Houston is building a contender, either, saying that the team's offseason moves have been "very frustrating."
"I just look at my career ... I've only been to the playoffs twice. I think we've only had three winning seasons," Johnson said. "I don't think any player wants to experience that. I think over time it can become very frustrating. And this offseason has been very frustrating for me; beginning of the offseason, I should say. That's just kind of where I'm at right now."
Johnson skipped Houston's voluntary workouts last week and currently has no plans to show up for OTAs and the Texans' mandatory minicamp. Unless Johnson can force a trade out of Houston, he doesn't have much bargaining power. The receiver is signed with the Texans through 2016. 
The Green Bay Packers quarterback seems to be a go for the Carolina Panthers game

Shazier's season might be over, but he still wants to help his team

The young head coach took the blame after a heartbreaking loss to the Eagles
Our computer model simulated every Week 15 NFL game 10,000 times with very surprising resu...

Britt is going from the worst team in football to a Super Bowl contender

With three weeks to go in the regular season, the MVP race is wide open