Texas A&M coach Kevin Sumlin thrilled for Texans QB Case Keenum
It was just two years ago that Texas A&M coach Kevin Sumlin was coaching Texans quarterback Case Keenum while both men were at the University of Houston.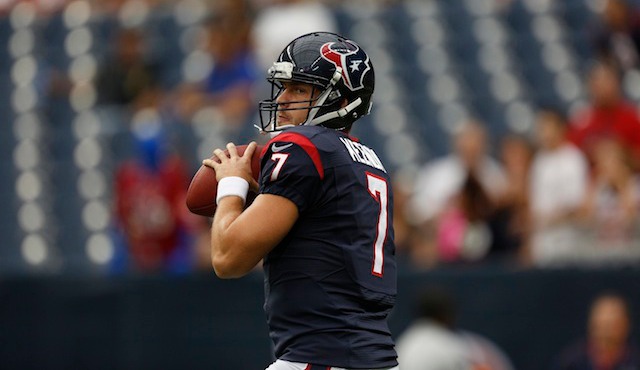 Before Kevin Sumlin was coaching Johnny Football at Texas A&M, he spent four years at the University of Houston where he coached Case Keenum. The same Case Keenum that will be making his NFL debut on Sunday when the Texans play Kansas City.
Sumlin coached Keenum at Houston from 2008 to 2011 and as you can imagine, he's thrilled for his former quarterback, who was named the Texans starter on Thursday by coach Gary Kubiak. 
"I couldn't be happier for Case and his family just because of all the hard work he's put in," Sumlin said this week, via MyFoxHouston.com. 
Keenum thrived in Sumlin's pass-happy offense at Houston. When Keenum finished school after the 2011 season, he left Houston as the NCAA FBS all-time leader in passing yards (19,217), completions (1,546) and touchdown passes (155).
"From where he's come from to where he is now, it's the pinnacle of what you do athletically," Sumlin said. "And to have the opportunity to start in the NFL is probably a dream come true for him and I can't tell you how excited I am for him personally to get this opportunity."
Going from an undrafted free agent to an NFL starter isn't easy, but Sumlin isn't surprised Keenum did it, especially after the adversity Keenum overcame in 2010. During what would have been his senior year, Keenum tore his ACL in Houston's third game, only to return in 2011 and lead the NCAA with 48 touchdown passes. 
"If you keep working at it the way he has, it doesn't surprise me," Sumlin said. 'Anybody who knows Case, going through the injury in college, coming back, setting the records he set, I'm not amazed that he's put himself in this position and I think he's going to take full advantage of it."
If Keenum is going to take full advantage of his opportunity, it won't easy. The 25-year-old will have to do it against a Chiefs defense that's ranked fifth in the NFL and has recorded a league-leading 30 sacks this season. 
Everything you need to know about the Packers-Panthers game on Sunday afternoon

The Lions will be wearing their Color Rush uniforms for the first time on Thursday

The Lions look to maintain playoff positioning while the Bears attempt to play spoiler
The Panthers have hired an outside law firm to conduct the investigation

Here's every official injury designation for each NFL team for Week 15

Bennett was one of the few players who escaped punishment after Sunday's melee in Jacksonv...