The 23 rookies likely to be starting by Week 1 of the NFL season
Rookies will make up less than 5 percent of the starting lineups come opening day this fall. Here are the ones who will help immediately.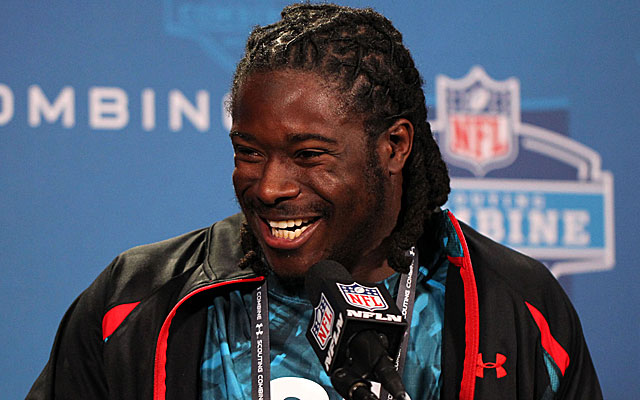 The NFL draft drew 20 million viewers on Thursday night for the first round, and fans around the world were excited to see the players selected for their favorite teams. I don't want to dampen the enthusiasm people have for the new injection of talent, but there is a reality check about the draft that has to be realized for this September.
On opening day this fall, 704 players will be announced as starters in the NFL, excluding kickers and punters. How many of those starters will be rookies? If you look back at the draft classes of the past 10 years, there should be an expectation for 25-30 rookie starters, or about 3 to 4 percent of the opening day starters.
As a class of 254 drafted rookies (usually it is 256, but New Orleans lost a second-round pick for Bountygate and the Browns used their second in the supplemental draft last summer), my expectations have always been about 11-12 percent of the rookies drafted will be named starters for opening day. The truth is it will take time for the draft picks that we all got excited about last weekend to actually make an impact in the NFL.
I talked with a number of front-office executives and coaches since the draft, and they agree that this looks like a normal year with a typical number of rookies working their way to the starting lineup for Week 1. As I look at this class, I do see 25-30 rookie starters.
I loved the Vikings' draft, but I wouldn't jump to the conclusion that all three first-round picks are in the starting lineup opening day. Keep in mind there will be a number of veterans signed between now and then, and that will only reduce the number of rookie starters. Rookie offensive linemen should dominate the rookie starters with 11 getting the call to start from the beginning.
Here's a look at the 23 players whom I think get their name called to take the field from the beginning of the season and the seven players battling to make it to opening day. Usually, defensive players get to the starting lineup a little bit earlier because the learning isn't as complicated as the offense.
OFFENSE
1. Eric Fisher , OT, Kansas City Chiefs : Steven Baker can't beat him out.
2. Luke Joeckel , OT, Jacksonville Jaguars : Jacksonville will move Eugene Monroe to the right side.
3. Lane Johnson , OT, Philadelphia Eagles : Matt Kopa will not beat him out.
4. Jonathan Cooper , OG, Arizona Cardinals : This spot is wide open.
5. D.J. Fluker , OT, San Diego Chargers : Michael Harris will not challenge him.
6. Chance Warmack , OG, Tennessee Titans : No one on the roster will compete.
7. Brian Winters , OG, New York Jets : Vladimir Ducasse looks like a bust.
8. Larry Warford , OG, Detroit Lions : Bill Nagy will lose the battle to start.
9. Eddie Lacy , RB, Green Bay Packers : It's time for a change, and James Starks will lose out.
10. DeAndre Hopkins , WR, Houston Texans : Houston got rid of the potential competition over the past two years.
11. Tavon Austin , WR, St. Louis Rams : Austin Pettis had his chance.
DEFENSE
1. Kevin Minter , LB, Cardinals: Daryl Washington suspended for four games.
2. Desmond Trufant , CB, Atlanta Falcons : No one will challenge him.
3. Arthur Brown , LB, Baltimore Ravens : Rolando McClain might not make it to September with his off-field issues.
4. Kiko Alonso , LB, Buffalo Bills : Kelvin Sheppard is gone, and GM Buddy Nix says Alonzo is a three-down player.
5. Star Lotulelei , DT, Carolina Panthers : All he has to do is beat out Sione Fua .
6. Barkevious Mingo , DE, Cleveland Browns : Cleveland might wind up trading Jabaal Sheard or moving him to DE.
7. Ezekiel Ansah , DE, Lions: There is no competition.
8. Darius Slay , CB, Lions: Bill Bentley is coming back from injury and doesn't have the talent of Slay.
9. Bjoern Werner , DE, Indianapolis Colts : Erik Walden is a career backup.
10. Manti Te'o , Chargers, LB : Jonas Mouton is a backup.
11. Eric Reid , FS, San Francisco 49ers : Craig Dahl will do his best to hold him off but should fade late in the summer:
12. Alec Ogletree , ILB, Rams: There doesn't appear to be any competition.
ON THE BUBBLE
For cornerback Dee Milliner of the Jets, it comes down to Kyle Wilson battling him this summer. Also, cornerback Xavier Rhodes should beat out A.J. Jefferson for the Minnesota Vikings , cornerback Leon McFadden of the Browns has to prove he's better than Buster Skrine , and safety T.J. McDonald might be better than Rodney McLeod , but the Rams might still sign a veteran if both don't have a solid camp.
Free safety Matt Elam will get every chance to take Ed Reed 's spot on the Ravens, but he wouldn't be the first late first-round safety to take some time to get on the field. Guys like defensive end Dion Jordan ( Miami Dolphins ) will probably get situational work to start their careers kind of like Aldon Smith had when he first came into the league -- he didn't start a game but did have 14 sacks.
Finally, by the end of the season, 60 rookies should be in starting lineups and a lot more contributing, but don't think for a minute many of these young men will be ready the first week or that the veterans are going to surrender their positions.
Smith is facing up to seven years in prison if convicted

Plus everything else you need to know about Week 2 of the 2017 NFL preseason

This is why being a rookie in the NFL isn't fun
The Raiders running back went Beast Mode on reporters

Elway tried his best to emphasize how complicated the situation is

The executive director NFLPA has an ugly prediction for the future of the NFL