The best CB? Julio Jones picks Patrick Peterson over Richard Sherman
Richard Sherman and Patrick Peterson are two of the best cornerbacks in the NFL. Which is better? Pete Prisco asked a guy with first-hand knowledge: Falcons WR Julio Jones.
FLOWERY BRANCH, Ga. ­­ Arizona Cardinals cornerback Patrick Peterson says he's the best in the NFL. Seattle's Richard Sherman, the outspoken one, naturally disagrees, which resulted in a Twitter battle between the two.
So who is the best? Who better to ask than one of NFL's best receivers, Julio Jones of the Atlanta Falcons?
"Probably Patrick Peterson," Jones said. "For me, he follows me everywhere. Sherman (does) every now and then. He usually plays the right side (left side of the defense). The majority of the time, he's the right (actually left) corner. Pat, he does everything. Not only play cornerback. He can catch a few balls on offense. He can return kicks and punts."
Jones has played against Peterson since their college days, when Jones was at Alabama and Peterson at LSU. He's faced him once in the NFL in 2012 and had three catches for 33 yards in a 23­19 Atlanta victory. Jones has played against Seattle twice, once in 2011 and once in the playoffs after the 2012 season. In the 2011 game, Sherman was a reserve who played on special teams. In the playoff game, won by Atlanta, Jones had six catches for 59 yards, but none against Sherman.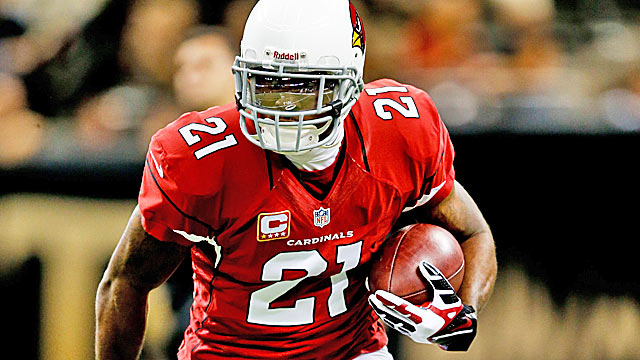 In studying the two games, Peterson was on Jones more than Sherman was, but it's because Jones lined up more on the right side of the offensive formation in that game against Arizona than he did against the Seahawks. Peterson also played more press-­man than did Sherman. Peterson didn't follow Jones everywhere in that game, and mainly lined up on the left side of the defense, but Jones must have felt him more because he was on the right side more.
Jones did have a 20­-yard catch against Arizona, and it was on the right side of the formation against Peterson, but Peterson was in zone and released him inside on the play.
Against Seattle, Jones was covered well by Sherman in man coverage on the deep right side on the very first play of the game for an incomplete pass. Later, Sherman ran with him stride for stride to knock away a potential deep score. Both times, Sherman waved his finger after making the play.
Sherman was on Jones for about six or seven plays in that game. Jones actually beat him a couple of times ­­ once on a cross ­­ but the ball never came his way when he did.
To be honest, both corners had good days against Jones, although there were times where they had help over the top to limit his big-­play ability. I would say that Peterson used more of his physical press­-man skills than Sherman did, which is something that will get the attention of a big receiver like Jones.
Like a lot of personnel men I've talked with, Jones considers Sherman a product of his defense and helped big time by the rush up front. The idea is that Sherman is long and athletic and does a great job of playing the Seattle scheme, which includes a lot of Cover-3. Peterson is considered more gifted physically, and plays in a scheme that requires more man coverage. The tapes show that Peterson spends much more time on the opposition's top receiver than does Sherman. But Sherman isn't asked to do it.
"I believe if you put [Sherman] in our system I don't think he'd be able to last, honestly, definitely much easier than mine," Peterson said last month. "If you look at their scheme and look at our scheme, he's a cover-3 corner. Period."
Of course, Peterson is campaigning for a new contract with his deal expiring after the 2015 season. Sherman, who led the NFL in interceptions last season with eight, recently signed a four­year, $57 million extension that is worth $14 million a season. Sherman just turned 26, while Peterson turns 24 next month.
"Sherman's a great player," Jones said. "They have a great defense, period. Most quarterbacks are not going to have that much time to throw the ball down the field if you run a dope move or anything. Those guys (Seattle secondary) know the time they have to play with. If you're the best, you should go against the best ­­ hands down. Patrick Peterson stays with me."
---
More from Julio Jones: On rehab, being the best and more 
No word on if Mike McCarthy is a Wu-Tang fan but he's not signing Kaepernick

Mitchell's claim that he was pushed into Smith from behind apparently didn't fly with the league...

The Seahawks defensive end said 'the consequences are the consequences'
Who wins Sunday night's Super Bowl rematch in Foxborough? Here are are some clues

Micah Roberts is gunning for nine straight winning NFL picks on Thursday Night Football

SportsLine tapped into its Vegas sources to see which NFL teams professional bettors like this...