The Bills offense: Diverse, retro and maybe the NFL's most creative
Bills offensive coordinator Greg Roman loves versatility and variety. His diverse scheme coupled with Tyrod Taylor's athleticism has Buffalo thinking playoffs once again.
• 11 min read
He's a free-thinking football mind with an offensive background who coached for a highly successful Pac-12 college. He's also brought a unique scheme to the NFL.
No, it's not Chip Kelly. Try Buffalo Bills offensive coordinator Greg Roman.
While Kelly's up-tempo, option-heavy, spread-centric offense is undoubtedly radical, it can be argued that Roman's offense is even more distinctly contrary to today's norm.
Roman's vintage, ground-and-pound, multiple-package attack runs counter to the "college" spread, air assault offense that has recently permeated into the NFL and was given a speed booster by Kelly when he was hired by the Eagles in 2013.
But Roman's system isn't just Three Yards and a Cloud of Dust.
His time spent with Jim Harbaugh at Stanford during the school's most flourishing era in a decade almost forced the offensive coordinator to tinker with college fads, such as the pistol formation, the read-option and packaged plays.The latter being exactly what it sounds like -- two plays in one, usually a run and pass -- which allows the quarterback to pick what he wants after the snap.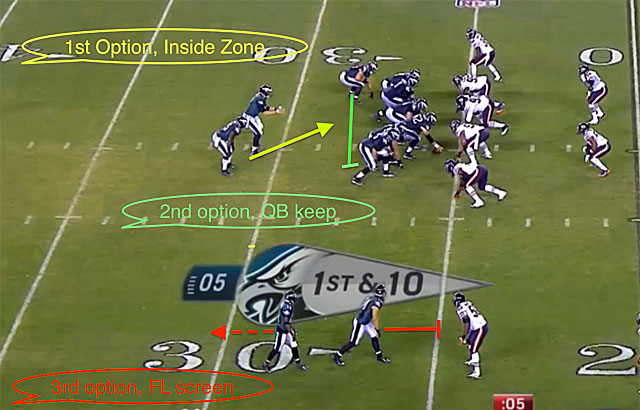 Harbaugh brought Roman to San Francisco when he was hired by the 49ers in 2011, and the two, along with an emerging defense, were able to replicate their NCAA success at the pro level. By the time Roman was in control of the 49ers offense in 2011, his scheme, still rooted in the power running game, had evolved due to the collegiate wrinkles he dabbled with at Stanford.
And though it wasn't nearly as flashy as Kelly's Oregon offense, Roman and Harbaugh's 49ers took the NFL by storm.
Perpetually floundering No. 1 overall pick Alex Smith had a career season in 2011, setting a high watermark in completion percentage (61.5 percent), had a QB rating of 90.7, and he had the lowest interception percentage (1.1 percent) in the NFL.
The 49ers carried the football 498 times at 4.1 yards per.
Fortunately, too, the defense allowed just 14.3 points per game before the 49ers were upset by the New York Giants in the NFC title game.
The next year Smith became even more efficient. Before a mid-season injury, he was completing more than 70 percent of his passes with the highest yards-per-attempt average of his career and a gaudy 104.1 quarterback rating.
When Colin Kaepernick ended up replacing an injured Smith that November, Roman's offense became a borderline unstoppable, well-oiled, yard-accumulating machine. It was partly due to the fearlessness Kaepernick exhibited as a passer and his special running ability ... along with the bulldozing run game loaded with Pro Bowlers on the line.
Days before Super Bowl XLVII between the Baltimore Ravens and the 49ers in 2013, NFL writer and analyst Doug Farrar wrote about the intrigue of Roman's polymorphic offense.
"What the 49ers do -- and this is really Greg Roman's baby -- is show the same types of blocking concepts for several different types of run packages. They've got to figure out where everyone is, and where they're going. Advantage: Us. We'll take it."
Farrar was able to get insight from senior NFL Films producer Greg Cosell, who called on one specific play that exemplified Roman's diverse scheme.
"One of the most fascinating plays -- and I've seen it in college, which shows you how much the college run game is coming into the NFL -- was the LaMichael James touchdown in the NFC Championship Game. It was really cool, because it was two concepts in one play. It was a jet sweep concept with LaMichael James, but they also pulled the guard, and it was power for Colin Kaepernick if he didn't hand the ball off. You don't see that kind of stuff in the NFL."
Here's that James touchdown (courtesy of JamesLightFootball.com):
According to Pro Football Focus, the NFL plays "nickel" defense around 60 percent of the time -- substitute in a defensive back for a linebacker to put five defensive backs on the field. That percentage has been on the rise over the past five years, which makes perfect sense -- it's the logical counter to the pass-happy era the league finds itself in today. (Also, "dime" -- one linebacker and six defensive backs -- is used around 15 percent of the time.)
Therefore, "nickel," formerly known as a "sub-package," has become pro football's base defense. With an extra defensive back on the field, nickel is obviously more effective stopping the pass and clearly more susceptible to the run.
Conversely, the NFL's base offense is a one running back, one tight end, three wide receiver set -- also known as "11 personnel."
Here's a good way to remember personnel grouping numbers: the first number is the number of running backs -- or fullbacks -- on the field. The second number is the number of tight ends on the field. Then, subtract that total from five to know how many receivers are on the field.
Personnel Groupings
Grouping
Running backs
Tight ends
Receivers
00 Personnel
0
0
5
01 Personnel
0
1
4
02 Personnel
0
2
3
10 Personnel
1
0
4
11 Personnel
1
1
3
12 Personnel
1
2
2
13 Personnel
1
3
1
20 Personnel
2
0
3
21 Personnel
2
1
2
22 Personnel
2
2
1
23 Personnel
2
3
0
Carefully read this info-packed tidbit from Football Outsiders' EIC Aaron Schatz on offensive personnel groupings after the 2013 season. One team will pop out. "11 personnel was the most common personnel group for 29 of the 32 NFL offenses last year (used 51.2 percent league-wide). The exceptions:
Cincinnati had 12 personnel on 43 percent of plays, 11 personnel on 40 percent.
Oakland had 21 personnel on 36 percent of plays, 11 personnel on 34 percent.
San Francisco had 21 personnel on 26 percent of plays, 22 personnel on another 26 percent of plays, and 11 personnel on 21 percent of plays."
Schatz continued:
"The 49ers are really in their own world as far as personnel groups are concerned. They were the only offense to use 11 personnel less than 30 percent of the time. Add in 12 personnel, which they used on 15 percent of plays, and for the second straight season they were the only offense to have four different personnel groups that were used on at least 15 percent of all plays.
"The 49ers were also the only team to use seven offensive linemen on a regular basis, using that personnel on 3.4 percent of plays."
So what does this all mean?
It means Roman's master plan for a while now has been to construct his offense to be significantly abnormal -- a deliberate outlier if you will -- compared to the other schemes out there. He wants defenses to react "properly" to today's aerial-predicated, spread-driven trend.
Roman's goal is to have an offense for which defenses aren't prepared.
With teams now geared to play "nickel" often and defend the pass, he's going to run it with an "extra" 315-pound offense lineman pulling to the second level to take out the opponent's "extra" cornerback.
Essentially, the Bills offense will have "old-school" roots in the new-school era. Buffalo will be attempting to stay ahead of the curve by going retro.
Actually, as more and more defenses acquire more and more quality defensive backs, don't be surprised to see a paradigm shift among offenses -- many could revert to the run-heavy days of 20 and 30 years ago.
Offensive lineman Kraig Urbik, who's been with the Bills since 2010 and is now playing for his third head coach and third offensive coordinator, told me this after a night training camp practice about Roman's varied blocking scheme:
"Last year, our entire scheme was inside zone. That's all we did. Now we have everything. Inside, outside zone, lots of man, power. Everything."
Second-year blocker Cyril Richardson spoke about Roman and his offensive philosophies:
"We're obviously working on a lot of technique, but we're working on technique for every kind of block now. It's definitely exciting being an offensive lineman playing for coach Roman. Teams can't really do anything without their offensive line. Greg Roman really emphasizes that."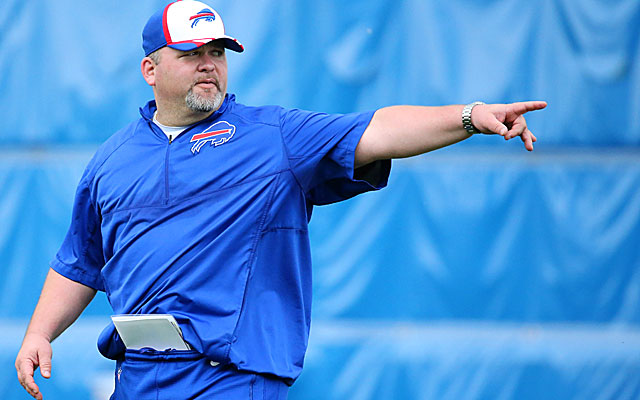 Roman spent the 2006 and 2007 seasons in Baltimore with the Ravens when Rex Ryan was the team's defensive coordinator.
One can't help but think Roman borrowed ideas from Ryan's ultra-complex, blitz-crazy defense; confuse the opposition with an assortment of personnel packages, employ many pre-snap shifts and make sure to be rock-solid in the trenches.
When you think about it, the two schemes basically mirror each other.
While the 49ers' super-sound defense undoubtedly helped, take a quick glance at San Francisco's passing averages under Roman from 2011 to 2013 -- when the club went to three-straight NFC title games and a Super Bowl -- compared to four of the NFC's top teams during that same time period.
NFC passing averages from 2011-2013
Team
Yards/game
Yards/attempt
TDs/season
49ers
192
7.6
22
Seahawks
195
7.7
23
Packers
276
8.4
39
Saints
318
8
43
Falcons
270
7.3
29
Ok, so the Seahawks had strikingly similar figures.
But it's ironic that although the 49ers and Seahawks were the most "passing-challenged" teams of that elite group during the league's passing renaissance, San Francisco went 36-11-1 from 2011 to 2013 and Seattle went 36-12 in a time frame starting in 2012 and ending last season.
During a 2014 season loaded with injuries to key players and speculation surrounding Harbaugh's future, the coach took over play-calling duties in the November and the 49ers finished with more passing attempts than rushes for the first time in the Harbaugh-Roman era.
Dating back to Roman's first offensive coordinator gig with Stanford in 2009, all of his teams ended each respective season with more rushing attempts than passes.
Conventional wisdom tells us teams absolutely need quality quarterback play to succeed in the current NFL.
Roman is challenging that conventional wisdom. He challenged it with Smith then Kaepernick at quarterback with the 49ers, and the 2015 Bills are certainly comparable to San Francisco's 2011 club -- top-level defense, talented offensive line pieces and some question marks at quarterback.
Speaking of the quarterback, Roman has a Smith/Kaepernick hybrid in Tyrod Taylor to run his offense.
Like Smith, Joe Flacco's former backup was routinely accurate on and content with short passes in camp and the preseason, and his supreme athleticism adds a designed run and scrambling element similar to Kaepernick.
The Bills offensive philosophy won't change with Taylor under center, but his talents allow Roman to utilize everything he's featured in the past, including the "pistol" formation -- mini-shotgun with a running back behind the quarterback -- and the occasional read-option.
Though four inches shorter and 15 pounds lighter, check how Taylor's NFL Combine performance in 2011 compared to Kaepernick's:
Tale of the tape: Taylor vs. Kaepernick
 
40-yard dash
Vertical jump
20-yard shutle
3-cone drill
Kaepernick
4.63
32.5 in.
4.18
6.85
Taylor
4.52
37.5 in.
4.09
6.78
How much will Taylor run you ask?
Good question. Citing Pro Football Focus, Kaepernick averaged about two designed runs per game with Roman from 2012 to 2014.
Also, this season in Buffalo, it's not crazy to think Roman has more offensive skill position talent at his disposal than ever.
Sammy Watkins, Robert Woods and Percy Harvin have the potential to become one of the league's most dynamic yards-after-the-catch trios, and expensive free-agent addition Charles Clay is precisely the type of tight end Roman likes -- a seam-stretcher with potency as a blocker.
Remember, it's all about variety and versatility with the Bills offensive coordinator.
In early August, Ryan was quoted saying: "We'll have probably the biggest playbook in the history of man in our running game. Why? Because it's important to us. We want to be multiple in the running game, and that's what Greg does."
Speaking of blocking ... Adrian Peterson's former lead blocker, Jerome Felton, will be asked to pave lanes for LeSean McCoy and a stable of running backs, who all should be healthy by Week 1's monstrous showdown with the Indianapolis Colts.
Buffalo's offensive line isn't exactly the 49ers of 2012, but the Bills' front office made moves necessary to bolster a unit that was average at best in 2014 and deteriorated in December when the team was making a late surge toward the playoffs.
Richie Incognito was signed, and while the locker room controversy in Miami will forever follow him, on the field, he was a Pro Bowl-level guard. At 32 and a year removed from football, there's undoubtedly reason to wonder if the veteran can return to form, but he was given a big vote of confidence by Rex Ryan just three days into training camp.
"One thing for sure is Richie's a starter. He looks about as good as any of them. I mean, he really does."
At the end of training camp, Ryan circled back to Incognito (via The Buffalo News):
"Richie has kind of exceeded my expectations. I said it right when he got here. I was surprised with his conditioning, and his, really overall fitness, I mean, is that of a much younger player. I think his overall fitness level exceeded my expectations."
The other guard spot, which plagued the Bills during most of the past two seasons, will be inhabited by third-round pick John Miller out of Louisville. The speed of his transition to the NFL will have major implications on how effectively Roman's offense will operate.
With a background as an offensive line coach, Roman's diverse scheme is conducive to strong play up front.
His foundational ideology is to accentuate and empower offensive linemen and running backs while minimizing the pressure and play-making responsibilities placed on the quarterback.
Taylor will know he's in a quarterback-friendly system, an offense not tailored to accumulate 5,000 yards passing and 40 receiving touchdowns, but with a goal to create an environment with as little stress on the signal-caller as possible.
Given the Bills' roster makeup, Buffalo has the ideal offensive coordinator in Roman to help end the franchise's playoff drought this season.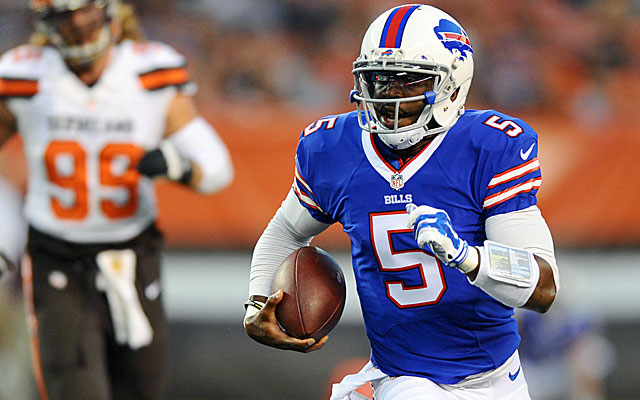 Pick Six Newsletter
Get the day's big stories + fun stuff you love like mock drafts, picks and power rankings.
Please check the opt-in box to acknowledge that you would like to subscribe.
Thanks for signing up!
Keep an eye on your inbox for the latest sports news.
Sorry!
There was an error processing your subscription.
Stafford was off to an excellent start in 2019 before getting injured

New York has several young and talented former top draft picks poised to break out

The Panthers were wrong to put Cam on the field to open 2019, according to Tolbert
Rapp achieved the feat by biking, running, and swimming

This comes after a suggestion he could simply sit out this season

SportsLine's advanced computer model simulated the entire 2020 NFL season 10,000 times.
Here's the perfect way to keep track of all your schedule leaks and updates in one place

CBS Sports is bringing you live updates and analysis as the 2020 NFL Draft wraps up on Saturday

Live scores, highlights and updates from the Jaguars vs. Colts football game