The Browns just hired a defensive coordinator they got rid of in 2013
Ray Horton is back in Cleveland.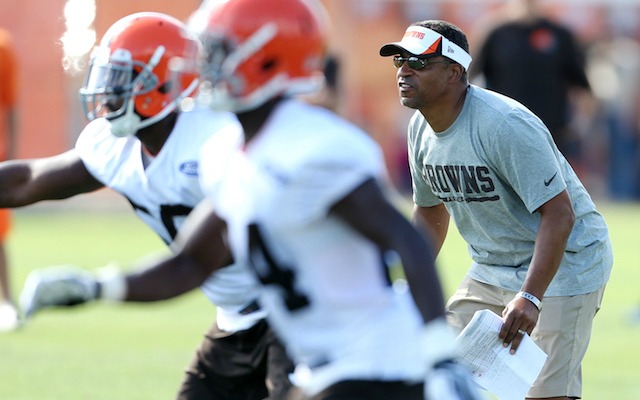 Meet the new boss, it's the same as the old boss.
A few Browns players will probably experience deja vu when they meet new defensive coordinator Ray Horton, who was hired by the Browns for the second time in three years on Friday.
Horton was originally hired to serve as the Browns defensive coordinator in January 2013. However, he only lasted one year with the team because the Browns decided to clean house after a 4-12 season, which included firing coach Rob Chudzinski and letting Horton go.
To be fair, it wasn't Horton's fault that the team went 4-12. The Browns defense improved from 23rd overall in 2012 to ninth overall in 2013 under Horton.
Horton's first stint with the Browns wasn't perfect though, as the team did rank 31st in red zone defense in 2013. The Browns' opponents scored a touchdown 64 percent of the time they reached the red zone.
After the Browns hired Mike Pettine in January 2014, Pettine decided he didn't want to keep Horton around. At that point, Horton decided to move on to Tennessee, where he spent the past two seasons coaching an underrated Titans defense that finished 12th in the NFL last year.
New Browns coach Hue Jackson is happy with his defensive hire, and that's mainly because of Horton's familiarity with the AFC North.
"I have always watched Ray from afar," Jackson said. "We have known each other. I have competed against him. I remember my time in Cincinnati competing against him when he was here. The guy is a tremendous football coach. He knows this division. He was raised in this division. He played in this division. He understands what needs to be done to get our defense back to where it needs to be."
Of course, this wouldn't be a Browns story without a weird twist, so here's the weird twist: Horton was still technically under contract with the Browns when he signed with them on Friday.
Horton had three years left on his deal after he left the Browns following the 2013 season. According to Cleveland.com, Horton's contract had an offset clause, so for Horton's two years in Tennessee (2014-15), the Browns had to pay him the difference between his Cleveland contract and Tennessee contract. Basically, if Horton's contract with Cleveland was worth $2 million and his Tennessee contract was worth $1.5 million, then the Browns would pay the $500,000 difference.
The final year of Horton's original Browns contract would be 2016, so basically, the Browns are offsetting themselves this year.
There is a lot on the line for everyone involved in Conference Championship weekend

Jackson thinks that Winston needs to just be himself

SportsLine's No. 1 NFL expert just locked in his teasers for NFL conference championship w...
Wentz is doing everything he can to help Nick Foles lead the Eagles to the Super Bowl

Bell reportedly showed up for only the last five minutes of the team's walkthrough

Two super-sized runners and a pair of tall wideouts have the skills to shine during a week...