Add Bruce Arians the Cardinals' offseason injury report. Arians, the coach of the team, is recovering from a torn rotator cuff.
But the injury itself is not the important part of this story. The important part is how Arians suffered the injury.
It happened when receiver Larry Fitzgerald hugged him moments after the Cardinals pulled off the 34-31 upset over the Seahawks in Seattle on Christmas Eve.Via The Arizona Republic's Dan Bickley:
Fitzgerald's celebratory hug after the Cardinals beat the Seahawks in Seattle was so jarring that it dislodged Arians' glasses and headset, inflicting considerable damage to his rotator cuff.

"It's torn completely through," Arians said. "I can still manage a golf swing as long as I keep my elbow down. But the hardest thing is getting the clubs in and out of the bag."
After re-watching the hug, that's sorta hard to believe, because the portion the TV cameras caught seemed to show a pretty tame hug: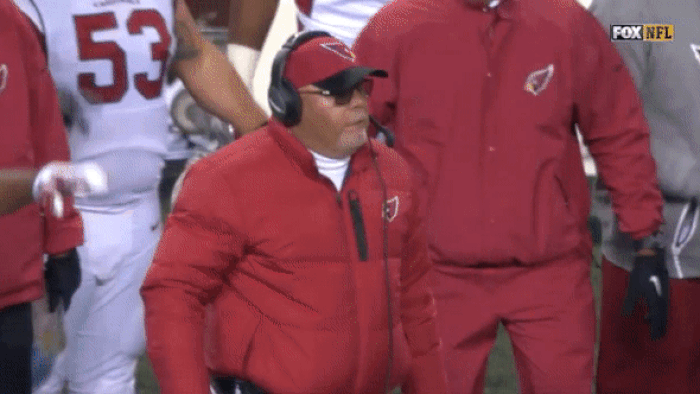 The injury likely occurred after the cameras cut away, at some point before Arians looked like this as he walked across the field to shake Pete Carroll's hand:
And of course, there's Fitzgerald walking away from Arians.
Anyway, Arians probably can't afford to get mad at Fitzgerald. After all, he's still hoping Fitzgerald, 33, will ultimately decide to return for the 2017 season. Last year, Fitzgerald managed to come down with 107 receptions for 1,023 yards, and six touchdowns.
So, he can clearly still play. The question is, does he want to?
"I have a feeling, and I guess I'm just hoping over the conversations I've had with him, that he's starting to get the itch," Arians said. "It's just going to be a matter of when he decides."