The HOF case for Aeneas Williams: Does Cardinals association hurt?
Here is the case for why Aeneas Williams should or shouldn't be elected in the 2014 Pro Football Hall of Fame class.
• 4 min read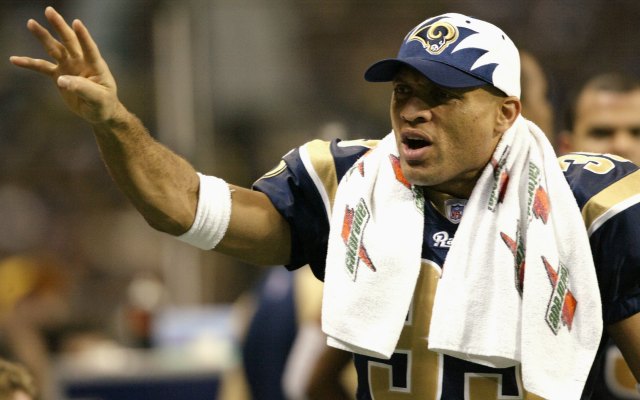 Hall of Fame cases: The receiver trio (Marvin Harrison, Andre Reed and Tim Brown) | Charles Haley | Jerome Bettis | Eddie DeBartolo | Aeneas Williams | Kevin Greene | Tony Dungy | John Lynch | Morten Andersen | Will Shields
The day before the Super Bowl, 46 Hall of Fame voters will enter a conference room somewhere in New York City, and they won't leave until they emerge with the 2014 Pro Football Hall of Fame class. The election will take hours, because each of the finalists will be presented by a media member who extols his virtues and the reason why that particular man should be inducted in with the next class. Then, the debates will begin, and they will rage for hours. Eventually, a Hall of Fame class will be elected, and all will rejoice.
Until then, we're left to ponder the possibilities. On this page during the next few weeks, we'll debate most of those who have a chance to land a spot in Canton this year. At the end of the debate, we'll come up with our own ballot of those who we feel deserve to be enshrined (a quick FYI: I am not a Hall of Fame voter, and neither is anybody else on the current CBSSports.com roster). I can tell you right now that I'll include linebacker Derrick Brooks, defensive end Michael Strahan and offensive tackle Walter Jones on my ballot, so those three won't be among those we debate.
Until then, let's think things through with former cornerback Aeneas Williams.
Nothing but the facts: From 1991-2000, Williams starred on defense for the Cardinals, recording at least five interceptions five times (including a league-high nine in 1994). He also never missed a game in that time frame. Williams spent the final four seasons of his career with the Rams, and he continued his high level of play, leading the league with two pick-6s in 2001 -- he's tied for fourth all time with nine career interceptions returns -- and recovering a career-high four fumbles (by the Pro Football Focus metrics, he had the highest approximate value of anybody in the league during that 2001 season). During his 14-year career, he landed eight Pro Bowl berths and three All-Pro honors.
Why he should be elected: This is the third-straight year Williams has been a finalist, and he seems to be getting closer and closer, surviving the cut to 10 in 2013. I already mentioned about his nine career interception returns -- he's tied with Deion Sanders and Ken Houston, both of whom are in the HOF -- but he also notched three fumble returns for touchdowns, and that's tied for ninth-most of all time. The reality is that Williams was one of the best cornerbacks in the league for a number of years, and that should be enough to get him to Canton.
Why he shouldn't be elected: Perhaps the biggest strike against Williams is that he was overshadowed by Deion Sanders and Rod Woodson. And although his 55 career interceptions is an impressive figure, he ranks only 20th on the all-time list (and just to note, seven of the players in front of him who had eligibility on the list are NOT in the HOF). Also, one has to wonder if voters take into account that during his 10-year stay in the Cardinals organization -- when he was in the prime of his career -- he only made the postseason one time. Whether that's a big negative, Williams did help the Rams make three playoff appearances (including a Super Bowl) in his four seasons there.
What a Hall of Fame voter thinks: "Solid cornerback. You look at the years and what he was able to do with, lack of a better term, sh**ty teams and playing at a high level with the Pro Bowl, that's pretty good. He got to the final 10 last year, which makes me think that there's a possibility. It's depending on the [voter] factions and everything else. ... If you're looking for a good year for Aeneas to get in, maybe it's next year when the Super Bowl is in Arizona. Even if the franchise doesn't have a shot in hell of getting there [to play], the location might accentuate [his attributes]."
How are his chances: It's impossible to know about the presentation that will be made on Williams' behalf and how that will play with the voters, but Williams likely will get in to the HOF at some point soon. It very well could happen this year. Or, like our HOF voter theorized, maybe in 2015.
Coming Friday: The case for and against Kevin Greene.
Follow Josh Katzowitz on Google+
Pryor is coming off a disappointing year with Washington and now heads to New York

Gore is a Miami native and played his college ball at The U

Keep up with the latest moves in free agency as teams try to build a Super Bowl contender
Wallace will likely replace the departed Torrey Smith

The 22-year-old Bills receiver was filmed engaging in a naked, bloody argument with his brother...

The determination would be made by GameDay Central, not the refs on the field