The HOF case for Charles Haley: Do five rings equal one bust?
Here is the case for why Charles Haley should or shouldn't be elected in the 2014 Pro Football Hall of Fame class.
• 4 min read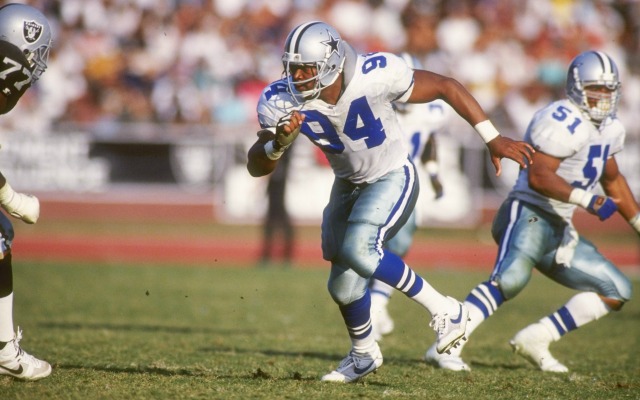 Hall of Fame cases: The receiver trio (Marvin Harrison, Andre Reed and Tim Brown) | Charles Haley | Jerome Bettis | Eddie DeBartolo | Aeneas Williams | Kevin Greene | Tony Dungy | John Lynch | Morten Andersen | Will Shields

The day before the Super Bowl, 46 Hall of Fame voters will enter a conference room somewhere in New York City, and they won't leave until they emerge with the 2014 Pro Football Hall of Fame class. The election will take hours, because each of the finalists will be presented by a media member who extols his virtues and the reason why that particular man should be inducted in with the next class. Then, the debates will begin, and they will rage for hours. Eventually, a Hall of Fame class will be elected, and all will rejoice.
Until then, we're left to ponder the possibilities. On this page during the next few weeks, we'll debate most of those who have a chance to land a spot in Canton this year. At the end of the debate, we'll come up with our own ballot of those who we feel deserve to be enshrined (a quick FYI: I am not a Hall of Fame voter, and neither is anybody else on the current CBSSports.com roster). I can tell you right now that I'll include linebacker Derrick Brooks, defensive end Michael Strahan and offensive tackle Walter Jones on my ballot, so those three won't be among those we debate.
Until then, let's think things through with defensive end/linebacker Charles Haley.
Nothing but the facts: Haley played 13 years in the league (eight with the Cowboys and five with the 49ers), and he ended up winning five Super Bowl rings. He was also one of the scariest pass-rushers in the NFL at the time. From 1986-90, he recorded a total of 56.5 sacks, and in 1994 and 1995, he had a nice career renaissance, recording 12.5 and 10.5 sacks, respectively. It's been a slow ride for Haley for Hall of Fame consideration. He retired in 1999, and from 2004-2009, he never advanced past the semifinal stage. Every year since 2010, though, he's been a finalist.
Why he should be elected: No player in NFL history has ever won as many Super Bowl titles as Haley. He started his run in the 1988 and 1989 seasons with the 49ers, and two years later, the 49ers traded him to Dallas before the 1992 season. Haley was exactly what the Cowboys needed, and in that same season, he helped get Dallas its first NFL title in 15 years. With Haley's help, the Cowboys won the next season and again in 1995. In all, Haley's 4.5 career Super Bowl sacks are the most of any player. By the Pro Football Reference metrics, he was tied with Thurman Thomas and Rod Woodson as the most valuable player in the league in 1990 when Haley recorded a career-high 16 sacks and forced three fumbles.
Why he shouldn't be elected: You have to wonder if Haley's locker room quirks (seriously, if you don't know what I'm talking about, read Jeff Pearlman's book about the Troy Aikman/Emmitt Smith/Michael Irvin-led Cowboys squads) and his sometimes-contentious relationship with the media haven't hurt him in this process. It wasn't just the media, though. He also had plenty of problems with his teammates and coaches. Also the fact he didn't garner a ton of accolades during his career (five Pro Bowls and just two All-Pro selections) probably doesn't help. He ranks 28th on the all-time sacks list with 100.5, and when you compare him to a guy like Strahan, it's hard to think of a reason why someone would elect Haley instead of Strahan. Or, for that matter, Kevin Greene, a fellow finalist who finished with 59.5 more sacks than Haley.
What a Hall of Fame voter thinks: "I think he deserves to be in. When you look at pass-rushing statistics and how many rings he has, he deserves it. He possibly gets in. It depends on the debates and how things go. My first year in that room, there was no way I thought Ricky Jackson would get in, and all of a sudden, Ricky Jackson is in the Hall of Fame."
How are his chances: There certainly is a contingent of writers who believe Haley should be inducted. And his five NFL titles are incredibly impressive. But Strahan and Greene are still in his way, and I really don't see much of a reason to believe this will be Haley's year to get into the HOF. Unless, like our Hall of Fame voter insinuates, whomever is giving the Haley presentation impresses the room so much that they feel obligated to vote for him.
Coming Friday: The case for and against Jerome Bettis.
Follow Josh Katzowitz on Google+
Pick Six Newsletter
Get the day's big stories + fun stuff you love like mock drafts, picks and power rankings.
Please check the opt-in box to acknowledge that you would like to subscribe.
Thanks for signing up!
Keep an eye on your inbox for the latest sports news.
Sorry!
There was an error processing your subscription.
This apartment is probably nicer than your apartment

When it comes to the kickoff, maybe we should let John Harbaugh make all the rules

The Broncos are trying to find their way back to the playoffs after two lackluster seasons
The 49ers linebacker now only has one legal issue hanging over his head

The Cowboys receiver is having a hard time keeping his story straight

The Seahawks receiver doesn't sound like a fan of Donald Trump