The HOF case for Eddie Bartolo: Do voters still consider New Orleans?
Here is the case for why Eddie DeBartolo should or shouldn't be elected in the 2014 Pro Football Hall of Fame class.
• 4 min read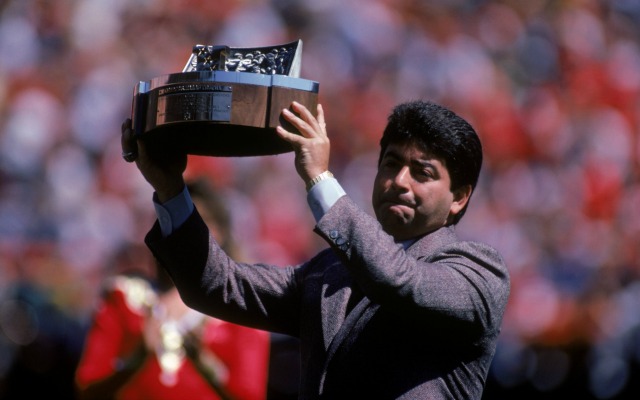 Hall of Fame cases: The receiver trio (Marvin Harrison, Andre Reed and Tim Brown) | Charles Haley | Jerome Bettis | Eddie DeBartolo | Aeneas Williams | Kevin Greene | Tony Dungy | John Lynch | Morten Andersen | Will Shields
The day before the Super Bowl, 46 Hall of Fame voters will enter a conference room somewhere in New York City, and they won't leave until they emerge with the 2014 Pro Football Hall of Fame class. The election will take hours, because each of the finalists will be presented by a media member who extols his virtues and the reason why that particular man should be inducted in with the next class. Then, the debates will begin, and they will rage for hours. Eventually, a Hall of Fame class will be elected, and all will rejoice.
Until then, we're left to ponder the possibilities. On this page during the next few weeks, we'll debate most of those who have a chance to land a spot in Canton this year. At the end of the debate, we'll come up with our own ballot of those who we feel deserve to be enshrined (a quick FYI: I am not a Hall of Fame voter, and neither is anybody else on the current CBSSports.com roster). I can tell you right now that I'll include linebacker Derrick Brooks, defensive end Michael Strahan and offensive tackle Walter Jones on my ballot, so those three won't be among those we debate.
Until then, let's think things through with former 49ers owner Eddie DeBartolo.
Nothing but the facts: DeBartolo bought the 49ers in 1977, and after a 2-14 season in 1978, he made two of the best moves of the last 40 years, hiring Chargers offensive coordinator Bill Walsh as head coach and drafting Notre Dame quarterback Joe Montana. Three years later, the 49ers had won the Super Bowl, and thus began a span of dominance from 1981 to 1998 in which the team averaged 13 wins per season (not including a strike-shortened 1982). In the late 1990s, he found himself in legal trouble along with Louisiana governor Edwin Edwards. DeBartolo pleaded guilty in New Orleans to failing to report an extortion attempt by a public official (Edwards), he paid a $1 million fine and owner Paul Tagliabue suspended him from the league in 1999. He gave up his ownership stake in 2000, and he hasn't been directly involved in the NFL since.
Why he should be elected: His players loved competing for DeBartolo, because he was generous and because he knew the kind of gasoline his teams needed to guzzle in order to succeed. And succeed the 49ers did. During DeBartolo's era, San Francisco won 13 division titles, made it to the NFC title game 10 times and won five Super Bowls -- the first franchise ever to do that. In the 1980s and 1990s, the 49ers had the best winning percentage of any team in the NFL, and even after Walsh retired, DeBartolo knew which coaches to hire to continue San Francisco's impressive reign (George Seifert and Steve Mariucci also had plenty of success when DeBartolo was still the owner). We love to talk about the failings of NFL owners these days (looking at you Daniel Snyder and Jerry Jones), and we don't get to discuss much how successful other owners have been. DeBartolo was successful to the max.
Why he shouldn't be elected: Let's just say this immediately. NFL contributors are incredibly tough to get into the HOF. Whether they're owners, commissioners, TV executives, or general managers, it's difficult in the voters' minds to carve out a spot for somebody who wasn't actually on the field and playing. Thus, you'd better be an otherworldly contributor in order to make the Hall of Fame, and though DeBartolo was a huge reason for the 49ers success in the 1980s and 1990s, there are reservations about his character -- which directly led him to losing his ownership standing. The voters try not to take into account a players' off-field behavior -- look at the induction of Lawrence Taylor on his first ballot -- but when that off-field behavior directly leads to the loss of your franchise, well, that plays a big part in how the voters think about you.
What a Hall of Fame voter thinks: "The biggest thing against him right now that I still try to come up with rebuttals against is the New Orleans case and the questions that continue about that. That continues to be the albatross. When you look at modern owners -- Jerry Jones, Dan Snyder, Kraft -- that was DeBartolo in the 1980s. How the training facilities were, how the players rooms together on the road, how teams fly to away games. DeBartolo was the guy who brought all of that in. But Edwin Edwards and all of that continue to dog him."
How are his chances: Not especially good. He was a semifinalist in 2011, and in the next two years, he made the final 15. It speaks well of his candidacy that he continues to make it to the finalist round, because the more the voters have to consider his candidacy and the more they hear from the presenters, the more likely it is for DeBartolo eventually to be inducted. Is 2014 too soon? Probably yes, but if the Youngstown native keeps make it this far in the HOF voting, eventually he'll find himself back in northeast Ohio as a Hall of Famer.
Coming Wednesday: The case for and against Aeneas Williams.
Follow Josh Katzowitz on Google+
The NFLPA executive director comes out out firing in a 'Real Sports' segment

Why didn't McCown, the presumed starter, play Saturday? The Jets don't want you to know

The Raiders duo had a great explanation for their decision to stand next to each other
The former Buccaneers kicker did not have things start well for him in Chicago

Bears special teams showed up in a big way against Arizona

Beast Mode got loose with Oakland and looked pretty impressive in the early going