The HOF case for John Lynch: Can he beat out Aeneas Williams?
Here is the case for why John Lynch should or shouldn't be elected in the 2014 Pro Football Hall of Fame class.
• 4 min read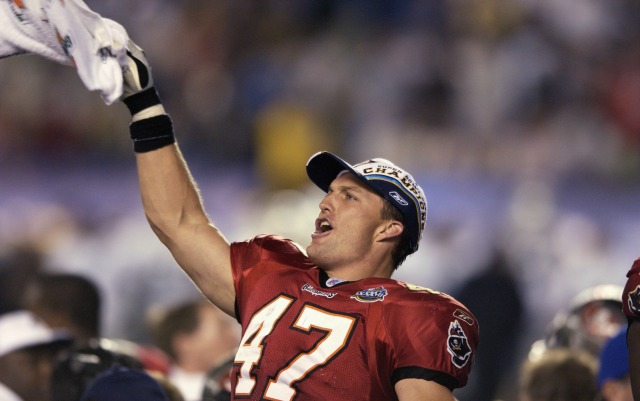 Hall of Fame cases: The receiver trio (Marvin Harrison, Andre Reed and Tim Brown) | Charles Haley | Jerome Bettis | Eddie DeBartolo | Aeneas Williams | Kevin Greene | Tony Dungy | John Lynch | Morten Andersen | Will Shields
The day before the Super Bowl, 46 Hall of Fame voters will enter a conference room somewhere in New York City, and they won't leave until they emerge with the 2014 Pro Football Hall of Fame class. The election will take hours, because each of the finalists will be presented by a media member who extols his virtues and the reason why that particular man should be inducted in with the next class. Then, the debates will begin, and they will rage for hours. Eventually, a Hall of Fame class will be elected, and all will rejoice.
Until then, we're left to ponder the possibilities. On this page during the next few weeks, we'll debate most of those who have a chance to land a spot in Canton this year. At the end of the debate, we'll come up with our own ballot of those who we feel deserve to be enshrined (a quick FYI: I am not a Hall of Fame voter, and neither is anybody else on the current CBSSports.com roster). I can tell you right now that I'll include linebacker Derrick Brooks, defensive end Michael Strahan and offensive tackle Walter Jones on my ballot, so those three won't be among those we debate.
Until then, let's think things through with safety John Lynch.
Nothing but the facts: It took Lynch four years to become a full-time starter in Tampa Bay, but once he did, he was one of the top safeties in the game. He made nine Pro Bowl appearances -- and was a two-time All-Pro -- and he was as feared a tackler as any defender in the game. He helped lead Tampa Bay to the Super Bowl XXXVII win. After the Buccaneers released him following the 2003 season for salary cap reasons, Lynch signed on with the Broncos for the final four years of his career (where he would start 59 of his final 60 games in the NFL). After a semifinalist appearance in Hall of Fame voting last year, this is Lynch's first time as a finalist.
Why he should be elected: Warren Sapp was elected to the HOF last year, and Derrick Brooks probably will get enshrined this year. It would be a nice touch, I supposes, for Lynch -- their former teammate on the Buccaneers who led the team to the only Super Bowl win in franchise history and who turned an organization that made the postseason just three times in the first 21 years of its existence into a squad that went to the playoffs each year from 1999-2002 -- to get in, as well. Also, Warren Sapp called Lynch the second-best safety of all time behind Ronnie Lott? HOW MANY MORE ENDORSEMENTS DO YOU NEED?
Why he shouldn't be elected: It's tough to get full-fledged safeties into the HOF, and though Lynch was one of the best when he played, his stats aren't great. He picked off 26 passes in 15 years -- that certainly isn't an impressive number -- and he's often compared to Steve Atwater, an eight-time Pro Bowler who played all but one season from 1989-99 with the Broncos. The problem is that Atwater has never even been a HOF finalist. Basically, Lynch's resume smacks of a football player who was really good but might not be Hall of Fame worthy. Plus, is Lynch really more deserving of an HOF enshrinement than fellow safety Aeneas Williams? Probably not.
What a Hall of Fame voter thinks: "Frankly, I was surprised he made the final 15. If I'm evaluating which of those Tampa Bay players gets in this year, I'm going to Brooks No. 1, [Tony] Dungy 2 and Lynch 3. He's one of those guys for the first time in the room, I have to get a better judge of things. Maybe the debate will swing me a little bit, but I can't see him getting in. There are some guys that you know don't have a shot of getting in, but you want to get them in the room, just so you can start the discussion process. He is one of those guys."
How are his chances: Not good. It'd be a huge upset if Lynch makes it to the HOF, and chances are, he probably won't even get close. The fact there are less than 10 full-time safeties in the HOF hurts his chances, and if if any safety gets in this year, it makes sense that it'd be Aeneas Williams.
Coming Wednesday: The case for and against Morten Andersen
Follow Josh Katzowitz on Google+
Bettors are favoring the Eagles to keep Super Bowl LII close, but the Patriots remain clear...

Here's everything you need to know about Super Bowl LII

Here's a look at the NFL's entire postseason schedule for 2018
Here's all the details you need to know on watching Super Bowl LII between the Patriots and...

All of the information you need to know about the 2018 Super Bowl

Could the singer stage an *NSYNC reunion in Minnesota?