The HOF case for Morten Andersen: Can another kicker get in?
Here is the case for why Morten Andersen should or shouldn't be elected in the 2014 Pro Football Hall of Fame class.
• 3 min read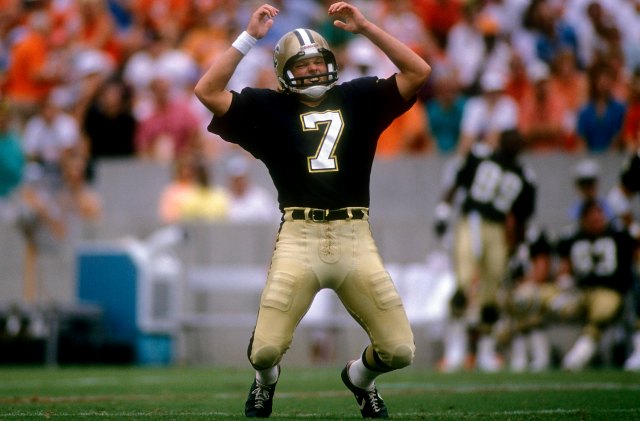 Hall of Fame cases: The receiver trio (Marvin Harrison, Andre Reed and Tim Brown) | Charles Haley | Jerome Bettis | Eddie DeBartolo | Aeneas Williams | Kevin Greene | Tony Dungy | John Lynch | Morten Andersen | Will Shields
The day before the Super Bowl, 46 Hall of Fame voters will enter a conference room somewhere in New York City, and they won't leave until they emerge with the 2014 Pro Football Hall of Fame class. The election will take hours, because each of the finalists will be presented by a media member who extols his virtues and the reason why that particular man should be inducted in with the next class. Then, the debates will begin, and they will rage for hours. Eventually, a Hall of Fame class will be elected, and all will rejoice.
Until then, we're left to ponder the possibilities. On this page during the next few weeks, we'll debate most of those who have a chance to land a spot in Canton this year. At the end of the debate, we'll come up with our own ballot of those who we feel deserve to be enshrined (a quick FYI: I am not a Hall of Fame voter, and neither is anybody else on the current CBSSports.com roster). I can tell you right now that I'll include linebacker Derrick Brooks, defensive end Michael Strahan and offensive tackle Walter Jones on my ballot, so those three won't be among those we debate.
Until then, let's think things through with kicker Morten Andersen.
Nothing but the facts: First of all, you should know this: Morten Andersen is a place-kicker. There's only one fulltime place-kicker in the HOF, and Jan Stenerud was elected in 1991. Since then, there's been no HOF recognition for kickers (not to mention punters). Andersen, though, has an impressive resume, playing 25 seasons and making seven Pro Bowls. His 2,544 career points ranks No. 1 all-time -- 110 more points than No. 2 Gary Anderson -- and he's played 382 career games, more than any other player in NFL history. You might have guessed this, but nobody has ever attempted or made more field goals than Andersen, though, curiously, he's No. 2 in extra points (behind George Blanda).
Why he should be elected: It seems if any kicker should be elected to the HOF, it should be Andersen. Really, his statistics speak for themselves. If you think more than one kicker should be enshrined, Andersen would be a relatively easy vote.
Why he shouldn't be elected: By today's standards, Andersen was not all that accurate. His career field goal success percentage was 79.69 percent, which ranks 48th all time. (Interestingly, Andersen got more accurate at the tail end of his career, and his 89.3 percentage during his final season in 2007 was a career-best.) Plus, there's the whole we-don't-like-to-induct-specialists thing that resonates with the Hall of Fame voters. Punter Ray Guy actually has a solid shot to get in this year as a senior member on the ballot, so perhaps some would feel it's too cringe-worthy to induct Andersen at the same time.
What a Hall of Fame voter thinks: "I like him. It's one of those things where you ask if other people share my view that kickers are football players, too. What he did in the league was to set the standards for kickers. When you look at it, there are only two specialists in the HOF (Stenerud and I consider Blanda a specialist). It's something that has to change."
How are his chances: I don't see how Andersen gets in this year, especially if Guy gets the phone call. Perhaps Guy's induction, if it happens, will break down some of the (silly) barrier that specialists somehow don't belong in the HOF. They do, and Andersen likely does. Maybe at some point, he'll get that call, but it likely won't be in 2014.
Coming Thursday: The case for and against Will Shields
Follow Josh Katzowitz on Google+
Let's call it the Blair Walsh revenge game

Jeremy Lane also stood near Bennett along with pass rushers Cliff Avril and Frank Clark

Bennett also dedicated it to 'all of the other athletes using their platform to promote ch...
The Patriots quarterback shows commitment from Day One

Cardinals' running back says he's feeling more energized

The Vikings' receiver is wearing his heart on his foot