The HOF case for Tony Dungy: Does his trailblazing help his resume?
Here is the case for why Tony Dungy should or shouldn't be elected in the 2014 Pro Football Hall of Fame class.
• 4 min read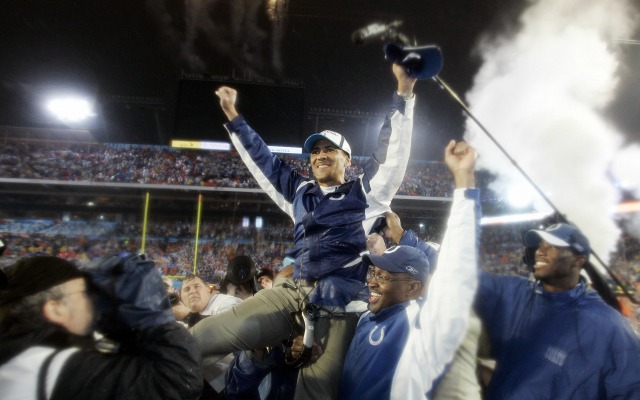 Hall of Fame cases: The receiver trio (Marvin Harrison, Andre Reed and Tim Brown) | Charles Haley | Jerome Bettis | Eddie DeBartolo | Aeneas Williams | Kevin Greene | Tony Dungy | John Lynch | Morten Andersen | Will Shields
The day before the Super Bowl, 46 Hall of Fame voters will enter a conference room somewhere in New York City, and they won't leave until they emerge with the 2014 Pro Football Hall of Fame class. The election will take hours, because each of the finalists will be presented by a media member who extols his virtues and the reason why that particular man should be inducted in with the next class. Then, the debates will begin, and they will rage for hours. Eventually, a Hall of Fame class will be elected, and all will rejoice.
Until then, we're left to ponder the possibilities. On this page during the next few weeks, we'll debate most of those who have a chance to land a spot in Canton this year. At the end of the debate, we'll come up with our own ballot of those who we feel deserve to be enshrined (a quick FYI: I am not a Hall of Fame voter, and neither is anybody else on the current CBSSports.com roster). I can tell you right now that I'll include linebacker Derrick Brooks, defensive end Michael Strahan and offensive tackle Walter Jones on my ballot, so those three won't be among those we debate.
Until then, let's think things through with former coach Tony Dungy.
Nothing but the facts: It speaks well about Dungy's career that he continues to be thought of ( or hoped for?) as a future head coach even though he seems entrenched as an analyst for NBC. He almost certainly will be asked this week during his media availability if he would consider returning to the sideline (Dungy almost certainly will say he's not interested). He spent six years as the Buccaneers coach, going a decent-but-not-unbelievable 64-52. He was fired because ownership didn't enjoy that the team kept falling short of the Super Bowl -- Tampa Bay actually won it the next year with Jon Gruden as head coach -- and Dungy was hired by the Colts in 2002. That's when Dungy shone, accumulating an 85-27 record and winning Super Bowl XLI after the 2006 season.
Why he should be elected: Dungy did amazing work in Indianapolis. Sure, he had a quarterback by the name of Peyton Manning that helped Dungy's reputation, but it's hard to argue with a .759 winning percentage. Plus, Dungy's overall regular-season winning percentage is .688, which ranks ninth all time with those who have coached in at least 100 games. Other positive attributes: he was the first coach to score a win against all 32 teams, and he's only one of three NFLers who have won the Super Bowl as a player and as a head coach. And though the voters aren't necessarily supposed to weigh the sociological impact of Dungy, it's worth noting that he's been a wonderful ambassador for the game, and he was a trailblazer, becoming the first African-American to win an NFL title.
Why he shouldn't be elected: Though Dungy made the postseason 11 times (out of 13 seasons) in his coaching career and won at least 10 games in 10 different years, the lone Super Bowl victory isn't that impressive when you consider that 12 coaches who also have that accomplishment are not in the HOF -- and three (Tom Flores, George Siefert and Jimmy Johnson) have won two Super Bowls and aren't in. And even with Dungy's impact on the game from a larger standpoint, the voters really aren't supposed to consider that as part of his candidacy. If you take away his trailblazing ways, Dungy's case gets weaker.
What a Hall of Fame voter thinks: "The thing is with Dungy -- and it's the elephant in the room -- is that you're supposed to measure on-field accomplishments. It's not supposed to, but with Tony, you have to take a look at it. The first black coach to win a Super Bowl and things like that. Let's put it this way. the [Dick] LeBeau case is the perfect example. You're supposed to look at just what he did on the field [as a player] but everybody in that room remembers what LeBeau has done as a defensive coordinator. Even though you're not supposed to, you're looking at the entire body of work.  
"[Bill] Parcells was, by far, the better coach, and he didn't get in on his first ballot. How could I put in Dungy on the first ballot?"
How are his chances: Dungy is well-liked, so there's a chance he could get into the Hall of Fame one day. But it probably won't happen this year. Despite his off-the-field work and his trailblazing ways, his resume simply isn't strong enough to warrant his induction at this point. Though Dungy's winning percentage is impressive, he might have retired too soon in order to make his chances a slam-dunk case. Almost certainly not on his first time on the ballot.
Coming Tuesday: The case for and against John Lynch
Follow Josh Katzowitz on Google+
Pick Six Newsletter
Get the day's big stories + fun stuff you love like mock drafts, picks and power rankings.
Please check the opt-in box to acknowledge that you would like to subscribe.
Thanks for signing up!
Keep an eye on your inbox for the latest sports news.
Sorry!
There was an error processing your subscription.
If you're in the market for linebacker help, the 2020 free agent class should have you covered

One of the top offensive tackle options will not reach free agency.

The Jordan Reed era in Washington is likely over
Brown blossomed into a star in Pittsburgh before forcing his way out of town last offseason

There's a way to get Washington out of its decades-long doldrums, and it all starts with a...

Cleveland increases salary cap flexibility entering the talent acquisition portion of the year.
Kansas City won its first Super Bowl in 50 years as San Francisco struggled to maintain a late...

A Vince Lombardi Trophy is heading to Kansas City

Live scores, highlights and updates from the Jaguars vs. Colts football game