The HOF case for Will Shields: Some feel he has no shot this year
Here is the case for why Will Shields should or shouldn't be elected in the 2014 Pro Football Hall of Fame class.
• 3 min read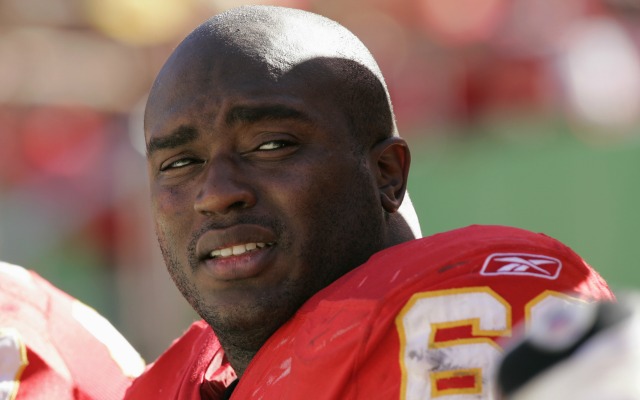 Hall of Fame cases: The receiver trio (Marvin Harrison, Andre Reed and Tim Brown) | Charles Haley | Jerome Bettis | Eddie DeBartolo | Aeneas Williams | Kevin Greene | Tony Dungy | John Lynch | Morten Andersen | Will Shields
The day before the Super Bowl, 46 Hall of Fame voters will enter a conference room somewhere in New York City, and they won't leave until they emerge with the 2014 Pro Football Hall of Fame class. The election will take hours, because each of the finalists will be presented by a media member who extols his virtues and the reason why that particular man should be inducted in with the next class. Then, the debates will begin, and they will rage for hours. Eventually, a Hall of Fame class will be elected, and all will rejoice.
Until then, we're left to ponder the possibilities. On this page during the next few weeks, we'll debate most of those who have a chance to land a spot in Canton this year. At the end of the debate, we'll come up with our own ballot of those who we feel deserve to be enshrined (a quick FYI: I am not a Hall of Fame voter, and neither is anybody else on the current CBSSports.com roster). I can tell you right now that I'll include linebacker Derrick Brooks, defensive end Michael Strahan and offensive tackle Walter Jones on my ballot, so those three won't be among those we debate.
Until then, let's think things through with guard Will Shields.
Nothing but the facts: From 1993-2006, Shields, a third-round draft pick out of Nebraska, started 223 of 224 games for the Chiefs, and he was one of the best guards of his time in the NFL. He made the Pro Bowl 12 times as a right guard, and he's a finalist for the HOF for the third-straight season.
Why he should be elected: His resume is stellar, and running backs like Marcus Allen, Priest Holmes (three-straight seasons of at least 1,400 yards) and Larry Johnson (back-to-back 1,700-yard performances) can thank him for helping them to successful seasons. Plus, you know, he had 12 (!) Pro Bowl selections. There's very little question about whether Shields deserves to be in the HOF. The only question is when he'll be deemed fit.
Why he shouldn't be elected: The prevailing wisdom is that HOF voters don't seem to love inducting guards into the HOF, though Larry Allen made it last year and Russ Grimm was enshrined in 2010 and Randall McDaniel the year before. OK, so maybe the voters don't mind including guards all that much. In any case, Shields likely will be penalized because he played in Kansas City -- not the flashiest of organizations and a team that never went to the Super Bowl when Shields was there.
What a Hall of Fame voter thinks: "Ummmmmm, let's face it. There are usually guys who have no shot of getting in for another year. He's on my list. Out of the 15 finalists last year, he was the only one where nobody else had a comment after the presenter did his speech. It was like, 'OK, on to the next one.' He'll get a little bit of debate [this year]. It's one of those things where we've had him in here for a couple years. When you have the run of tackles and defense lineman, you have to figure out where he fits."
How are his chances: It would seem mildly criminal if Shields doesn't eventually make the HOF. That said, he probably will, because the length of his career and his productivity are too much ignore. This year won't be the year Shields can celebrate, but eventually, he should make it.
Follow Josh Katzowitz on Google+
The Jaguars' cornerback doesn't want the team's top receiver to depart in free agency

The Broncos are one of the favorites to land Cousins in free agency

Gathers flashed signs of promise in the preseason, but has yet to play in a regular-season...
Carruth wants custody of his 18-year-old son, who was born with brain damage after the slaying...

Why pay big bucks when you can gamble on Austin Seferian-Jenkins, Tom Savage or Donte Monc...

Running backs coach Duce Staley and wide receivers coach Mike Groh will reportedly interview...