The NFL Today: Week 1 news and notes
Percy Harvin may be back sooner than we think. Same with Rob Gronkowski and Heath Miller. Jason La Canfora goes around the league to bring you the latest news and notes.
• 10 min read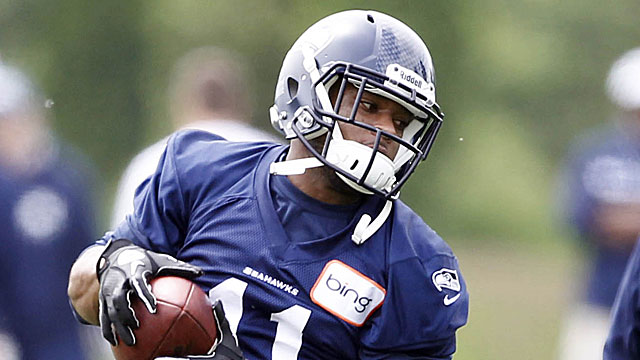 Jason La Canfora will have more news and notes on The NFL Today at noon ET on CBS. 
Earlier this week Seattle Seahawks injured receiver Percy Harvin tweeted about possibly coming back in Week 7. While sources said that could prove to be a bit ambitious, Harvin is already ahead of schedule in his rehab from hip surgery and, given his elite conditioning and lean muscle mass, has "wowed" his surgeon with his recovery this far, according to a source.
What's goin 12th man just checkn in ...I'm making serious progress ...keep an eye on week 7...don't hang them 11's up.....we workn

— Percy Harvin (@Percy_Harvin) September 4, 2013
Harvin was perhaps the biggest offseason acquisition in the NFL, with the Seahawks sending multiple picks to Minnesota for the dynamic hybrid running back/receiver/return threat, and then rewarding him with a contract worth $13 million per season. However, his hip required the procedure just as camp was opening and initial estimates by specialists put his entire 2013 season in jeopardy.
The Seahawks were privately hoping for a return in December, but should Harvin maintain his recent rate of recovery, he could be back even sooner, which would give the Super Bowl hopefuls a significant boost for the stretch run.
Tebow has not received CFL contract offers
Contrary to a published report, former NFL quarterback Tim Tebow has not engaged in contract talks with any Canadian Football League teams, and could only do so with one, the Montreal Alouettes, who hold his exclusive negotiating rights.
The team would "welcome" the idea of having Tebow on its roster, according to coach/general manager Jim Popp. But Montreal has not reached out to his agent, Jimmy Sexton, since early this offseason, after the New York Jets released him and before Tebow signed with the New England Patriots (who subsequently released him last week). Popp said at that time a scout from his staff called Sexton's office, but did not speak with Sexton himself, to express to the agency that Montreal held Tebow's rights and should the quarterback want to explore that option, they would love to talk. At that time, Montreal was informed Tebow did not have interest in the Canadian league, and that has not changed to this point.
"No other (CFL) team can make an offer," Popp said. "We have his exclusive rights. His agent has never spoken to us. We have never made an offer."
However, Popp said he is very intrigued by what Tebow had to offer, particularly in the Canadian game, with a bigger field and fewer downs, and he paid close attention to how Denver altered its offense to fit Tebow's skillset. Having lost his starting quarterback to serious injury and having to bring in rookies on the fly, Popp said he is sure Tebow could help his club, but will not be pushing him any way to head north, understanding the decision is entirely Tebow's.
"They have never called, and we have never offered," Popp said, "but we do welcome him to join our club if he has interest. We would be happy to see what he can do on a CFL field, even if it is in particular packages."
Popp, a respected longtime football executive who has been a finalist recently for NFL general manager jobs, said he would be interested in seeing how Tebow could develop as a more traditional quarterback as well, over time, but would initially cater to what the player does best.
Tebow recently tweeted that he has not given up on his dream of being an NFL quarterback, though at this point the opportunity to play that position at the NFL level appears to be beyond limited, and honing his craft in another league might be his best or only option to be under center.
MRSA lawsuits could be coming
The NFLPA is planning to file a grievance and could explore legal action as well, regarding Tampa Bay Buccaneers kicker Lawrence Tynes, according to union sources. They are exploring whether or not a member of the team's training staff may have been responsible for spreading the virus to players. At this point, there is a formal inquiry as to what took place at the team facility, and how the infections occurred.
Tynes and guard Carl Nicks contracted the MRSA virus -- which can be deadly at its most extreme -- but while the Buccaneers placed Nicks on their injured list, allowing him full benefits and pension credits, and he is expected back in the short term, Tynes remains in bad condition and is on the non-football injury list, which precludes him from receiving credits toward an accrued season while he battles the illness.
According to sources, the Bucs are contending in their medical report that the players contracted two difference strains of virus and that Tynes' may not have come from the team facility. Union sources believe a team employee -- possibly a member of the training staff -- is the initial patient who introduced the virus to the Bucs' facility, but that is not indicated in the medical report on file. Tynes has remained in Kansas City, and required a PICC line  to his heart. His wife took to Twitter to directly contradict the assertion by Tampa coach Greg Schiano that the infected players were generally doing well and coming along.
I hear my husband is responding "well" to treatment. LOL! He's NOT responding at all yet. This is our #bucslife pic.twitter.com/Gy4z4OcAXA

— Amanda Tynes (@AmandaTynes9) August 28, 2013
While Nicks is a key player for Tampa, Tynes is more of a spare part, and the NFLPA has opened up an inquiry into what took place and is pursuing an injury grievance against the team. That is the first option available to those parties through the collective bargaining agreement, but sources said the NFLPA is looking into options through the legal system as well.
Nicks was ruled out for Sunday's game with his foot still recovering from the infection, though he is getting closer to being ready to play. Tynes' career appears to be in jeopardy.
Haslam's father would be interim Browns owner
Cleveland Browns owner Jimmy Haslam, the subject of an FBI probe into the practices of his truck-stop company Pilot Flying J, faces lawsuits and a possible class-action settlement against the company. Now, according to sources, and, depending on these outcomes, the day-to-day operations of the team could turn over to his father, Jim.
The deal has already been signed off on, sources said, and would go into place should conditions arise whereby the younger Haslam was suspended from serving as the owner of the club. At this point, sources said it is extremely remote that Haslam would be in a position whereby the NFL would prompt him to divest himself from the club entirely. However, even in that extreme event, league sources said the NFL has identified potential owners who might be able to assume control of the club in an expeditious manner.
One league source likened the situation to that of the San Francisco 49ers , when owner Eddie DeBartolo was indicted and Carmen Policy initially assumed control in his absence. Haslam's company is accused of defrauding clients out of rebates and the FBI probe has reached the highest rungs of the company, with Haslam denying any wrongdoing himself.
Jim Haslam originally founded Pilot Flying J and is currently a minority owner of the Browns. While some have suggested the problems with that company could impact the Browns' liquidity or budget, the team is profitable as it stands, and has increased its revenue streams recently under team president Joe Banner, expanding naming rights and sponsorship opportunities.
Jarius Byrd would welcome trade
Contrary to a report, Buffalo Bills safety Jairus Byrd has not requested a trade, but, according to a source close to the situation, he would welcome a change of scenery at this point as he plays out the 2013 season on the franchise tag. Sources said the Bills sought further clarity from the NFL about his status, inquiring as to whether, if he were traded, if a new team could possibly alter his contract.
The word back from the NFL Management Council was as expected. As a franchise player, no changes to Byrd's contract could be made by any team after the July 15 deadline to extend the contract of a franchise player. So given that any team that acquired Byrd would essentially be only renting him for the season, with Byrd eligible for unrestricted free agency unless he was franchised again (at a 20 percent raise), trade talks haven't really gotten off the ground.
Teams will not part with what Byrd -- a playmaking safety just entering his prime -- is worth, given the uncertainty about his future with their club. Byrd is currently dealing with foot injuries, and will not face New England in the season opener Sunday. It's only logical to wonder if he had contract security beyond this season if he might be more willing to extend himself medically to play.
The sides could not get close on an extension this summer, with Buffalo floating offers worth about $7 million a season, sources said, which is similar to the franchise tag value. Regardless, it would be difficult to see Byrd back in Buffalo in 2014 at this point. With the trade deadline now pushed back, perhaps the Bills assume a pick for him at some point if they believe it is worth slightly more than the compensatory pick his departure would net them, particularly if the rebuilding team struggles early on.
With the trade deadline now at the midpoint of the season, trading Byrd then would cost the team acquiring him only half of his $6.92M salary, and would also cut his cap number in half, which would increase the number of teams able to assume the contract.
Gronkowski, Miller getting closer
Patriots tight end Rob Gronkowski , who missed all of the offseason and preseason recovering from surgeries, and Pittsburgh Steelers tight end Heath Miller , who did the same recovering from a knee tear suffered in Week 17 last season, are both getting closer to being ready to play.
Both players began practicing last week and have progressed well to this point. Neither will play this weekend and, with the Patriots playing their second game on Thursday, and with a truncated week of practice, Gronkowski is not expected back until Week 3 at the earliest. However, should he continue to work back to football shape as he has been, returning to play Tampa is quite likely, barring a setback.
Miller has impressed the Steelers with his recovery as well, being activated from the PUP list only recently, and a return for Week 2 is likely in his case. Miller was a vital cog in coordinator Todd Haley's offense a year ago, the team is thin at tight end and faces a critical game against the Cincinnati Bengals in the second week. Also, rookie running back Le'Veon Bell is on track to return from his foot injury, trending toward the lower end of the team's original 6-to-8 week projection for his absence.  
Bell suffered the injury in a preseason game on Aug. 19, and the Steelers believe he could be back for Week 4 against the Minnesota Vikings in London. With the bye looming in Week 5, even if the team took the extra precaution of holding him out, he is on target to be back by Week 6 at the latest and in line to play the final 12 games. He had just ascended to the top of their depth chart at the time of the injury and, given his strong training camp performance, is viewed as a potential impact feature back right away.
At this point, I'd expect to see Bell before the bye, but that could change.
No extension for Browns center Alex Mack
Alex Mack has quietly become one of the premier centers in the NFL, and he is one of very few Browns players of note nearing the end of his contract. But the team made no attempts to extend him this offseason and Mack is not interested in talking in-season, according to a league source.
Mack, in the final year of his rookie deal and a former first-round pick, is focused on football at this point and not his contract, the source said. While he would have welcomed contract overtures over the summer, that is no longer the case now, until after the season. Mack could be a candidate for the franchise tag, of course.
Bills center Eric Wood -- like Mack, a 2009 first-round pick -- recently signed a four-year, $25 million extension that included a $9 million signing bonus. Mack is set to earn $3.7 million this season.
Welcome to the NFL's version of a dress rehearsal

It sure sounds like the players are planning for a work stoppage when the latest CBA expir...

One of the league's best players is still looking for a new long-term contract
'It's completely different,' Wentz says about entering his second season with the Eagles

Tavon Austin, Matt Kalil and Joe Flacco headline our list of the NFL's most player-friendly...

Richardson has played for four NFL teams, and hasn't appeared in an NFL game since 2014