The Super Bowl as told by Twitter: The Broncos were heavily mocked
Twitter users lambasted the Broncos during their dreadful Super Bowl performance.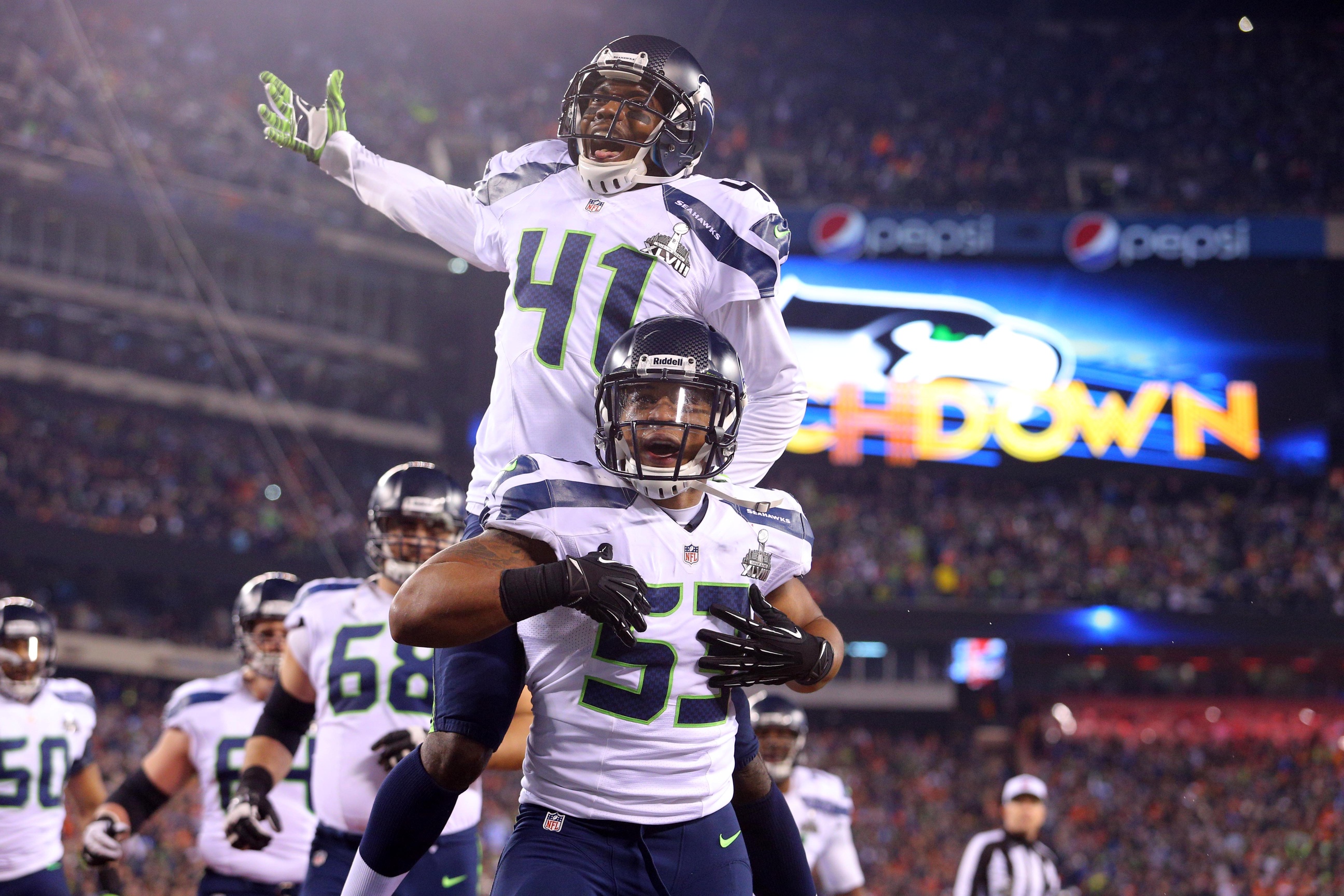 More SB coverage: Seahawks win, 43-8 | Photos | Numbers | More news
The Broncos took a beating on the gridiron, and the beating they took on Twitter was just as bad.
Dear Mayor Ford: Please never wear any of our jerseys, ever. Sincerely, All Football Teams pic.twitter.com/gIBibsVgxB pic.twitter.com/gIBibsVgxB

— Sophie Lui (@sophielui) February 3, 2014
I'm convinced that first half was a Broncos avant-garde performance art piece about the political future of Chris Christie.

— Dave Zirin (@EdgeofSports) February 3, 2014
Saddest photo of the #SuperBowl just moved from @gettyimages pic.twitter.com/0kQudJJUrO

— tannercurtis (@tannercurtis) February 3, 2014
Broncos getn ran out da Superbowl B pic.twitter.com/mCXKjsJ7Mb

— Trav NEVER Chills (@SKTV_) February 3, 2014
Use the promo code PEYTON when ordering a Papa Johns pizza & when it's delivered to your house, a Seattle DB will take it from you & eat it.

— Rob Fee (@robfee) February 3, 2014
Does that include the Broncos? RT @WillBrinson Tonight's attendance announced as 82,529

— Matt Norlander (@MattNorlander) February 3, 2014
The only explanation: the Monstars snatched the Broncos' talent.

— Kayla Knapp (@KaylaKnappFOX) February 3, 2014
"I know, I know, Mom, I am trying. No, no, don't put Dad on the phone" #PeytonManning #Broncos #SuperBowl pic.twitter.com/5DVDavA5dJ

— Tim Moore (@TimMoore) February 3, 2014
Interception, Peyton Manning. #ruhroh pic.twitter.com/cDita7WR1i

— BarkBox (@barkbox) February 3, 2014
No

— Has Denver Scored? (@HasDenverScored) February 3, 2014
Kramer meets Peyton Manning before the game and convinces him to stop saying Omaha. K: "Change it up! What's the worst that could happen?"

— Modern Seinfeld (@SeinfeldToday) February 2, 2014
It was 1st and 10. The Broncos snapped it out the back of the end zone for a safety. I probably would have just run a normal play.

— NYT 4th Down Bot (@NYT4thDownBot) February 2, 2014
That's why the Red Sox ditched Manny Ramirez.

— Jay Busbee (@jaybusbee) February 2, 2014
Tim Tebow has most definitely one upped Peyton Manning in this Super Bowl. #WhoSawThatComing

— Tim Goodman (@BastardMachine) February 3, 2014
Omaha wants Peyton Manning to change his audible call to Council Bluffs

— Bobby Big Wheel (@BobbyBigWheel) February 3, 2014
Hey Denver... the Tic-Toc-Diner is open all night. It's right up the road from the stadium and they have great cheesecake.

— Anish Shroff (@AnishESPN) February 3, 2014
Not even Jimmy Hoffa was buried this deep in the Meadowlands.

— Brendan Prunty (@BrendanPrunty) February 3, 2014
Is Fred Armisen available to hug Peyton Manning?

— Annie (@annielkozak) February 3, 2014
The tweets praising the Seahawks (and mocking the city of Seattle) were just as hilarious.
Looks good to us! ;-) pic.twitter.com/JcWVsvi5zb

— Mustang Brewing Co. (@mustangbrewing) February 3, 2014
PEOPLE ARE RUNNING THROUGH THE STREETS OF SEATTLE MISSPELLING EACH OTHER'S NAMES ON CUPS

— Josh Greenman (@joshgreenman) February 3, 2014
Going to be INSANE in Seattle tonight -- upgrading to Ventis, writing exclamation points in their Moleskines, acting dangerously unironic.

— pourmecoffee (@pourmecoffee) February 3, 2014
This will all be for nothing when the NFL vacates this Super Bowl after it's discovered Pete Carroll's players were getting paid.

— The Triple Deke (@TheTripleDeke) February 3, 2014
"Macklemore and Ryan Lewis" pic.twitter.com/8ktZarUChl

— Olivia Rose (@olivialeighrose) February 3, 2014
Bruno Mars' halftime show received strong reviews, but wasn't above mockery.
This halftime show makes me think a 50-cent, Justin Bieber pairing could possibly work next year. Yes, @NFL?

— John Breech (@johnbreech) February 3, 2014
Doublenipplegate

— Bruce Arthur (@bruce_arthur) February 3, 2014
I think Flea should get fined by the rock 'n roll league for not wearing regulation sock. - @sarahspain #SB48

— espnW (@espnW) February 3, 2014
The pregame show, especially Joe Namath, also provided some great moments.
Separated at birth pic.twitter.com/IWSP15TBgh

— BuzzFeed (@BuzzFeed) February 2, 2014
Namath going full Namath. #SB48

— GQ Magazine (@GQMagazine) February 2, 2014
Oh, no. I hope Knowshon Moreno doesn't get my shoes wet. #NationalAnthem #SB48

— Peyton's Head (@PeytonsHead) February 2, 2014
Hey guys…enjoy the game tonight. We're going dark. #OreoOut

— Oreo Cookie (@Oreo) February 2, 2014
So hyped to beat the crap out of Britain in this Super Bowl now!

— Bill Barnwell (@billbarnwell) February 2, 2014
And now NFL players will read the Declaration of Independence, the original challenge flag.

— sir broosk (@celebrityhottub) February 2, 2014
You're telling me that Nic Cage was unavailable for a televised reading of the Declaration of Independence?

— Pablo S. Torre (@PabloTorre) February 2, 2014
Of course, there was also the #BrandBowl.
Wow! So amaze. Much underdoge. Very points. Many cheer. #SB48 pic.twitter.com/rOTf8Ynhz1

— Skittles (@Skittles) February 3, 2014
Did @jcpenney really deliberately butcher tweets to advertise... Mittens? #brandbowl #reallynow pic.twitter.com/5x9B6BhhVm

— Stephen Fowler (@stphnfwlr) February 3, 2014
Most brand tweets have seemed like they are trying to hard, but the last hashtag made me laugh! #brandbowl #smckc pic.twitter.com/GkaUGDHnbZ

— Jaspreet Singh (@jpsingh93) February 3, 2014
Sorry fans, we don't have a button for this.

— Buffalo Wild Wings (@BWWings) February 3, 2014
Not on my watch! STOP #throwingducks RT @WillBrinson At least Peyton Manning might get an AFLAC commercial out of this. #Quack #Quack #Quack

— Aflac Duck (@aflacduck) February 3, 2014
Beckham found some clothes, but no friends. pic.twitter.com/CJgG32VPNZ

— Next Impulse Sports (@NextImpulse) February 3, 2014
Finally, Patrick Stewart won Twitter.
February 3, 2014
Plus the Saints are rolling in the NFC South, the Falcons are in trouble, the Bears are weird...

Here are the Week 7 grades for every team that played on Sunday

It was the Falcons' first score against the Patriots in over 90 minutes of game time
Hooker, the 15th pick in the draft, was in the middle of a stellar rookie year

Plus Jordy Nelson's lonely pre-game, Jamal Adams' Milly Rock, Le'Veon Bell's stiff arm and...

Justin Timberlake is headed back to perform at the Super Bowl for the first time in 14 yea...