The Texans met Brock Osweiler for 10 seconds before giving him $72M
And that someone was quarterback Brock Osweiler.
In just about every vocation on the planet, an employer would spend ample time meeting with a prospective employee before deciding to fork over a multi-million-dollar paycheck. Not in the NFL.
In the NFL, you can have a situation that unfolded like the one in Houston, where the Texans, as Peter King of TheMMQB.com pointed out Tuesday, met Brock Osweiler for all of 10 seconds before they agreed to give him $37 million guaranteed.
King spoke to Texans coach Bill O'Brien, who highlighted an issue the NFL has with free agency right now: teams can't talk to players who are under contract and set to be released until the actual start of free agency. 
The legal tampering period effectively created a 48-hour buffer window where teams can negotiate contracts with agents but not actually meet potential hires.
"There really should be a period where, say a week before free agency, a guy can make some trips," O'Brien said. "Without that, you have to find a way to research guys, but without seeing him and talking to him face-to-face, there's always going to be something missing."
For Osweiler, that didn't happen because of how the succession plan in Denver -- he was waiting on Peyton Manning to retire -- was unfolding after the Broncos win in Super Bowl 50. 
So how much time did O'Brien spend with Osweiler before signing him in total? Roughly 10 seconds. 
From King:
In 2014, the Denver Broncos hosted the Houston Texans for a couple of days of practice during training camp. At one point during the sessions, Texans coach Bill O'Brien sidled up to the Denver quarterback group to speak with Peyton Manning and got to meet his backup, Brock Osweiler, briefly. Just a quick hello.
And that was it.
It's true, and O'Brien mentioned it in his press conference. Asked how he pitched Osweiler on coming to Houston, well, he didn't.
"There was no pitch. [GM] Rick [Smith] deals with Jimmy Sexton, his agent. First time I met Brock was when he showed up on that day when we had a press conference. He's a good guy," O'Brien said. "I know there's a lot of people that have coached him throughout the years that I personally know, so I'm sure he spoke to those guys. We spoke to those guys.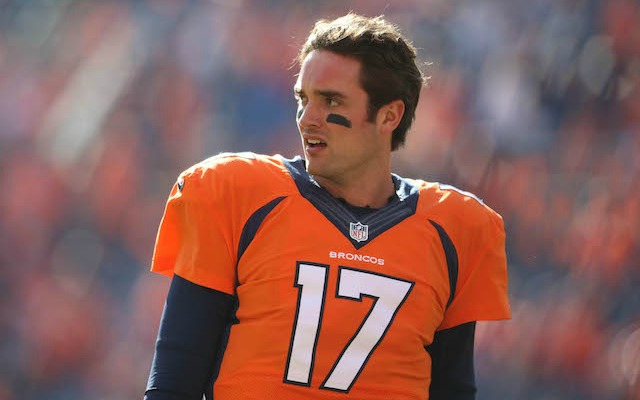 "That was one thing that stood out to me about him was everyone we spoke to that was either a coach or a teammate couldn't say enough good things about this guy."
The Texans gave Osweiler a four-year, $72 million contract with $37 million guaranteed based on watching a lot of film and on the word of a bunch of mutual friends.
This folds into the issues former Seahawks tackle Russell Okung faced while representing himself in free agency.
Okung couldn't visit with other teams because the legal tampering window only allows agents to visit. Not players. 
Osweiler was also dealing with the issue of avoiding the Broncos. At Sexton's request, he'd gone dark so teammates and coaches couldn't make an emotional pitch to keep him around Denver. 
It made visiting difficult. Good luck sneaking into Houston. Especially when you're 6-foot-8 or whatever height Osweiler claims.
However the process shook out, he's just starting to learn about the Texans even though they already gave him $37 million guaranteed. Talk about a glitch in the system.
Pick Six Newsletter
Get the day's big stories + fun stuff you love like mock drafts, picks and power rankings.
Please check the opt-in box to acknowledge that you would like to subscribe.
Thanks for signing up!
Keep an eye on your inbox for the latest sports news.
Sorry!
There was an error processing your subscription.
The pass rusher's situation will definitely be settled when the 2019 draft arrives, per a...

The Mississippi State edge rusher will instead watch the draft with his family from Georgi...

Get ready for the NFL Draft with everything you need to know about the New York Giants
Get ready for the NFL Draft with everything you need to know about the New Orleans Saints

Get ready for the NFL Draft with everything you need to know about the Minnesota Vikings

Get ready for the NFL Draft with everything you need to know about the Los Angeles Rams