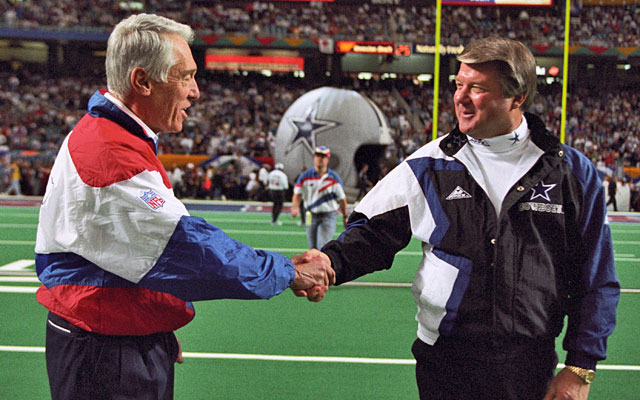 NFL owners fire an awful lot of head coaches in hopes of changing the fortunes of their clubs. Head coaches average about three seasons to establish themselves or they are gone.
More franchises should follow the Pittsburgh Steelers when it comes to a philosophy about head coaches. The Rooney family has had only had three head coaches in 44 years. All three have won Super Bowls and the Steelers have been to the playoffs in 26 of those 44 seasons. The Steelers organization doesn't make knee-jerk decisions when it comes to the head coach. Chuck Noll went 12-30 in his first three years and went on to be a Hall of Fame coach. No talk of firing him after a rough start. In 1998-99, Bill Cowher went 13-19 and he got a contract extension. Mike Tomlin went 8-8 last season, and there's not even a whisper of an issue.
I decided to go back and look at all the head coaches who were fired and come up with my all-time 10 worst firings -- teams and owners that lived to regret the decision to let a coach go. Six of them took another team to a Super Bowl win and five of them are in the HOF. I wonder what would have happened if the owners thought like the Rooneys?
1. Marv Levy, Kansas City Chiefs: Levy was the head coach of the Kansas City Chiefs from 1978-82. He got fired at the end of a strike-shortened season. In his first four years, before the strike, the Chiefs improved every year -- four wins to seven, eight and nine. Levy went on to have a 112-70 record with the Bills with four straight Super Bowl appearances and is in the Hall of Fame.
2. Weeb Ewbank, Baltimore Colts: Ewbank is best known for leading the New York Jets to the 1969 Super Bowl win over the Baltimore Colts. He was the head coach of the Colts from 1954-62. In that time period he won two NFL championships (1958 and '59) and was head coach in what is considered the greatest NFL game ever played when his Colts beat the Giants in overtime.
3. Paul Brown, Cleveland Browns: Brown was coach of the Cleveland Browns until new, 35-year-old owner Art Modell fired him in 1962. Coach Brown went to the playoffs in eight of his first nine seasons as Browns head coach but that wasn't good enough to protect his job. Brown went to cross-state rival Cincinnati and led them to the playoffs three different seasons and is in the Hall of Fame.
4. George Allen, Washington Redskins: Allen was a great innovator, who revolutionized special teams among other things. In his seven seasons with the Redskins he never had a losing season and compiled a 67-30-1 record, including an NFC title in 1972. The story goes that he rejected a four-year, $1 million contract offer and was fired.
5. Tom Landry, Dallas Cowboys: Landry finished with a 250-162-6 record as Cowboys coach and was 20-16 in the postseason but was forced out after the 1988 season by new owner Jerry Jones. Landry was inducted into the Hall of Fame two years later.
6. Jimmy Johnson, Dallas Cowboys: Not to be outdone by the Landry firing, Jones parted ways with his replacement five seasons later when Johnson left in what was called a "mutual split." There's no way a coach with back-to-back Super Bowl titles (1992-93) should have left Dallas.
7. Tom Coughlin, Jacksonville Jaguars: The franchise's first coach stayed with the expansion team from 1995-2002 before being fired. He took his team to the playoffs four times and finished with a 68-60 record in Jacksonville. After a year off he took over the New York Giants and has won two Super Bowl titles while compiling an overall record of 91-64.
8. Bill Belichick, Cleveland Browns: Granted, he was young for a head coach and his 36-44 record wasn't impressive, to say the least -- but the rest is history. Again Modell fired his coach and Belichick has gone on to five Super Bowl appearances, winning three times. The Browns are on their seventh head coach in the 18 years since Belichick was fired, though if Belichick had stayed he would have become the first coach of the Ravens.
9. Tony Dungy/Jon Gruden, Tampa Bay Buccaneers/Oakland Raiders: This is a combo selection. The Bucs fired Dungy, who went on to win a Super Bowl with the Colts. The Raiders traded away Gruden, who turned around and beat Oakland in the Super Bowl.
10. Mike Shanahan, Denver Broncos: The Broncos let go a coach with a 146-91 record and two Super Bowl titles. Last year, in his third season with the Redskins, he won the NFC East with a rookie quarterback.
Honorable mention: Sam Wyche, Cincinnati Bengals; Chuck Knox, Seattle Seahawks; Dan Reeves, Atlanta Falcons; Lovie Smith, Chicago Bears; Pete Carroll, New York Jets; Jeff Fisher, Tennessee Titans; Andy Reid, Philadelphia Eagles.
The most unique story belongs to Marty Schottenheimer. He was fired by the Browns with a 46-31 record and three division titles in five years. Then he "resigned" from the Chiefs with a 101-58-1 record and three more division titles. He surfaced two years later with the Redskins and was fired after one season and an 8-8 record. The final stop was San Diego for five seasons and not only did he go 14-2 in his last season, he went 35-13 in his final three seasons. Shottenheimer had two losing seasons in his 21 years as an NFL head coach.