Tiger Woods has talked to Tony Romo 'a lot' about back surgery
Tiger Woods and Tony Romo have been talking a lot because the two had the same back surgery.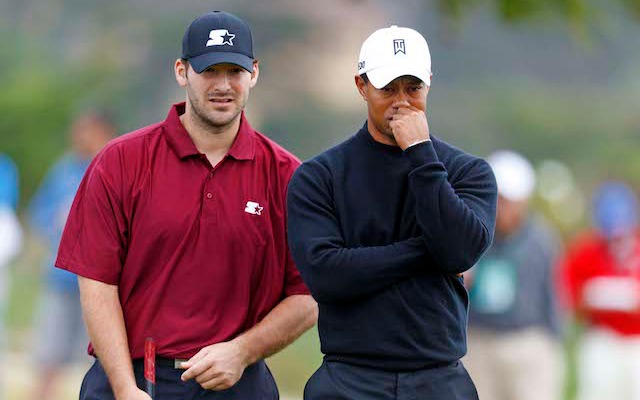 More Draft coverage: Mock Drafts | Prospect Rankings | Big Board | News
If you're a golf fan wondering when Tiger Woods is going to be back on the course, you might want to start paying attention to Tony Romo's rehab. Woods, who skipped the Masters after undergoing back surgery on March 31, had the same microdiscectomy surgery that Romo had in December. 
Since Romo underwent surgery first and is four months ahead of Woods in the rehab department, Woods did what any smart pro athlete would do in his situation: He reached out to the Cowboys quarterback for advice. 
Woods took to his official website on Monday to update the world on how his recovery is going and during that update, he mentioned that he's talked to Romo 'a lot.' 
"Tony Romo had the exact same procedure I did. I talked to him a lot about it because he was in a lot of pain," Woods wrote. "He just couldn't function anymore."
Woods didn't just call Romo out of the blue either, the two actually have spent some time together on the golf course. The Cowboys quarterback was paired with Woods at the AT&T Pebble Beach National Pro-Am in February 2012 where they finished in 17th. 
If Woods rehabs at the same rate as Romo, he may not be back on the course anytime soon. Romo just started throwing passes on May 6, over four months after he underwent surgery. 
The Cowboys owner is not going to get his way, and he probably won't be happy about it

Gilbert will miss games against the Packers, Bengals, Ravens, and Patriots

Thompson fractured his fibula while Pryor has been dealing with an ankle injury for weeks
The Cowboys have dropped two straight in embarrassing fashion but are not ready to make a change...

The Bills coach still hasn't decided whether Tyrod Taylor or Nathan Peterman will start against...

Josh Nagel is a whiz at picking Seahawks games and makes a strong pick for 'Monday Night F...