Tim Tebow threw for minus-1 passing yard Friday
Patriots backup quarterback Tim Tebow threw for minus-1 passing yards on Friday. That actually happened.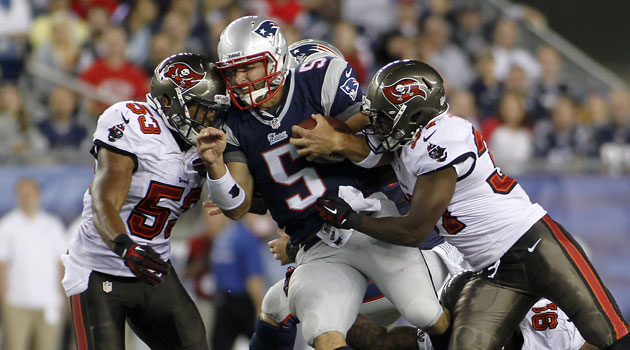 The world's already set far too much virtual ink on fire talking about Tim Tebow. The Patriots' third-string quarterback is theoretically competing with Ryan Mallett for the backup job behind Tom Brady, but come on.
And Tebow hasn't done anything since joining the Patriots that would make you think he's a viable alternative to, well, anyone. But Friday night may have been the nadir, as Tebow threw for minus-1 passing yard in the Pats' win over the Buccaneers.
No, really. That happened:
Do the rushing yards make it better or worse? Because I'm inclined to think the latter.
As you might expect, none of the seven passing attempts were particularly pretty. Tebow was bailed out by the Buccaneers -- and remember, he's not exactly going against starters here -- when they dropped an interception on a deep throw that he badly shorted.
He ran the ball all right, but it's not like the Pats are going to keep him around so he can be a gimmick. They have Brady, and why take Brady off the field?
The only question is whether Bill Belichick, when it comes time to cut down his roster, is going to end up agreeing with Pete Prisco:
Tebow needs to get on with his life's work

— Pete Prisco (@PriscoCBS) August 17, 2013
The Eye on Football podcast brings you the best NFL analysis money doesn't have to buy. Subscribe on iTunes here!
The NFL didn't make any changes to its anthem policy, which apparently angered President T...

The Seahawks cornerback says he knows exactly why Kaepernick remains out of work

Larry Hartstein has nailed his past nine Falcons picks and has a strong play for 'Sunday Night...
Elliott will be allowed to play, for now

Mark Lamping wrote a letter to apologize to Jacksonville's director of military affairs ch...

PEN America says the NFL's talks on social activism are a 'constructive' step forward for owners,...